List of failures & complicities of the International Community & UN endangering world peace
Posted on September 16th, 2017
Shenali D Waduge
Just who are the international community and what power do they yield and how unbiased are they? What about the UN, how credible is the UN that was created to stop a future world war but has done pittance against plenty of mini-wars taking place all over the world! Does the International Community and the UN have any moral right to be further interfering in countries when none of their solutions have produced results while their involvement in manufacturing conflicts are the cause of de-stability in the world? It is baffling that the world is actually relying on the countries that help create and spur conflict to actually usher world peace as well!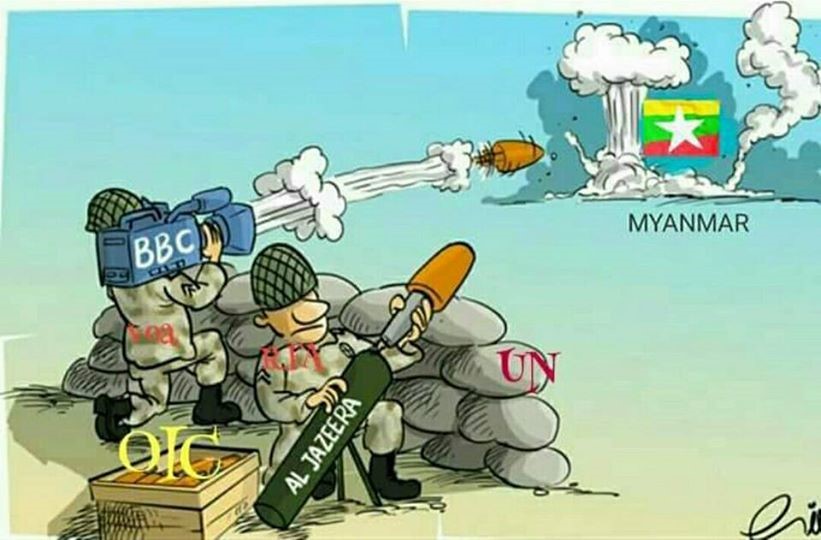 James Lucas writing to GlobalResearch claims the US has killed over 20m people in 37 victim nations since 1945. http://www.globalresearch.ca/us-has-killed-more-than-20-million-people-in-37-victim-nations-since-world-war-ii/5492051 William Blum's writing compliments this assessment. If true, does the US have any moral right to be dictating terms to any country when US is above international laws & does not abide by any of the UN conventions!
In terms of invasion implying violation of Article 2 of UN Charter "from the threat or use of force against the territorial integrity or political independence of any state". The Charter only permits military action in case of self-defense of an armed attack or if the Security Council authorizes. Thus, US sending troops to Grenada in 1983 qualifies as an invasion. Sending troops to Panama in 1989. The US invasion of Iraq in 2003 was also without UN sanction. U.S. military actions in Kuwait and Iraq in 1991 and in Afghanistan in 2001 would count as "invasions," In 1992 U.N.-backed, U.S.-led intervention in Somalia began as a humanitarian action. In 1994 and 1995, the United States received U.N. backing to reinstall ousted Jean-Bertrand Aristide, the president of Haiti. The interventions in Bosnia and Kosovo by the United States and NATO in the 1990s also qualify as invasions. The 2011, U.N.-approved NATO campaign to oust Muammar Qaddafi in Libya will also qualify as an "invasion,"
During the 1980's the US funded, trained and supplied weapons to the Contra rebels fighting the Sandinista government in Nicaragua. On June 27, 1986 the International Court at the Hague declared US guilty of breaching Customary international law. US has yet to pay USD17b reparations.
on March 24, 1999, NATO began a 78-day deadly and devastating U.S.-backed intervention of Yugoslavia. It became the 1st instance that NATO attacked a country without UNSC approval. The excuse used was to prevent a genocide of Kosovo Albanians. NATO illegal bombing destroyed and damaged 25,000 homes, 300 miles of roads and close to 400 miles of railways, damages to 14 airports, 19 hospitals, 18 kindergartens, 69 schools, 176 cultural monuments and 44 bridges. https://www.telesurtv.net/english/analysis/US-NATO-Lies-to-Justify-Genocide-and-Destruction-in-Yugoslavia-20160323-0005.html
Somalia as a country was created in 1960, and collapsed in 1991 when President Siad Barre was overthrown. Al-Shabab and Al-Qaeda insurgents are active & U.S. troops were deployed in 2007 but conflict remains unsolved.
In Syria, mercenaries, terrorists and soldiers from over 100 countries are involved. More than 400,000 people have been killed and millions displaced. US Govt allocated USD500m to train 1500 Syrian 'rebel's throughout 3 years! https://www.newyorker.com/news/news-desk/our-high-priced-mercenaries-in-syria even UK mercenaries were sent https://www.theguardian.com/world/2014/nov/22/uk-mercenaries-fighting-islamic-state-terrorist-syria We wonder who is fighting whom!
France invaded Mali on January 11, 2013 – West's invasions get nothing more than a statement from the UN.
Britain has invaded all but 22 countries in the world (Britain invaded 90% of countries in the world) The crimes of colonial rule remain without justice as the perpetrators remain the very countries that are bombing the world.
Britain's war in Libya in 2011 was illegal but no action has been taken or appears imminent to hold Ministers to account for this. British bombing in Libya, which began in March 2011, was a violation of UN Resolution 1973, which authorised member states to enforce a no-fly zone over Libya and to use 'all necessary measures' to prevent attacks on civilians but did not authorise the use of ground troops or regime change.
UK government has been covertly involved in Libya/Syria – SAS forces have reportedly been secretly deployed to Libya since the beginning of 2016.
According to the Global Peace Index only 11 countries were named as having the lowest form of conflict – Switzerland, Japan, Qatar, Mauritius, Uruguay, Chile, Botswana, Costa Rica, Vietnam, Panama and Brazil. The same study reveals more than 2 billion people live in the 20 least peaceful countries, compared with 500 million in the 20 most peaceful.
According to Nick Turse, in 2013, elite US forces were deployed in 134 countries around the globe, according to Major Matthew Robert Bockholt of SOCOM Public Affairs (with 72,000 personnel).
What about the drone attacks – President Bush launched fifty-one such strikes, President Obama over 330, according to research by the London-based Bureau of Investigative Journalism.
Declassified documents of the US government also reveal much. More than 400 American journalists … in the past twenty-five years have secretly carried out assignments for the Central Intelligence Agency. These include heads of CBS, Time, the New York Times, the Louisville Courier Journal, and Copley News Service ABC, NBC, AP, UPI, Reuters, Hearst Newspapers, Newsweek magazine, the Mutual Broadcasting System, the Miami Herald and the old Saturday Evening Post and New York Herald. In the 1950s and early 1960s, Time magazine's foreign correspondents attended CIA briefing" dinners similar to those the CIA held for CBS. Media cannot afford to talk!
BBC and other British media were used by the British secret intelligence service MI-6. In what they called Operation Mass Appeal, MI-6 agents planted stories about Saddam's weapons of mass destruction (John Pilger) https://wearechange.org/declassified-documents-prove-cia-worked-closely-many-largest-media-outlets/
Let's also not forget
The US is the world's largest exporter of convention weapons accounting for 33% of global arms transfers & America's top clients are Saudi Arabia, UAE, Turkey, South Korea and Israel according to Stockholm International Peace Research Institute (SIPRI)
Both US & UK have transferred more than US$5 billion worth of arms to Saudi Arabia who is leading the attacks on Yemen that has resulted in a humanitarian catastrophe with 3million Yemeni's displaced and more than 18m in need of humanitarian assistance. Close to 5000 civilians have lost their lives already since March 2015 bombing campaign led by Saudi Arabia. While US & UK have given only £371.5m in aid. UK's arms to Saudi since March 2015 is £3.3bn. https://www.amnesty.org/en/latest/news/2017/03/yemen-multibillion-dollar-arms-sales-by-usa-and-uk-reveal-shameful-contradiction-with-aid-efforts/
There have been 226 UNSC resolutions relating to Israel since 1948. The US has abstained from less than two dozen of them. So what good are resolutions if only a handful of countries get the iron fist of the UN while countries with over 200 resolutions against them carry on regardless?
If a country is party to a treaty it is bound to abide by that treaty. However, those laws do not apply to the US but US uses the laws in existence to take actions against other countries. What good is a UN that can do nothing against powerful Western countries that conduct regime change, interfere in internal affairs including elections, help opposition by funding campaigns and strategic programs to usurp power and place puppets, use NGOs and their employees as foot soldiers for their agendas.
It is a mockery of justice when the perpetrators project themselves as Virgin Mary's and go on a witch-hunt on targeted nations while none of their crimes ever get the gavel but these very perpetrators unashamedly quote the law books against others. It is hilarious the extent of bias and hypocrisy that prevails and the most hilarious thing is that the spokespersons of these criminal countries read out speeches and address forums as if they are the paragons of virtue – do they believe the general public are stupid and illiterate? How long is the world going to allow these handful of countries to bully 7billion people?
Can the countries that indirectly spur conflicts be tasked to usher world peace?
Shenali D Waduge