SAD STATE OF AFFAIRS OF SRI LANKAN EXPORTS
Posted on September 25th, 2017
Dr Sarath Obeysekera
Copy of the slide above was extracted from a presentation made by a consultant from EU- Trade and Commerce Organization who are in Sri Lanka to advise Export Development Board ,on how to enhance our export market .I was also invited EDB as a boat builder with few others who build and export boats for the Regional Forum of the program where they have invited all the stake holders from Government Sector as well.
Program was held in Light House Galle (started late as the organizers have not done well) ,Divisional secretary form Hambnatota ,Galle and Port Authority ,BOI from Koggale also came for the workshop
There were three sectors, namely boat building ,Apparel/Spice and Wellness sectors which ADB has identified as potential industries to develop and we sat in Boat building workshop .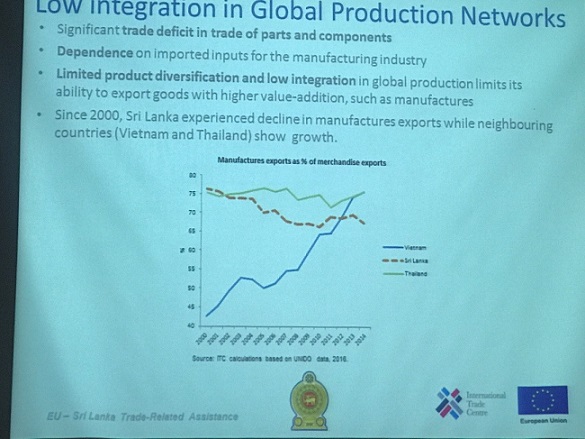 The graph above was shown, where Sri Lankan Exports were compared with Vietnam and Indonesia.As you may note our export sector has declined ( red line ) where as both other two countries have grown
Vietnam being a country which came out of a long war have developed so fast ,and I understand that it is because of the fact the leaders and decision makers take the matter very serious .I know that one of the local manufacturer of herbal cosmetics have opened up a plant in Vietnam and the establishment process took only three months .In Sri Lanka in will take three years !
Boat building is finally identified as a potential export commodity, and the idea of identifying an export zone having access to water has been discussed .Someone has given a dead rope that  a 5-6 acre land in Beruwala next to the fishery harbour can be developed for boat building ,but no one has done any investigations that the area is highly populated and the inhabitants will never allow any industry .Technically the protected area of Beruwala is having the same entrance to the harbours  for  fishermen as well , hence and they will never allow a Boat Building Marina in the location .
The team has identified a land near Iranawila neat Chilaw and the team decided to investigate.
I am trying to highlight the fact that none of responsible people from BOI, Land Ministry ,SLPA BOI ,Customs ,Inland Revenue  have attended these forums and make a decision .EDB with EU consultants intends to put the proposal for 2018 budget ,and I am not sure that there will be a government by that time to make a decision.
There is no vision or a mission.
Politicians talk big in meetings promise employment and nothing is happening ( other day I noted a news item where even Apparel makers wants Indians to work in Sri Lanka !.boat builders like dockyard depend on foreign labour !)
We hold annual Presdinetial Award ceremonies and present Garment makers with gold cups and the potential to move away into more high-tech industries are not even in the horizon.
We have minister for Strategic Development and he may not have in teeth as the gazette is not yet issued ?
Read More
http://www.lankaweb.com/news/items/2017/09/14/presidential-export-awards-today-at-bmich/comment-page-1/
Dr Sarath Obeysekera