Illegality of Rohingya asylum seekers smuggled to Sri Lanka: UNHCR can hire an island in Maldives and keep them!
Posted on September 27th, 2017
Shenali D Waduge
There are several issues that need to be dealt with within the legal framework and devoid emotional ties. Firstly, no person can enter a country illegally. Anyone entering a country must have valid identity, valid passport and valid visa approvals. Sri Lanka is not a party to the 1951 Refugee. Convention or the 1967 Protocol. Therefore, Sri Lanka is not bound or cannot be forced to accept any refugee or asylum seekers. The danger in this Convention is that over a period of time signatories are bound to give citizenship to these refugees. Human smuggling/illegal people transportation is a global business & transnational crime. With Sri Lanka cash strapped, already with own IDPs to resettle we are not in any position to be accepting & looking after refugees/asylum seekers. Given the emotional involvement, this next questions why the 57 member Islamic Organization states who are Majority Muslim nations are not accepting these Rohingya Muslims with open arms?
https://www.youtube.com/watch?v=vpk3iMTDLYU
Sri Lanka's navy intercepted a boat carrying 30 Rohingya refugees, who had been living in India and two suspected Indian traffickers after they tried to enter the country illegally.  Police spokesman, Priyantha Jayakody said, the island nation's navy and coastguard stopped the boat and its human cargo, which included 16 children, off Sri Lanka's northern shores on Sunday.  He added the 30 Rohingyas who had been living in India for five years and the two suspected traffickers appeared before the magistrate on Monday and were remanded until Tuesday. According to a local human rights official, the refugees planned final destination had reportedly been Australia.
(30 Rohingyas landed in early 2017)
https://www.youtube.com/watch?v=QbVAEo-SJSI
(38 Rohingyas found in a rented home in Mount Lavinia are these the same Rohingyas who were intercepted in early 2017?)
රෝහින්ග්‍යා මුස්ලිමුන් ගල්කිස්සේ ; ළමයින්ව පාසැලුත් යවලා – Rohingya News-Mount Lavinia , Sri Lanka
A video has emerged depicting a house in Mount Laving keeping over 30 Rohingya refugees all with families & children and some even attending schools. Two Muslim officials of the UNHCR had also been present while it is alleged that regularly Sri Lankan Ministers visit with food & provisions. It is alleged that there are 13 other places where more Rohingyas are being kept. All these certainly needs to be verified & confirmed but it does raise credibility of government statements and assurances that publicly confirmed that the GOSL had not decided to accept any refugees.
Given that neither India or Sri Lanka are signatories to the 1951 Refugee Convention or the 1967 Protocol, Sri Lanka is NOT bound to accept any refugees or asylum seekers. Countries that are party to it will have to at some time or other offer citizenship to these refugees.
The question is who is looking after them, feeding them, paying for their rent, clothes and how were they able to get admission to a government school. Generally a citizen to admit a child has to produce birth certificates, grama sevaka certificate and so many other records. How did people who do not even have proper passports or visa get their children admitted to schools.
The other all important question is in the event of a birth of a child of an asylum seeker what is the procedure followed? Is that child given citizenship in that country. A federal court has ruled that a baby born in Australia to an asylum seeker is not entitled to a refugee visa. What is the law to be followed in Sri Lanka?
From the video clipping it emerges that UNHCR officials (Muslim) have been involved and are visiting them. The next question is, has UNHCR opened refugee status determination (RSD) file for each of these Rohingyas?
The public have every right to be given answers. Given that the people are mindful that a well organized and planned attempt to bring Muslims into the country has been put in place.
This first emerged in 2011 when environmentalists highlighted deforestation inside Wilpattu forests and setting up of illegal Muslim settlements plus a mosque. A report was handed over to the President in 2015 detailing over 1500 houses being constructed illegally funded by countries treated as funding terrorists (Qatar)
http://nation.lk/online/2015/06/27/illegal-settlements-around-wilpattu-national-park.html
The response of the Muslim minister was These Muslims whom I am resettling and have resettled in the Wilpattu National Park after clearing the jungle and also in the Northern province, are partly my voter base. There is nothing illegal in building houses and places as I have acquired permission in a correct manner from the relevant line ministries and this is sanctioned by the government,"
Sri Lanka's Government must take a stand not allow ethnic-MPs to turn refugees into vote base likely to lead to plenty more unwanted troubles!
We cannot allow minority politicians to fatten their voter base by bringing illegal asylum seekers!
http://www.onlanka.com/news/is-there-an-illegal-settlement-and-mosque-inside-wilpattu-national-park.html
However, Sri Lanka saw a 780% increase in asylum seekers and they were all Muslims.
It was in 2017 that Sri Lanka's coastguards seized an Indian fishing boat and detained 2 Indians and 30 Rohingya Muslims among whom were 14 children.
As of March 31, 2017 there were 572 asylum seekers in Sri Lanka from Pakistan, Afghanistan, Iran, Yemen, Syria other than the Rohingyas – all Muslims.
These asylum seekers have travelled quite a distance bypassing many countries many of them Muslim countries too. Why should they travel so far?
Afghanistan to Sri Lanka – 3,191 km
Pakistan to Sri Lanka –
2,769 km
Yemen to Sri Lanka – 3,607 km
Iran to Sri Lanka – 3,904 km
Syria to Sri Lanka – 5,199 km
Bangladesh to Sri Lanka – 2,027 km
Myanmar to Sri Lanka – 2254.4 km
The majority populace has many reasons to be concerned and raise objections against these asylum seekers.
Firstly, we don't know how many of these asylum seekers are linked to Al Qaeda & ISIS given that there are 5 Rohingya groups under tutelage of terrorists. In 2016, Sri Lanka's defense authorities revealed that 36 Sri Lankans had joined ISIS.
http://www.dailymirror.lk/101721/36-sri-lankans-gone-to-syria-some-to-join-isis-def-secy Another article pondered whether Sri Lanka was turning into an IS hub www.ceylontoday.lk/print20160701CT20161030.php?id=3383 While another explored Sri Lanka as a transit hub for cocaine smugglers. http://english.alarabiya.net/en/features/2017/08/31/Sri-Lanka-an-emerging-transit-hub-for-cocaine-smugglers-.html
Sri Lanka whilst not being signatory to the Convention is not bound to accept or keep any of these asylum seekers, therefore it is wrong for the UNHCR to slyly house them and even send them to school, how many in the Government or even in the Opposition knew of this arrangement?
If the Japanese PM can tell that his country has to deal with falling birth rates and an aging population before open its doors to refugees, Sri Lanka must have the guts to say we too are just out of a 3 decade terrorist conflict and we are having internal IDPs to resettle (as of 2016 – 42,038 IDPs need to be resettled). Moreover, the Muslim birth factor is a subject that Sri Lanka will soon have to deal with seriously too. Myanmar has taken the issue seriously enough to bring legislation – only one spouse, religious conversion law, interfaith marriage law and population control law.
Hungary, Austria, Czech and Poland refused to take Muslim refugees. While Western countries are now complaining of cultural issues and assimilation problems that authorities are unable to handle. India has also refused the 40,000 Rohingyas and has banned them as illegal immigrants. The reluctance of Bangladesh to accept them is probably due to the population explosion that Bangladesh is unable to deal with!
However, it is practical that Muslim asylum seekers/refugees should be put up in Muslim majority countries where they practice Islam and follow the same cultures. UNHCR must make this part of their policy when formulating applications.
There are 1.9billion Muslims globally. 57 Muslim nations make up the Organization of Islamic Cooperation of which 49 are predominantly Muslim with a combined population of 1.6billion holding 70% of the world's energy resources, 40% of natural resources. The collective GDP of these countries was $4.7trillion. However, the combined GDP of $4.7trillion of these 57 countries is less than Japan's $4.8trillion.
The contribution of OIC was only 8% towards world GDP.
The Arab states in the Gulf Cooperation Council (Saudi, Bahrain, Kuwait, Qatar, Oman & UAE) had refused to accept the 9m Syrians displaced since 2011. As GCC is not signatory to the UN 1951 Refugee Convention it is not bound by law to accept refugees.
56% of the world's 21 million refugees are being hosted by just 10 countries who account for just 2.5 percent of the global economy. (Amnesty International)
Jordan (2.7m), Turkey (2.5m), Pakistan (1.6m), Lebanon (1.5m), Iran (979,400), Ethiopia (736,100), Kenya (553,900), Uganda (477,200), Congo (383,100), Chad (369,500)
The UK that has been part of the bombing campaign against Syria resulting in the exodus of refugees has taken less than 8000 Syrians since 2011.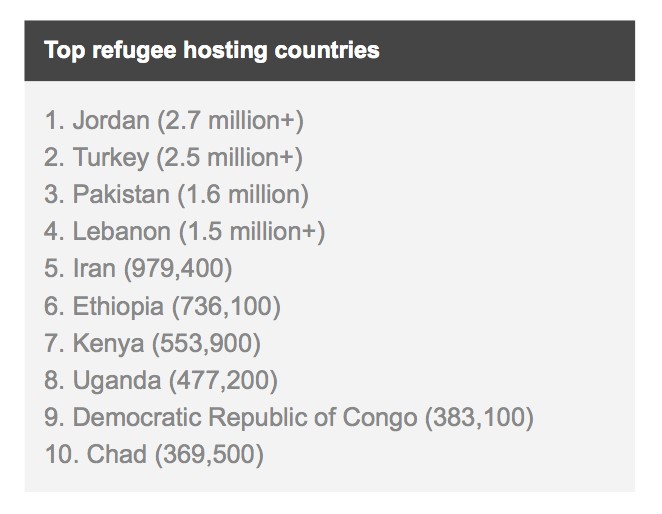 We next come to the biggest and often not spoken aspect associated with refugees/asylum seekers and one that should get the attention of the Sri Lankan public who feel sorry for people travelling in boatloads.
Human smuggling is a business & a transnational crime
The reality is that human smuggling is a transnational crime & billion dollar business.
According to UN human trafficking is a $150 Billion a year industry. 20.9 million people are living in some sort of slavery (that's the entire population of Sri Lanka)
There are approximately 20 to 30 million slaves in the world today.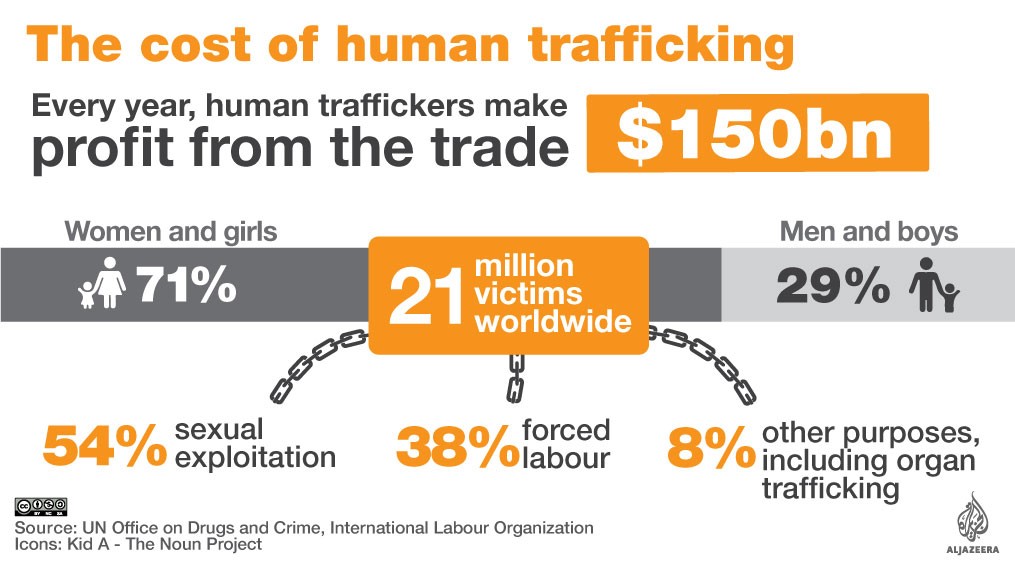 Smuggling illegal immigrants is a big business. According to a UN report depending on the immigrant's country of origin they pay something between $150 to $100,000 which covers the cost of the journey, hotel, bribes, taxes paid to the drug cartels. Apparently it is $10,000 to be smuggled to Australia!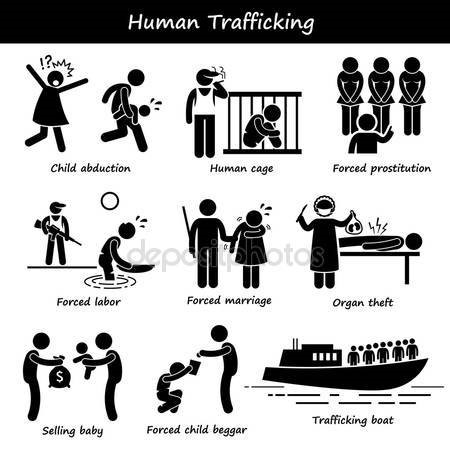 Into this baby selling trade is also involved. Buying babies from pregnant women in Nigeria is another lucrative trade. In Nigeria a women gets $378 for giving a boy and $189 for delivering a girl for trade. Babies in Indonesia are sold from $160 to $250. Even children in the UK are sold for $25,000.
Child trafficking is also a lucrative trade. Notice how many children were among the 31 Rohingyas who were intercepted living in a house in Mount Laviniya a few days back without the knowledge of even the police. According to United Nations Office on Drugs and Crime 20% of all human trafficking cases involve children. According to UNICEF at least 1.2 million children are trafficked globally annually. Of this 230 million children worldwide are born without official birth certificates, making them impossible to track. In Thailand it is $25 typical price to rent" a child beggar.
Aligned to this is the global prostitution trade as well. There are 42million prostitutes worldwide in an industry that generates at least $186billion
Many of these refugees are sold into prostitution. In Iraq girls are sold – $5,000 for Virgins, $2.500 for Non-Virgins. In Canada $4,879 is paid by pimp to trafficker. According to ILO $99 billion from commercial sexual exploitation. A 2003 study in the Netherlands found that, on average, a single sex slave earned her pimp at least $250,000 a year.
To further highlight the dangerous scenario the BBC Radio 5 Live investigation report is noteworthy. Quoting from the report
African refugees dreaming of a better life in Europe must attend anti-Western religious education" courses before boarding the ramshackle vessels."
"European police don't know who is from IS and who is a normal refugee."
http://www.express.co.uk/news/world/577796/Islamic-State-earn-millions-human-trafficking
According to ILO The Asia-pacific region accounts for the largest number of forced laborers— 15.4 million (62% of the global total). As you can see unbelievable things are happening. Therefore, there is very valid ground for caution. Human trafficking has surpassed the illegal sale of arms.
The reality is shocking. This is why any asylum seeker must be viewed with caution. Sri Lanka does not know the gravity of the situation.
Given that Sri Lanka is not a signatory to the Refugee Convention, there is no requirement to accept Rohingya Muslims and UNHCR should desist from encouraging boatloads to arrive to seek shelter in Sri Lanka.
As a solution, it is suggested that UNHCR approach Maldives and hire an island to maintain these Rohingya asylum seekers given that the UNHCR would be anyway maintaining them (food, clothing, housing etc). Since Maldives is not a signatory to the Refugee Convention, UNHCR would have to seek permission from the Maldives government but it is advisable that Muslim refugees be placed in Muslim countries as these Rohingyas like all Muslims insist on giving prominence to their faith, their eating habits, their dress habits, their prayers, their Shariah compliant laws and customs and it is best that countries that follow these laws and customs will be the best and happiest place for these Muslim refugees/asylum seekers amongst their own.
It is the most practical solution that would make these Muslim Rohingyas feel at home and the Muslim majority countries can be happy that they are looking after their destitute brothers and sisters. The issue of non-Muslims not wanting them in view of the complications that are likely to arise as a result of marriage, religion, birth, customs would not arise if Muslim refugees are living with people who follow the same in countries where Islam and Shariah laws prevail.
Shenali D Waduge