SRI LANKA MUST BUILD BRANDS ,NOT BE A MERE COMMODITY-EXPORTER  By Raj Moorthy –Sunday Times 5th Nov 2017
Posted on November 6th, 2017
Dr Sarath Obeysekera
http://www.sundaytimes.lk/article/1033971/cost-of-exporting-from-sri-lanka-much-higher-than-vietnam-or-thailand
I wrote few opinions few weeks back and highlighted the facts about  Vietnam and Indonesia's success in exports against the exports from Sri Lanka .One of the slide shown by the EU expert is illustrated below
http://www.lankaweb.com/news/items/2017/10/14/bureaucracy-hinders-businesses-several-permits-for-one-export/
http://www.lankaweb.com/news/items/2017/09/25/sad-state-of-affairs-of-sri-lankan-exports/
http://www.lankaweb.com/news/items/2017/09/25/sad-state-of-affairs-of-sri-lankan-exports/
http://www.lankaweb.com/news/items/2017/10/14/bureaucracy-hinders-businesses-several-permits-for-one-export/
Sri Lankan Exports are declining and Vietnam and Thailand are growing, even Bangladesh is doing much better .
There was an another article in the press with the heading  Sri Lanka must build brands ,not be a mere  commodity Exporter where a Leading Tea Exporter, and another wizard from DNV GL Business Assurance in  Sri Lanka taking about food security to etc another speaker from Malasian Blue Ocean Strategy talked about importance of Building Brands .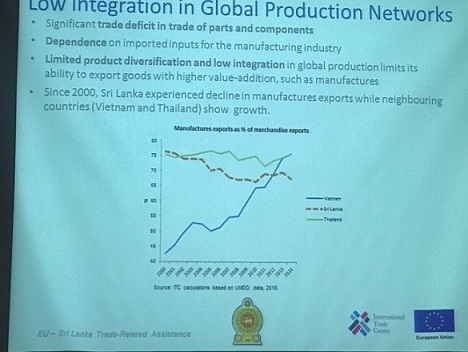 Sri Lankans are still talking about Rubber ,Tea and Cinnamon where brands have been established and none of them are talking about how bureaucratic our system to have Ease of Doing Business and how to cut red tape  let alone brand  building
We need  to build a different kind of brand called  EASE OF DOING BUSINESS .Investors go to Vietnam Indonezia and  Thailand and also  to Singapore ,because their BRAND of ease of doing business is well known.
When Yahaplana government started then Finance Minister started the EODB ( Ease of doing Bussiness ) and the whole business community was elated and first few sessions showed some remarkable results where State Bureacrats were take to task by the Minister who chaired the sessions ,I have solved some of our shipyard matters too.
After few sessions ,momentum was gone ,minister came and rushed back ,and the Heads of State Agencies kept sending their lower rankers to represent .Finally no one cared the minister's ruling .Why? May be they lost confidence ?
Recently I went for a meeting with the Minister of Fisheries to discuss how to get Director General of Fishery to allow small commercial boast repair and building in 20 number fishery harbour ,in addition to repairing fishing boats .
Reaction from the Ministry was ,it cannot be allowed because their ACT does not permit to do so .
Private sector and even Fishery Harbour Corporation were trying to earn more income from these activities which included generating foreign currency and yet ,bureaucracy was overwhelming  despite the fact that Minister was quite supportive .
I was trying to analyses the reasons behind and found that under Yahapalanaya ,all state officials are trying to play safe ,presumably after the Sil Redi" case .
Business circles are talking theory and filling newspapers with their photo and their opinions but none of them are hitting the nail at the right place .
We had few brands which placed our resplendent island in the world map .That was Madam Sirimavo Banadaranayake and World cup Cricket !!
Whole country need a new brand building exercise.
That is to build a BRAND OF CONFIDENCE.
Dr Sarath Obeysekera