Russia like to see the steps being taken in Sri Lanka to secure  safety of tea intended for export to Russia before removal of the restriction.
Posted on December 20th, 2017
Reporting from Moscow
Russia's agriculture Animal and Plant Health Inspection  authority "Rosselkhoznadzor" demanded that preventive steps should be taken in Sri Lanka to secure the safety of tea intended for export to Russia before further discussion on restricted tea imports from Sri Lanka at the end of December, it said in a statement on Tuesday.
Russia's agriculture safety authority Rosselkhoznadzor  issued red notice  and placed temporary restrictions on imports of tea and all other agricultural products from Sri Lanka from Dec. 18 after a insect known as the Khapra beetle was found in a tea consignment.
The representatives of the safety authority "Rosselkhoznadzor"   met a delegation led by Sri Lanka's ambassador to Russia in Moscow on Tuesday and officially informed of authority's decision.
Russia was the second largest buyer of Sri Lanka's Ceylon tea after Iran and Sri Lankan tea accounts for 23 percent of the Russian market, with other supplies coming from India, Kenya, China and Vietnam,
In 2016 Russia purchased $143 million worth of, tea  according to Sri Lanka's Industry Ministry
The insect, known as the Khapra beetle, was discovered in the packaging of the consignment of tea from Sri Lanka, which was responded by Sri Lankan authority as  an isolated case and that it would work with the Russian authorities to resolve the issue.
In July 30 2011 similar incident reported in USA. U.S. Customs and Border Protection has enforced a similar federal quarantine order that restricts the importation of rice into the U.S. from countries with known Khapra beetle infestations.
The U.S. Department of Agriculture's Animal and Plant Health Inspection Service (APHIS), equivalent of "Rosselkhoznadzor" in Russia,  has  restricted the importation of rice from countries known to have Khapra beetle due to an increasing number of detections at U.S. ports of entry of infested shipments of rice from these countries. The introduction and establishment of Khapra beetle (Trogoderma granarium) into the U.S. poses a serious threat to stored agricultural products, including spices, grains and packaged foods.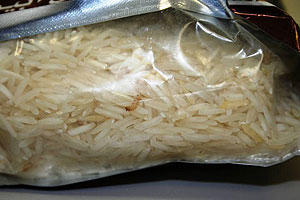 This Khapra beetle larvae was found as Los Angeles International Airport in a container of rice included in personal effects being imported earlier this year.
According to APHIS, previous detections of Khapra beetle have resulted in massive, long term-control and eradication efforts at great cost to the American taxpayer. Established infestations are difficult to control because the beetle can survive without food for long periods of time, requires little moisture, hides in tiny cracks and crevices, and is relatively resistant to many insecticides and fumigants.
This year, CBP agriculture specialists have made 100 Khapra beetle interceptions at U.S. ports of entry compared to three to six per year in 2005 and 2006, and averaging about 15 per year from 2007 to 2009.
As the information on temporary restrictions were reached in Colombo, instead of taking a series of corrective actions, President Maithripala Sirisena immediately urged Sri Lankan tea farmers not to panic and he himself tried to play a typical Sri Lankan political gimmick by sending a personal letter to President Putin seeking his influence, politically, to lift the ban.
Mr Sirisena told a rally on Sunday that he was optimistic that as a friendly country", Russia would help Sri Lanka and insisted that a thorough investigation will be carried out and  punitive measures will be taken against anyone found guilty of tampering with its consignment but without a word on  investigating the spread of Khapra beetle.
Meanwhile Sri Lanka Tea Board Chairman Dr. Rohan Pethiyagoda, a political appointee who has absolutely no clue on tea export, but well experienced taxonomist  worked at an  Australian Museum, imported from Australia after Yahapalanaya government,  told local newspaper We will not take any action against the exporter as the beetle was not found in the tea consignment but, instead within the container outside the tea packages, (A taxonomist is a biologist that groups organisms into categories.)
He was responding to questions from Ceylon Today on whether the future operations of the exporter is to be outlawed since the incident had brought disrepute to the export trading sector and the country.
Pethiyagoda also explained that these containers travel around the world and that it could have happened to any exporter. It has been confirmed that the beetle was not inside the tea packets and therefore no charges could be brought against the exporter, Dr. Pethiyagoda further said.
We are seeking to meet with the Russian Agriculture Minister Aleksandr Tkacev Gaffe and Plantation Industries Minister Navin Dissanayake will be tasked to head the delegation at the talks", he added.
The delegation will also include officials from the Tea Research Institute and the Agriculture Ministry.
He also added that the private sector component was not relevant at the talks.
Hence, the Tea industry in Sri Lanka is the unfortunate victim of a political corruption, Nepotism and cronyism.
In Russia Federal Service for Veterinary and Phytosanitary Surveillance is the federal organ of executive power, carrying out functions on control and supervision in the field of veterinary science. It establishes and lifts phytosanitary quarantine zones , it controls the use of pesticides and agrochemicals, it maintains soil fertility, it is responsible for selection achievements, protection, reproduction and use of objects of animal world (hunting resources) and aquatic biological resources, and it also carries out the functions on protecting the population from animal infectious diseases.
Federal Service for Veterinary and Phytosanitary Surveillance submits to the Ministry of Agriculture of the Russian Federation.
Can our politicians and imported taxonomist as Sri Lanka Tea Board Chairman convince Russia's Animal and Plant Health Inspection Service authority Rosselkhoznadzor, before end of December, that we have introduced necessary measures to prevent reoccurrence of the same problem in future.
God help Sri Lanka