Oluvil fisheries harbour to close down
Posted on March 5th, 2018
Dr Sarath Obeysekera
2017-04-25
Fishing activities at the Oluvil harbour in Ampara is to be halted as the government is unable to bear the cost of maintenance, Fisheries and Aquatic Resources Minister Mahinda Amaraweera said yesterday.Minister Mahinda Amaraweera and ministry officials had discussed the function of the harbour after it was revealed that it did not make sufficient funds to cover its expenses.The harbour is a white elephant that we cannot take care of it," the minister said.The Oluvil harbour, a commercial fishery harbour, was declared open on September 2013. Construction of the harbour commenced in 2008 under the Nagenahira Navodaya programme.Meanwhile, the ministry official said that proper environmental assessment and feasibility was not conducted when construction began.While the harbour was constructed to hold more than 250 fishing boats, all boats are anchored outside the harbour as it was dangerous to enter the harbour.There is a large sand deposit at the mouth of the harbour. There is at least 40 million cubic metres of sand deposited in the area for which the ministry has to bear around Rs. 350 million to remove the sand only to have it collect again in two months or so," ministry spokesman Dharma Wanninayake said.The Ministry has scheduled a discussion with the Ports Authority, Fisheries Harbour Corporation and Coast Conservation Department about its closure as there was no benefit in leaving the harbour open.Minister Amaraweera is scheduled to speak to the government regarding the closure of the harbour.The harbour was also to be transferred to the Ceylon Fisheries Harbour Corporation recently from the Ports and Shipping Ministry. However, the process was cancelled after the decision to shut down fishing activities.(Darshana Sanjeewa)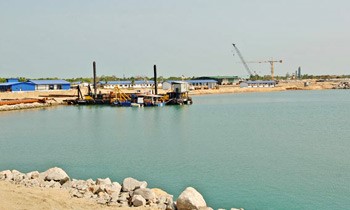 Article above was published almost a year back .Sand deposit formation has aggravated further and fishermen cannot enter or leave the fishery harbour portion of Oluvil harbour .They are lamenting that two government departments ,namely Sri Lanka Port Authority and Fishery Harbour corporation in a tug of war in deciding who owns and runs the habour. Proposals were submitted with a budget of around 100 million rupees to install a permanent dredger in the harbour to remove sand and replenish the beach along the northern boundary
SLPA called for proposals from private parties who have expressed willing ness to develop the harbour and use for fish processing .Some have proposed cement bagging plant
Then Today I read the news that Prime Minister wants to convert the harbour for tourist related venture .
Two ministers in logger heads in deciding to develop the harbour for Industry but now PM wants something else .I assume that PM may want to have a Marina in the commercial harbour ?
SLPA is still struggling to get investors for a Marina in Galle for last few years How can one same SLPA initiate development of a marina in Oluvil ?
There are no hotels ,pubs in the area ( being a Muslim area) what would yacht owners do if an when they come to Oluvil ?
First of all a firm decision should be made on how to use the new harbour for the betterment of the people .
Building a holiday resort in a Muslim area is not a very wise move as the backlash for the community against vice,booze and other nefarious activities might become a boomerang !
Let the harbour be used for development of fishery industry as suggested by investors.
It is the fastest action plan to help the community .
Dr Sarath Obeysekera