Speaker addresses the IPU Assembly in Geneva
Posted on March 27th, 2018
Permanent Mission of Sri Lanka Geneva
Speaker Karu Jayasuriya has welcomed the opportunity for Sri Lanka to host the South Asian Speakers' Summit on Achieving the SDGs from11 – 12 Jul 2018 in Colombo. The Speaker, who is presently in Geneva to participate in the 138th Assembly of the Inter-Parliamentary Union (IPU) at a meeting with the President of the IPU, Senator Hon. Gabriela Cuevas Barron from Mexico invited the President to attend this event as the guest of honour.
The Sri Lanka delegation to the IPU Assembly comprised of the Minister of Law and Order R.M.Ranjith Madduma Bandara, the State Minister of Provincial Councils and Local Government, Sriyani Wijewickrama, Members of Parliament E. Saravanapavan, Kanchana Wijesekera, and Secretary-General of Parliament Mr. Dhammika Dasanayake. Ambassador Ravinatha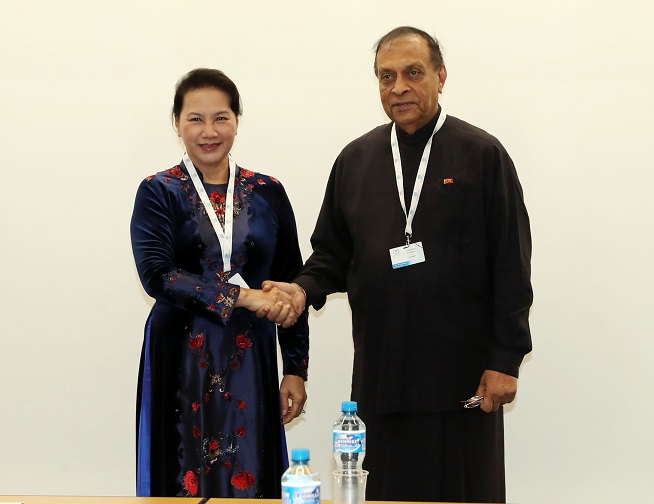 Aryasinha, Permanent Representative to the UN in Geneva, Mrs. Samantha Jayasuriya, Deputy Permanent Representative and Ms. Dulmini Dahanayake, Second Secretary of the Permanent Mission were associated with the delegation.
During the meeting with Madam Gabriela, the Speaker expressed his appreciation to the IPU for its efforts to encourage Parliaments to take a lead role in implementing the 2030 Agenda in achieving SDGs.  The Speaker also informed that Sri Lanka was the first country to establish a Select Committee of Parliament to oversee the Government agenda in achieving the SDGs.  The Speaker said it is important to share experiences among the countries in the region in implementation of the SDGs.
Addressing the IPU General Debate under the theme 'Strengthening the global regime for migrants and refugees: the need for evidence-based policy solutions' on 25 March 2018, the Speaker stressed the importance of strengthening global efforts to respond effectively to the growing global phenomenon of large movements of refugees and migrants. He emphasized the necessity for strong political will and a human rights approach to address the plethora of problems faced by the migrants and refugees. Referring to the International Convention on the Protection of the Rights of All Migrant Workers and Members of their Families, he expressed concerns on its ineffectiveness and inadequate ratifications. The Speaker identified human trafficking as one of the problems that Sri Lanka is facing.
The Speaker and the cross party delegation also held a bilateral discussion with the delegation of Viet Nam. Madam Nguyen Thi Kim Ngan, Chairperson of the National Assembly of Viet Nam who led the delegation expressed their interest in increasing the trade volume between Sri Lanka and Viet Nam from 2M USD to 1B USD in the coming years. In this connection both delegations emphasized the importance of having bilateral corporation in the areas of IT, Digital Infrastructure, Renewable Energy, Tourism, Aviation, Agriculture, Fisheries etc. The Speaker flagged the importance of the two Parliaments working towards enhancing parliamentary diplomacy. The parliamentary delegation of Viet Nam stated that they would be looking forward to welcoming the Speaker during his upcoming visit to Viet Nam in April 2018. The Speaker also invited Madam Nguyen Thi Kim Ngan to visit Sri Lanka again.
Permanent Mission of Sri Lanka
Geneva
27 March 2018