How civilized was the world before the white man invaded to civilize them?
Posted on May 30th, 2018
By shenali Waduge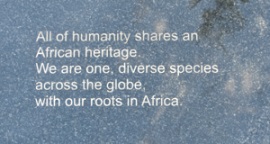 Have you ever thought of how humans evolved, whether the world map looked the same as present, how people migrated, how civilizations developed, who white people emerged if all humans evolved from Africa? Don't these and more questions haunt you and have you ever tried to find out? Think about it and you will be surprised that the ancestral home of white people is not Europe and Black Africans have a history kept hidden from all of us.
Some 1.5 million years ago the human beings first began to evolve in Africa, they had Black skin. Some 100,000 years ago when anatomically modern humans evolved in Africa, they gave rise to the Black man and woman. Africa is the world's largest continent and the birthplace of mankind with Tanzania being the cradle of mankind – its original area known as Gondwanaland comprised and later became India, Australia, and South America.
The 1st great civilization of Pharaonic Egypt & the Nile Valley were inhabited by black people.
White injustice to Black history
The Euro-centric historians have done Africa great damage by portraying it as being devoid of history completely ignoring that Africa was the creators of original cultures. Prof A P Newton says Africa had no history before the coming of the Europeans". What many ignore is that history of Africa was OLD when European history was not even born! Africans may have been dark people but their continent was certainly no Dark one. Matriarchal system, writing, painting, carving, drawing, mining, farming, circumcision all originated from Africa.
All the cultures – Egyptian, Mesopotamian, Assyrian, Babylonian, Persian, Nubian, ancient Greek, ancient Romans find their original roots to Africa.
Plato & Aristotle's systems originated in Egypt. According to Diop Cheikh Anta the first cipherization of numbers started in Egypt. John Pappademos claims Isaac Newton borrowed from the science of the Nile Valley. What Archimedes had discovered the Egyptians had already discovered! Egyptians were the masters of geometry which came to Greece from Egypt. Pythagoras, Thales, Solon, Archimedes, and Eratosthenes among many others were trained in Egypt.  Even the 365 calendar was borrowed from the Egyptians. Mummification showed Egyptians surgical techniques. Egyptian doctors used ointments, syrups, suppositories, oils, massages, purges, enemas even inhalants. Egyptian astronomy is seen in its measuring of time & instruments sunbial, water clocks. Egyptian pyramids were built without mortar or cement!
According to Ivan Van Sestina, Africans came before Columbus to America not as slaves!
In short it means the African system of education was the parent of other systems of education & covered science, technology & philosophy.  
Why was Egypt removed from its African heritage? Was there any mischief to remove Egypt & place it as 'Middle East' by the white people to purposely disassociate the African-Egyptian links?
The White" people
Some 40,000 years ago, modern humans spread from Africa and one group moved north to populate Europe, North, West & Central Asia.
The black people who migrated to Europe began mutation into pale skin only some 6000 years ago. This mutation happened some 45,000 years after blacks began living in Europe! It can be presumed that the 100% white skin would have appeared some 3000 years ago and not 6000 years ago. So Europe was occupied by only black-skinned people for 48,000 years in comparison to the 3000 years of white European rule! Present white Europeans are unlikely to want to accept that the mutation from black to white is as a result of albino like the Budini people.
According to anthropologist C. Loring Brace there are no ancient skeletons of the Caucasian type.
It was Johann Blumenbach who first introduced the idea of identifying race by appearance & created the Caucasian race comparing to Caucasian mountain range. However, the American Anthropological Association declares that there is no such thing as a 'race' & it is only a 'social construct'. In reality the word Caucasian should be obsolete. Modern use of the term 'race' began only in 16th century. However, human DNA is about 99.9 percent the same across the full spectrum of skin colour and ethnicity which denies segregating people by race.
According to the American Association of Physical Anthropologists after comparing DNA across genomes of 83 ancient individuals from archaeological sites throughout Europe concludes that Europeans are a mix of 3 ancient populations of hunter gatherers and farmers (nomadics from Steppes (Ukraine/Russia) known as Yamnaya) who migrated to Europe some 6000 years ago. This was the beginning of the Bronze Age
According to Daniel Zadik of University of Leicester the Y chromosomes of majority European men traces back to 3 individuals (called 1, R1a and R1b) living between 3500-7300 years ago.
Eske Willerslev, professor at the Centre for GeoGenetics and Professor David Reich from Harvard Medical School agree that the Yamnaya tribe migrated west into northern Europe. DNA taken from the wisdom tooth of a 7,000-year-old human found in Spain in 2006 revealed that the individual had dark hair and the dark-skinned genes of an African but blue eyes.
Studies on Paleolithic Europeans reveal that about 24,000 years ago, the last ice age began, with mountain-sized glaciers moving across most of Europe. The people retreated to now Spain, the Balkans & Ukraine before ice melted. The Y chromosome mutation developed. Years later the Neolithics migrated to Europe from Middle East bringing another new Y chromosome. Cro-Magnon sample genetically resembles modern Middle Easterners from Palestine, Syria, Yemen and Iran (he is not the original white man) Caucasoids also share Asian genes from Mongolia, Siberia and East Turkestan.
The European civilization emerged from ancient Greeks who were civilized by Black Africans of the Nile Valley. Greeks only improved what they learnt from the Egyptians – all that the Ancient Greeks claimed to have invented were already created centuries earlier. Why have these facts been erased? Adam & Eve or Eden had to be nowhere else but in Africa, Tanzania to be precise!
Europeans (neither Greeks nor Romans) did not give civilization to Africa. Africa gave civilization to the whole world.
The Greeks in turn passed on the culture to the Romans. Then came the Moors another group of Black Africans spreading Islam in the 7th century. Black African Moors & those in Portugal, Spain began mixing & this intermarriage of blacks & whites led to the disappearance of the negroid skin colour in Europe. So the whites may have to thank the Moors! Black African Egyptians and Black African Moors are credited with civilizing European barbarians!
The whites man has always enjoyed projecting himself as superior – everything good has always been associated with white, everything bad as black. The 'Middle Age's white historians refer to as the 'Dark Ages' partly because they cannot reconcile to the fact that the Middle Ages were the periods of the great empires which were all predominately African and the white Europeans were a bunch of lawless barbarians. Ironically it was during the dark ages that the Moors had built public baths & introduced underwear & bathing with soap to the Europeans which Christians in Europe thought it a sin to be clean & human waste was thrown to the streets! The Moors had splendid palaces of marble while the European Kings were living in cold damp barns of unfinished stone. According to Norman McCreary, when Christian Europe had just 2 universities, the Moors had constructed 17 great universities, 800 public schools,
https://www.theguardian.com/world/2017/apr/14/what-is-the-historical-evidence-that-jesus-christ-lived-and-died
Whatever said Jesus is certainly not the white person he is currently projected. https://www.express.co.uk/news/science/800846/Jesus-Christ-face-the-bible (this is what Jesus really looked like) It was in the African continent that both Christianity & Islam originated & spread.
While we have plenty of people to boast of the 'White Man's Burden' in civilizing the world, in actual fact it was the Blacks that had civilized the whites in particular Europe. The first well-known literate civilization in Europe was that of the Minoans (Island of Crete 27th BC to 15th BC) Troy was an Anatolian City – the people were Black. Jesus was a Hebrew, Hebrews were Black.
In summary what needs to be clearly said is that we all need to return to the history books & rewrite history correcting all the false notions that white historians have been spreading.
The black history, the black civilizations cannot simply be erased & replaced with the perception that only whites civilized the world, were the master innovators & the superior race. Sadly, history is written by the white victors – ever since the time of papal bulls, Age of Discovery & Christianizing of the world, white supremacy together with white racism has prevailed. In reality everything originated from Africa & so why complain about Africans migrating to the first world afterall they helped civilize the world? Evidence clearly should nullify all false paintings, false documents, false theories.
Shenali D Waduge