186 people have received money from PTL: Keerthi
Posted on June 6th, 2018
Sheain Fernandopulle Courtesy The Daily Mirror
Nearly 186 people had received money from Arjun Aloysius, Campaign for Free and Fair Elections (CaFFE) and Centre for Human Rights and Research Sri Lanka (CHR) Executive Director Keerthi Tennakoon said yesterday.
He said these figures might increase as more and more hidden data on the bond scam were exposed.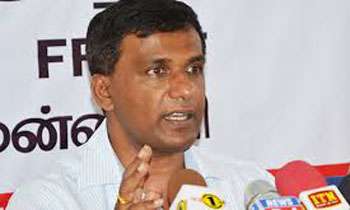 We have done our part in educating the people on the bond scam. Now, it is up to the officials to take necessary action and expose the details of those who have received money from Arjun Aloysius," Mr. Tennakoon said. Politicians, state officials, religious leaders, journalists and some others are included in the list. We urge those responsible to expose these names before we unearth them and release them to the people."
He said he had written to Speaker Karu Jayasuriya requesting him to obtain affidavits from the newly appointed Committee on Public Enterprises (COPE) members, to prove they had not obtained any funds from Mr. Aloysius.