Several initiatives to revive economy: Finance Ministry
Posted on November 1st, 2018
Prime Minister and Minister of Finance and Economic Affairs Mahinda Rajapaksa has given direction to implement several initiatives to revive the economy as the consumers are saddled with high cost of living, Finance ministry said today.
It said in a statement that the President and the Prime Minister have raised concerns regarding the serious setback in the economy as reflected in the persistently low growth rates during the last 3 years along with the rising cost of living.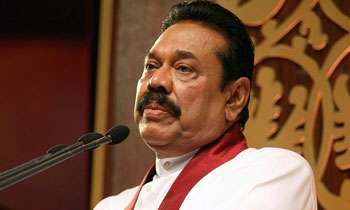 Prime Minister is of the view that ill-conceived economic and financial policies of the previous Government have led to this situation by marginalizing local entrepreneurs, industries and domestic production," the statement added.
Telecommunication Levy reduced from 25% to 15%
The Finance ministry said today telecommunication Levy of 25% will be reduced to 15% from midnight today.
Prices of Dhal, Chickpeas and black gram reduced
Special Commodity Levy on a kilo of Dhal was reduced by Rs.5, Chickpeas by Rs. 5 and black gram by Rs.25 per kilo from midnight today, Finance Ministry said.
Meanwhile, Customs Duty on Wheat grain will be waived to Rs. 9 per Kg from the existing waiver of Rs.6 per Kg while taxes on sugar will also be reduced by Rs.10 per Kg.
Fuel price reduced
The price of a litre of Petrol had been reduced by Rs.10 while a liter of Auto Diesel was reduced by Rs.7 with effect from midnight  today, the Ministry of Finance said.
Accordingly, a litre of petrol will be sold at Rs.145 and a litre of auto diesel will be Rs.116
Lubricants including the 2T lubricants used in three-wheelers and small agricultural engines have been reduced by Rs.10 per litre
A cost-based pricing mechanism will be implemented on fuel in place of the monthly fuel price formula.
Increased import tax on big onions, potatoes extended
The special commodity levy on imported big onions and potatoes would be extended for a period of one month with effect from today, the Finance Ministry announced.
It said the import tax on big onion was increased to Rs. 40 from Rs. 1 per kilo six months before.
Accordingly, the import tax on potatoes was increased to Rs. 40 per kilogram from Rs. 30.
The Finance Ministry says that this decision has been taken with the reduction of local big onions and potato prices.
The tax increase is expected to control imports and increase the prices of local production.