Easter blasts and its Aftermath – Part I
Posted on April 27th, 2019
By; A.A.M.NIZAM – MATARA
Sri Lanka remained a very peaceful country in the whole of Asia from 9th May 2009 since our gallant forces vanquished the world's ruthless terrorists, the Tiger terrorists who played havoc in the country for over 30 years and who invented and were responsible for introducing the human suicide bomb to the world. Following the end of terrorism in 2009 Sri Lanka remained the most safe and secure nation, perhaps in the whole world, due to the tight and impenetrable security network imposed by the Mahinda Rajapaksa government. But unexpectedly the foreign, terrorist and hegemonic India imposed foreign and diaspora servile current government, despite stern warnings and vehement condemnations by the joint opposition relaxed these security measures on western, diaspora and TNA demands and boasted that they have made the country a nation of maximum freedom in which no one is harassed or threatened on concocted charges, they have put an end to what they said the white van culture, and the people have the fullest freedom to indulge in whatever actives they deem it necessary. They also stated that there are and will be no areas called high security zones in the country.
This illusory Utopian world was suddenly shattered last Sunday (21st April – the Easter Sunday) and immersed in grief and sorrow by suicide bombings mainly in three holy church premises and three leading hotels by a group of brutal, inhuman fanatics for whom human lives seemed to be not even worthy of stray dogs Up to the time of writing this article the carnage was reported to have caused 319 deaths and over 500 injured with the potential to increase in the number of deaths. The world's brutal terrorist outfit which has replaced the atrocities of the tiger terrorist, the ISIS claimed responsibility for this carnage. They published photographs and names of seven barbarians in their website AMAQ news agency
The names of the terrorist suicide bombers as announced by the Amaq News Agency were;
St. Anthony's Church, Colombo – Abu Hamza
St. Sebastian's Church, Negombo Abu Kaleel
Scion Church, Batticaloa – Abu Muhammad
Shangri-La Hotel – Abu Ubaida
. Cinnamon Gardens – Abu Al Baara
. Kingsbury Hotel – Abu Mukthar, AND
. Dematagoda Blast – Abu Abdulla
The prefix to all the names Abu" is a common usage for names in the Middle East and it denotes that the concerned person is the father of so and so.For instance Abu Hamza is the father of Hamza, Another form they use identification of persons is Ibn (on of), In the case of females they use Umm – mother of – of Bint – daughter of. In Sri Lanka we use father's name followed by our personal names,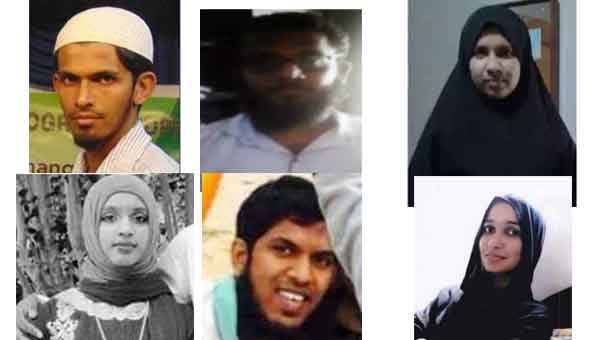 Meanwhile, the Police have published the photograph of the following 6 suspects urgently wanted regarding the bombing incidents.
They are;
Mohamed Ismail Sadik Abdulla
. Pulasthini Rajendran alias Sarah
Fathima Latheefa
Mohamed Iwhaim Shahid Abdullah
Abdul Kader Fathima Kaadia and
Mohamed Cassim Mohamed Rilwan
The former Defence Secry,Mr. Gobhaya Rajapaksa, who had been shocked seeing the collapse of the security fortress painstakingly built by him, issuing a special message has said that it is a fundamental duty of a civilized society to vehemently condemn the terrorist attacks carried out in Sri Lanka on Easter Sunday which is a holy day for Christians throughout the world. . We must wholeheartedly reject, despise, and condemn this cowardly, and inhuman acts, he emphasized. Here is the English translation of his message.
I express my sincere and heartfelt condolences for all those who lost their precious lives and to their kith and kin. I also express that it should be the common and sincere prayer of the whole country for the early and speedy recovery of all those who have got injured and suffered from this cowardly act. Further, I also draw the attention of the government that it is their prime duty and responsibility to immediately renovate the damaged churches and their premises and the private ropertiesthat had been damaged.
The hearts of Sri Lankans were suddenly stopped with shock and grief when after ending a 30 years of war and were breathing freely when this cruel terrorist attack took place and it reminded that terrorism has no sanity and consciousness.
Sri Lanka was in possession of an intelligence service that was not second to the world's most powerful intelligence service and the act of dishonouring this intelligence which assured safety and security for Sinhala, Tamil, Muslim and others alike in front of our face is causing much agony and grief. But the moment has come for us to transform this agony and grief into courage and determination.
It is our prime and foremost task today to recreate a lovable and adoring Sri Lanka in which all nationalities, people of all religions can live together in safety and security. I have learned from my personal experience that any force against the motherland can be defeated if we face it determinedly and firmly. It is by this solidarity that we could get the power and strength to wipe out the forces against the motherland.
Let us display that our self-confidence is above all other things at this time the whole country is embedded with shock. It is the noble guidance that should be provided to the people by the religious leadership, by the political leadership, and the social leadership.
Let us rise up on behalf of the motherland under the National Flag in unity and with a single determined heart.
Gotabaya Rajapaksa
In his desperation and agony, Mr. Gotabaya has told media on Friday 26th April that he would run for president in elections this year and would stop the spread of extremism by rebuilding the intelligence service and surveillant citizens. He has ad that the attacks could have been prevented if the island's current government had not dismantled the intelligence network and extensive surveillance capabilities that he built up during the war and later on.. He has said that since the attacks, the government has struggled to provide clear information about how they were staged, who was behind them and how serious the threat was to the country.
On the same day, President Sirisena also blamed that the government led by premier Ranil Wickremesinghe should take responsibility for the attacks and that prior information warning of attacks was not shared with him.
He said that if he won, his immediate attention would focussed to rebuild the security set-up and said that is a serious problem and need e to go deep into dismantle the networks, and he would give the military a mandate to collect intelligence from the ground and to mount surveillance of groups turning to extremism.
Gotabaya said that in the military intelligence cell he had set up in 2011 of 5,000 people, had some of them with Arabic language skills and that was tracking the bent towards extremist ideology some of the Islamist groups were taking in east had been disbanded by the current government. He flayed the government saying that they did not give priority to national security, they were talking about ethnic reconciliation, then they were talking about human rights issues, and they were talking about individual freedoms.
Leading Buddhist monks, prelates of Christian and other religions, and civil society organizations have severely condemned Prime Minister Ranil Wickremasinghe for bringing this country to this vulnerable and pathetic situation due to his foreign, diaspora and TNA servile appeasements , ignoring warnings made by intelligence service units and avenging the war heroes who dedicatedly protected and safeguarded this country. They have urged Mr. Wickremasinghe to step down immediately and handover the country to security forces to rule the country until a new government is elected by the people.
They have pointed out that every time he came to power, he crippled the intelligence services and endangered the security of this nation. In this regard they have cited some of the treacherous activities carried out by him which include;
Betrayal of 160 members of highly trained commandos of the Long-range penetration unit which operated from the Millennium City to LTTE and exposing their names and identity;
Signing the awful CFA and thereby caging our security forces to their barracks while granting full freedom to LTTE cadres to roam to anywhere in the country;
Crippling the intelligence services and denying them the special facilities they require;
Allowing the terrorists to import sophisticated technologically advanced communication equipment and allowing them to take it to North unchecked;
Inaction on several thousand ceasefire violation charges against the terrorists;
After 2015crippling the intelligence services by arresting over 20 prominent officers on fraudulent charges;
Enacting legislations targeting arrest, prosecution and imprisonment of war heroes locally and internationally;
Imprisoning several prominent war heroes merely on the requests of foreign, diaspora and TN elements;
Carrying out a witch hunt to net commanding officers of the security forces that too on the requests of foreign, diaspora and TN elements;
A report published by CNN revealed that on 9th April the Deputy Inspector General of Police Priyalal Dissanauyake has circulated a warning to government leaders on the impending attack on the Easter Sunder and the Prime Minister and other government leaders have completely ignored third circular and has intimated about it to Christian Ministers and Christian MPs in the government and they have deliberately hidden this important warning from the Leader of Opposition Mr.Mahinda Rajapaksa and Cardinal His Highness Dr. Malcolm Ranjith fearing that they would take undue advantage from this warning. At least if they had informed about this danger to is Highness Rd. Malcolm Ranjith he would have certainly taken some concrete measures to minimize the damage of the carnage. This also shows that the government no concern at all about the people and they only wanted to ensure the safety of their ministers and MPs and hence they including the Minister of Christian Affairs, John Ameratunga,a staunch Christian refrained from attending Mass on this the third most important day of the Christian Calendar.
This foreign servile government has plunged the peaceful country in peril and it is imperative that this government should be done away without any delay, The President should take immediate action to dismiss this government and appoint a caretaker government of Security and judiciary officers until a new government is elected by the people. It is absurd to expect this government to resign voluntarily as the Kohola Baba and his acolytes would stay glued to their seats until they are caught by the neck and thrown out.
(To be continued).