Millennium Challenge Compact – Can it reach its 'goal' of 'reducing poverty through economic growth in Sri Lanka'?
Posted on January 20th, 2020
By Samantha Kumarasinghe
Millennium Challenge Compact isan agreement between the United States of America, acting through The Millennium Challenge Corporation ('MCC'), and the Democratic Socialist Republic of Sri Lanka, acting through The Ministry of Finance ('Government')
(It is important to note that what 'MCC' means in the said Millennium Challenge Compact document is The Millennium Challenge Corporation of USA and not Millennium Challenge Compact. The latter is referred to as 'Compact' in the said document)
Following excerpts are from the Millennium Challenge Compact document released recently by the government of Sri Lanka
Background
December 2015 – MCC's board of Directors selected Sri Lanka to develop a threshold program
During the development of the threshold program, the Government and MCC conducted a constraints analysis in collaboration with the Centre for International Development at Harvard University – Completed in November 2016
December 2016 – MCC board selected Sri Lanka to develop a compact
Government recruited the compact development team – housed in the Prime Minister's Office of Policy Development
November 2017 – Government submitted project proposals that focused on addressing Sri Lanka's binding constraints
June 18, 2018 – Amended and Restated Grant and Implementation Agreement (CDF Agreement) Pg 9
Consultative Process as given in the Millennium Challenge Compact agreement document
The Government consulted a wide range of public officials, the private sector, civil society and development partners
Separate meetings with various Government ministries and agencies, the Ceylon Chamber of Commerce and the American Chamber of Commerce in Sri Lanka
Stakeholder workshops, outreach sessions targeted at specific interest groups
In 2017 – Series of workshops with Government ministries and agencies working on transport and land, various think tanks and civil society
While finalizing in May 2018 – extensive consultations and workshops with stakeholders
Goal and Funding
Goal is to reduce poverty through economic growth in Sri Lanka. MCC shall provide assistance in a manner that strengthens good governance, economic freedom and investments in Sri Lanka
Upon entry into force of this compact, MCC shall grant to the Government Four Hundred Forty-Seven Million Five Hundred Thousand United States Dollars (US$ 447,500,000) to implement the programme (multi-year allocation of funding is described in Annex II)
Upon the signing of this compact, MCC shall grant to the Government Thirty-Two Million Five Hundred Thousand United States Dollars (US$ 32,500,000), in addition to above funding
Other information on Millennium Challenge Corporation and Millennium Challenge Compacts
Jenner Edelman is the Resident Country Director for MCC in Sri Lanka. Her last assignment has been in Georgia where MCC had signed agreements for USD 395.3 Million in 2005 and USD 140 Million in 2013 respectively. During the said periods Georgia's GDP growth rate declined from 9.6% to 4.7%, and today it is a poor country with a total GDP of USD 16.2 Billion. I was not able to find information on what USA gained in Georgia through these two agreements.
There are three types of MCC grants:
Compacts: Five-year grants for countries that meet MCC's eligibility criteria (type of agreement proposed to Sri Lanka)
Concurrent Compacts for Regional Investments: Grants that promote cross-border economic integration
Threshold Programs: Smaller grants for countries that come close to passing MCC's eligibility criteria and show commitment to improving their policy performance
The basic purpose of this MC Compact is said to be to grant USD 480 Million to Sri Lanka to reduce poverty through economic development.
We will now look at how the 27 countries who have signed Millennium Challenge Compacts with USA have benefitted or lost from those Compacts based on the Gross Domestic Product (GDP) growth rate criteria.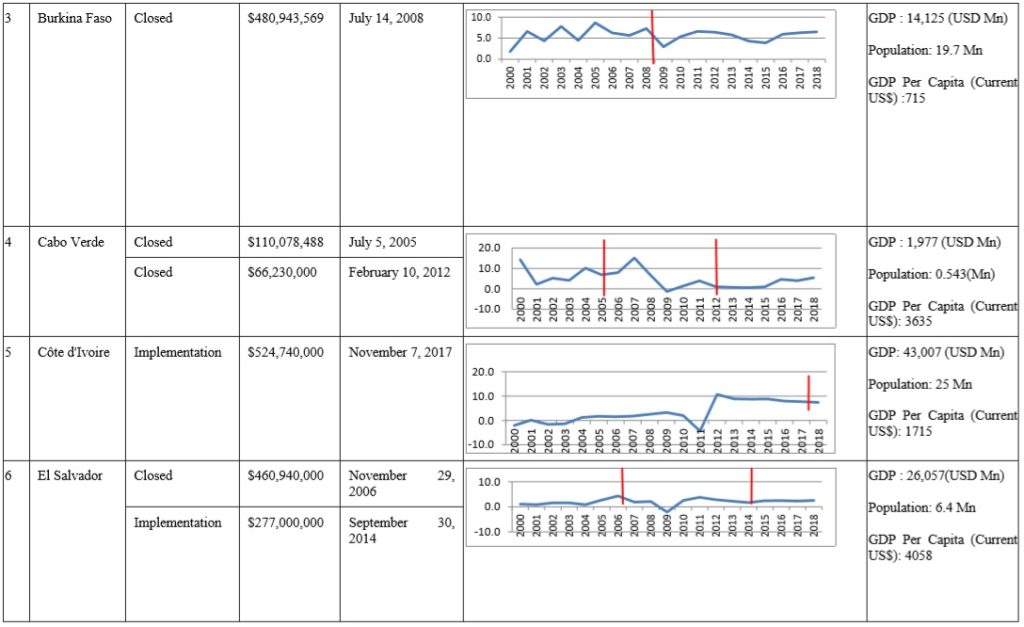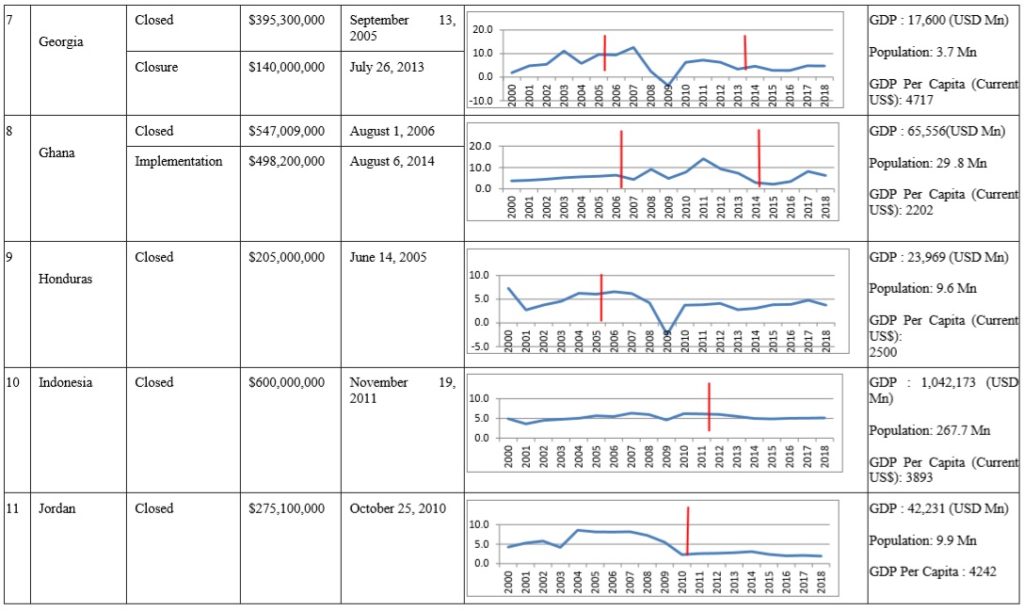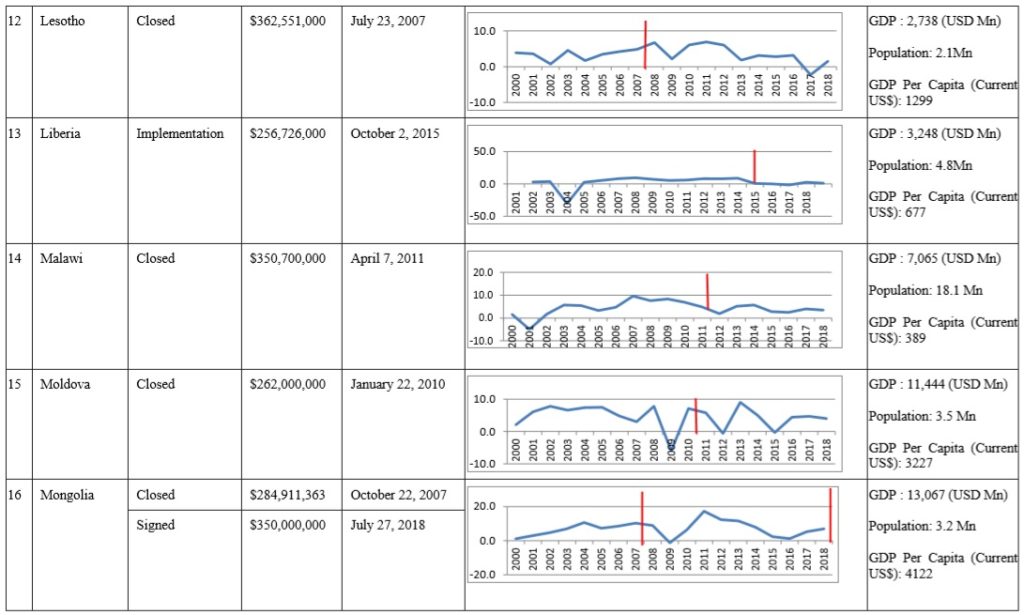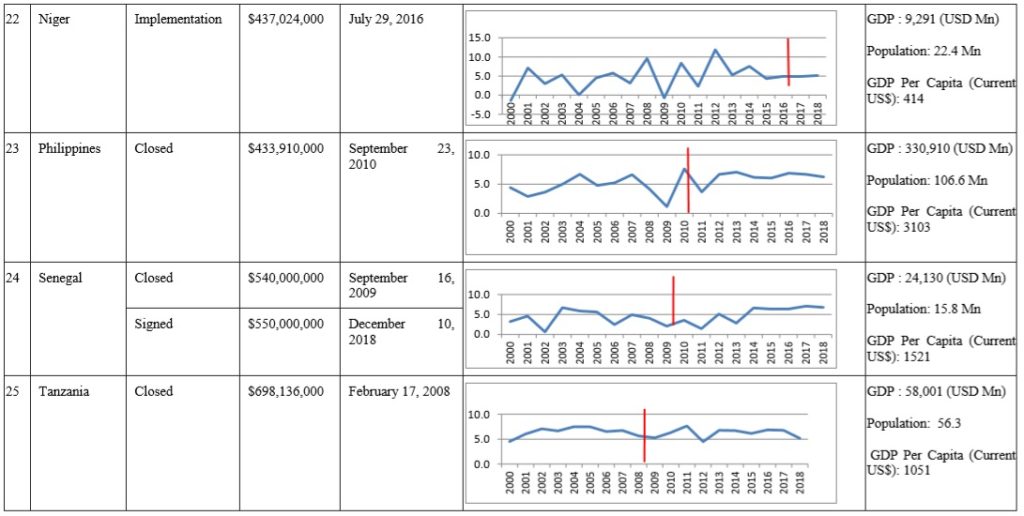 Data Source: World Bank Data 2018
Observations and conclusions that can be made from the data given in the above table:
15 out of the 27 countries are in Africa and they are extremely poor, small countries.
Jordan is the only country from Middle East and that is one of the poorest among the oil rich Middle Eastern countries. After signing the MCC compact in 2010, economic growth has declined drastically. GDP growth rate which was 7% in 2008 has declined to 2.3% in 2010 and further declined to 1.9% by 2018. Total GDP of Jordan is USD 42 billion which is about 50% of the GDP of Sri Lanka.
There are three countries in Central America, and they are El Salvador, Nicaragua and Honduras which are poor countries with small populations. All three countries have experienced serious economic problems after signing the MCC agreements and have ended up with negative economic growth within few years after signing the agreements.
Only two countries in Western Asia, Georgia and Armenia, have signed MCC agreements and both countries have experienced negative economic growth after signing MCC agreements. They still remain to be countries with extreme poverty levels compared to their neighboring countries such as Turkey, Bulgaria and Russia.
Philippines and Indonesia are the only countries with a considerable GDP size that have signed MCC agreements.
Although the GDP growth rate has not significantly declined in Philippines, there is no improvement in growth after signing the agreements. Philippines has now become a country faced with a major drug problem.
Indonesia has experienced a gradual decline in economic growth rate after signing the MCC agreement in 2010 from 6.2% to 4.9% in 2015.
Nepal is the only country in South Asia that has signed a MCC agreement. As it was signed in 2017, not much can be said yet about the impact of the MCC agreement on Nepal.
MCC- A grant from the 'biggest debtor in the world' with very high poverty levels?
In Sri Lanka, 4.1% of the population lives below the national poverty line as per World Bank data for 2016.
The official poverty rate for USA is 12.3%, based on the U.S. Census Bureau's 2017 estimates. Deep poverty is 5.7%.
https://poverty.ucdavis.edu/faq/what-current-poverty-rate-united-states
USA has the biggest external debt in the world which is USD 20.2 Trillion in 2019. This is USD 4 Trillion higher than the external debt of entire EU.
https://www.gfmag.com/global-data/economic-data/xtegh9-external-debt-in-countries-around-the-world
Given the above poverty and debt levels, it is obvious that USA is not going to simply give a grant to develop our country without significant benefit for USA. Sri Lanka has to be extremely careful in signing complicated and binding agreements that are subjected to international law, especially since USA has a history of having signed over 100 agreements with the Native American Indians during the period 1778 to 1871, which subsequently led to the Native American Indians losing almost all their land that they had lived on for thousands of years prior to signing the said agreements.
Concerns on Land issues for Sri Lanka
Under the proposed agreement, USD 350 Million is for a Transport project and USD 67.3 Million for a Land project. Land project allows MCC to survey lands in Anuradhapura, Kandy, Kegalle, Kurunegala, Mathale, Polonnaruwa and Trincomalee districts. Further, the agreement allows MCC to survey lands in other areas covering 67% of the total land extent of Sri Lanka. All such data collected in the above surveys will become the intellectual property of MCC USA. It means that MCC will have intellectual property rights to survey plans of 67% of land in Sri Lanka, including places of natural resources and water resources. Sri Lankan proponents of MCC agreement do not seem to have any idea of limitations or bindings of such intellectual property rights given to a country like USA that is trying hard to maintain their military powers in the Asian region through various strategic agreements.
The proposed MCC agreement does not fall under the laws of Sri Lanka and will be subjected only to international law.
A country that loses its land will always be a country of people in extreme poverty. We should not forget the important statement once made by Desmond Tutu, the world famous South African Archbishop, When the missionaries came to Africa they had the Bible and we had the land. They said 'Let us pray.' We closed our eyes. When we opened them we had the Bible and they had the land".
Through an act in 1913, the White rulers of South Africa acquired about 93% of land from the indigenous black people, chasing them out from their traditional homelands. Mandela fought against this and for the freedom of black South Africans. Mandela was jailed in 1964 for about 30 years. He was later released and became the President of South Africa and Apartheid was said to be over. Twenty five years have passed since 1994 but still the black people in South Africa have not got their land back and majority of them live in extreme poverty. Even today the average income of a white man in South Africa is 5 times that of a black man. That is why losing land is proven to be the beginning of the loss of future prosperity of any nation.
Agreements such as the Millennium Challenge Compact, if signed at the expense of entire future generations of a country, will only help a handful of unpatriotic, power hungry and greedy politicians who want to be in power for few more years till they die of old age.
Sri Lanka is now an upper middle income country with a per capita income of over USD 4,000 and thus technically cannot fulfill the MCC criteria for a grant. To overcome this issue the former Government and MCC have taken the year of grant approval as 2016, which is just before the year that Sri Lanka passed the USD 4,000 per capita income level. Therefore, my personal opinion is that if the present Government wants it can avoid signing the Millennium Challenge Compact on that criterion.
Being an upper middle income country, we do not have to run to other countries with a begging bowl anymore. Strong, patriotic leadership with good negotiation skills and confidence in local capabilities is the need of the hour to develop the country, whilst improving living standards of the entire population. There is no point in increasing the GDP of a country unless it really helps to increase the income and living standards of the poor people in the bottom layers of the income pyramid.
I sincerely believe in the reality that 'Not signing agreements' is always better than 'Signing unfavourable agreements' that put the future of many generations to come in a miserable situation that they can never escape.
Data Sources
MCC https://www.mcc.gov/where-we-work
GDP https://data.worldbank.org/indicator/NY.GDP.MKTP.CD
Population https://data.worldbank.org/indicator/SP.POP.TOTL
GDP per capita https://data.worldbank.org/indicator/NY.GDP.PCAP.CD