THE WORLD IS IN FLAMES BECAUSE OF RACISM BUT THE BRITISH RACISM CONTINUES
Posted on June 15th, 2020
Sri Lanka News
@bhcolombo UK SRI LANKAN EVENTS & NEWS
The British High Commission says it is an inclusive & diversity-friendly employer".
The British High Commission says it encourages applications from people of ALL BACKGROUNDS.
The British High Commission says We do not DISCRIMINATE on the basis of RACE, COLOUR, ETHNICITY" but it places a vacancy for a POLITICAL OFFICER that is purposely EXCLUDING THE ONE MAJORITY COMMUNITY IN SRI LANKA (the Sinhalese)
The language proficiency that the British High Commission seeks is an excellent command in written & spoken English & Tamil. Clearly, Sinhalese is excluded.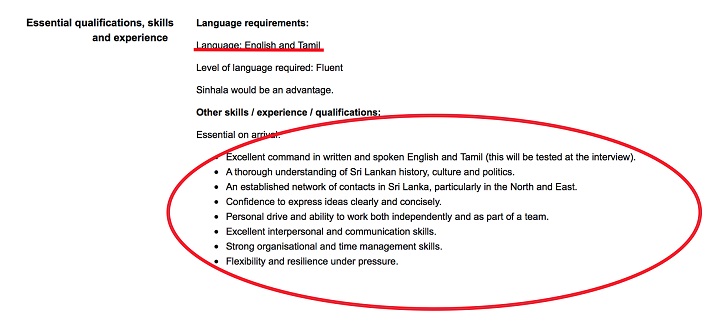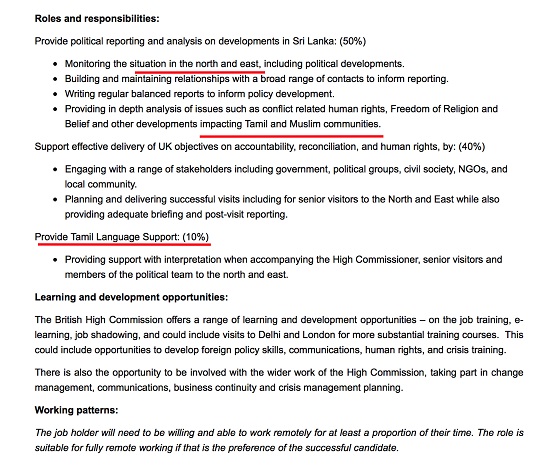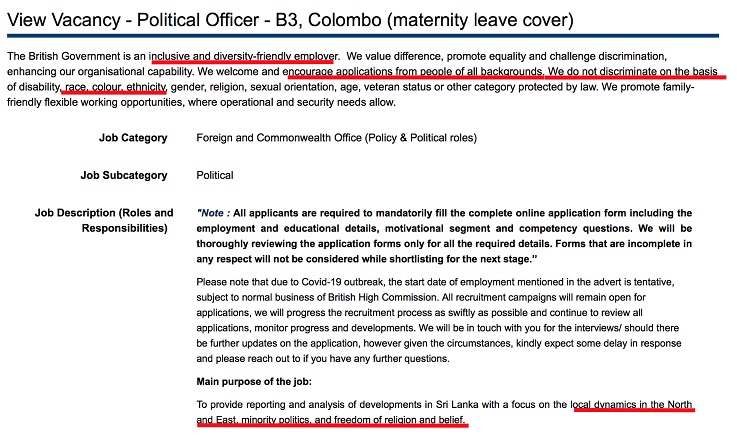 Generally Political Officers appointed by Foreign Missions are to provide the Mission inputs on ALL THE COMMUNITIES but in this case the British High Commission is seeking someone who reports on the LOCAL DYNAMICS IN THE NORTH & EAST, MINORITY POLITICS" MONITORING NORTH & EAST" & ISSUES IMPACTING TAMIL & MUSLIM COMMUNITIES"
We are not stupid not to read the intention behind this advert.
https://fco.tal.net/vx/lang-en-GB/mobile-0/appcentre-1/brand-2/candidate/so/pm/4/pl/1/opp/12197-Political-Officer-B3-Colombo-maternity-leave-cover/en-GB