THE GENERAL ELECTION OF 1956 Part 3B
Posted on March 14th, 2021
KAMALIKA PIERIS
SOCIAL LEGISLATION
Bandaranaike's government made a lasting contribution to the social legislation of the country, specially Labour legislation. The MEP government set up Conciliation Boards , Labour tribunals, The Employees Provident Fund and passed the Prevention of Social Disabilities Act, No. 21 of 1957.These laws and bodies are now taken for granted. The pioneer role of the MEP is forgotten.
MEP government set up Conciliation Boards to facilitate amicable settlement of disputes. The Conciliation Boards Act No. 10 of 1958 was passed amidst opposition from vested interest. Conciliation Boards were to operate in all villages. Boards were empowered to settle dispute of a civil nature, especially those which related to moveable property.
The Act provided for mandatory community level resolution of minor disputes by impartial conciliators. The objective of the Act was to make available to disputants a much more accessible, less expensive, speedy and participatory dispute management process. They did a tremendous service by settling the disputes at village level and preventing lengthy litigation in courts, said WTA Leslie Fernando. Conciliation Boards operated from 1958- 1977. They were repealed in 1977. The Mediation Boards Act no 72 of 1988 is nothing but a continuation of the Conciliation Boards, said Fernando.
Labour Tribunals were set up on 2.5.1959. The Industrial Disputes Act 3 of 1950 had provided only for compulsory arbitration at union level. A workman who was unfairly terminated had nowhere to go, to seek a remedy. It was to fill this lacuna that Labour Tribunals were created through Act no 62 of 1957.
Until these tribunals were set up, a worker had to go to the civil courts when he was wrongly dismissed. This was beyond the worker's means. With the creation of Labour tribunals, the workman with a grievance now had a place to go to. The Labour Tribunals provided speedier justice than the courts. If he wished a workman could get a non lawyer to appear for him in the Labour Tribunal.
The Employees Provident Fund (EPF) was established under the Act No. 15 of 1958 and is currently the largest Social Security Scheme in Sri Lanka. It had an asset base of Rs. 2,289 billion in 2018.
The Prevention of Social Disabilities Act, No. 21 of 1957 prohibited discrimination on the basis of caste. The Act permitted all persons to enter and be served at, any public hotel, rest house, eating house, and restaurant. Obtaining or using water from any public well, spring, water-pipe or any other source of supply of water to the public. Entering, or obtaining the service provided at a public hairdressing saloon or laundry. Entering any public cemetery and attending or taking part in any burial or cremation. No person should be prevented from entering and worshipping in any temple which belongs to that person's religion. This was a boon to the low caste groups in Jaffna, who at the time were prevented from entering certain temples and barber shops. The Tamil politicians did not like this legislation.
NATIONALISATION OF BUS COMPANIES
MEP had promised to nationalize the bus companies and create a State Transport Board. There were several large bus companies at the time. South Western Bus Company of Cyril de Soyza, operating on the Colombo-Galle route. Silver line bus service operating in Colombo. Sri Lanka Omnibus Company owned by Jayasena Madanayake of Peliyagoda, operated Colombo-Kandy- Gampaha-, Kurunegala run. Panadura Motor Transport Company of Leo Fernando operating on Panadura- Ratnapura- Wellawaya- Buttala route.
There was a host of smaller companies in the outstation. Siri Medura Bus Company ran buses from Gampaha to Waturugama. There was the Blue line Company, Green line company, Uva Bus company, Madhyama Lanka, Kandy Omnibus, Galle Motor company and so on.
There was long standing dissatisfaction with the bus service provided by these private companies. There was much public anger over the deplorable service provided and the huge profits that the bus owners were making, which they did not use to improve the service. There was rivalry between the bus owners and brutal fights. Employees were badly treated.
The call for nationalization of bus service had been there for a long time, but the UNP government was not prepared to nationalize. The Bus company owners were all supporters of the UNP. They provided the UNP with funds and also provided gangs for intimidation during elections. In the 1950s, 27 MPs had interests in the bus companies.
The MEP nationalized the private bus service. SWRD wanted the nationalization done in stages, Philip Gunawardene insisted that it must be done in one go. The Motor Transport Bill for the nationalization of bus services was presented to the House of Representatives on September 24, 1957 and passed on October 17, 1957. It was passed without division. Buses were nationalized in 1958.
All road passenger transport services were transferred from private to state ownership and on January 1, 1958 by Transport Act No. 48 of 1957. The Ceylon Transport Board (CTB) was created to operate an all island bus service. The CTB provided bus transport for the hitherto inaccessible rural areas.
SWRD appointed a senior member of the Civil Service, Vere de Mel as Chairman, CTB. He was an excellent choice. He handled the takeover expertly, then set up an integrated bus transport system which for the first time catered to hitherto inaccessible parts of the island. CTB also made it possible for passengers to travel to distant places without having to change buses at several points, noted Meegama.
It should be observed, however, that while this may have been good for transport, it was a calculated hit at the emerging Sinhala business man. The bus takeover was a severe blow to them and many 'bus mudalalis' never recovered from it.
TRAIN SERVICES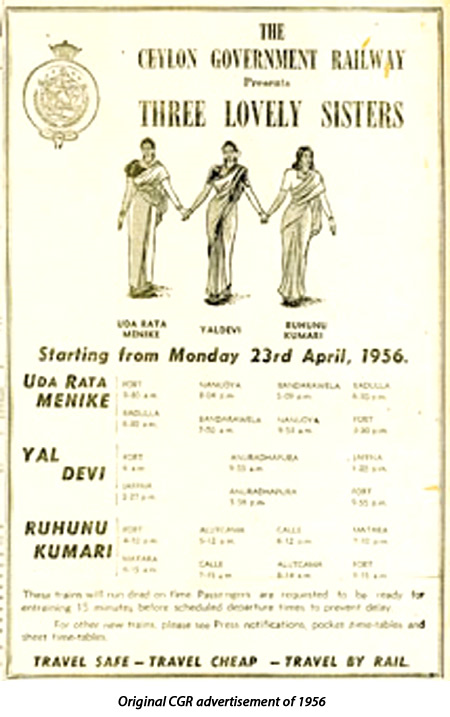 In 1956, three new train services, to Galle, Kandy and Jaffna were introduced by B.D. Rampala, General Manager of Railways. They were the Udarata Menike (Colombo- Badulla), Yal Devi (Colombo – Jaffna) and Ruhunu Kumari (Colombo- Matara).
All three trains were launched in April 1956, on the same day. The intention was to increase passenger use of trains and reduce travel time. They operate to this day, with modern changes to both trains and tracks.
Yal Devi was the first express train in Ceylon. Earlier, the train journey to the north took 13 hours. There were 83 stations on this line. . Yal Devi did it in seven hours Udarata Menike covered a staggering 62 railway stations and 42 tunnels. ( Continued)