NZ dairy expertise helping Sri Lanka post-war recovery
Posted on March 31st, 2021
Courtesy Dairy News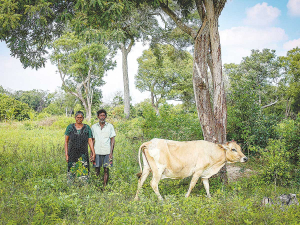 For the first time in their lives, Sri Lankans Nalayini and Chinniah were earning enough money to eat three meals a day and pay for their kids' education – thanks to one cow and a lot of hard work.
Nalayini and Chinniah, both in their 50s, have overcome more obstacles than most couples do in a lifetime.
They didn't have an easy life before the civil war in Sri Lanka. They were living in poverty, raising their five children, and were only able to afford one meal a day instead of the usual three.
My husband worked as a labourer in the paddy fields and cut firewood, while I was at home with the children," says Nalayini.
Life was very difficult…we didn't have a traditional house with all the furnishings. We lived in a small place made from coconut leaves and slept on a mat on the ground. We would always get wet when it rained. We lived like that for a long time," she says.
When the civil war started in Sri Lanka, Nalayini and Chinniah with their children fled for their lives. We moved from place to place because the bombs were falling everywhere. We hid in bunkers to protect ourselves. We were convinced we would die."
The couple managed to make it to one of the camps for displaced people where they stayed for a year.
We were given food and water and other basics, but we couldn't go anywhere. All we wanted was to go home."
When the war was over, the family returned to their home village, but they were traumatised.
We were scared all the time. We feared the bombing would start up again—that the whole war would start all over."
Not only that, when the family returned there was nothing left – home was destroyed and goats and cows were gone.
Nalayini and Chinniah rebuilt their lives step-by-step with determination. They didn't have any other choice.
At first, we built a kind of makeshift house. After a couple of months, we were able to get some supplies to make our house a little stronger. After three years, we managed to build a sturdy, brick home for our family."
At the same time, the couple joined Tearfund's dairy farming programme. They had owned cows before the war and knew the basics of how to care for livestock.
We received a pregnant cow, attended various training sessions on how to care for and raise the cows well so we could increase their milk supply."