THE GENERAL ELECTION OF 1956 Part 5F
Posted on April 11th, 2021
KAMALIKA PIERIS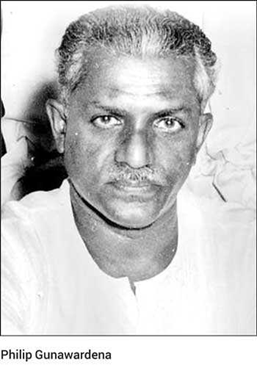 Philip was universally considered a man of high principles, honesty and integrity. He was very austere in his ways. DB Dhanapala recalled that he found him a mild kind of man who liked to listen to you with as little comment as possible. Everyone who knew him remarked, that in private he was a very gentle soul, on the political platform he was a fury.
He was a stormy figure passionately committed to socialist political ideas, blunt and forceful, said Meegama. He had an angry demeanor on platform and attacked opponents headlong without niceties. He was too straightforward and too impatient to have time for niceties.
Philip was one of those rare politicians who were willing to praise his opponents. He would continue a programme of work begun by an opponent if it was good for the country, said Meegama. He had a high respect for the competent and hardworking professional, as he had only the most virulent scorn for the charlatan and the time saver said Sarath Amunugama.
Philip didn't move in the elite society of Colombo, whose loyalty to the British he despised. Colombo and the English speaking intelligentsia, in their turn, have never had much affection for Philip .
Philip fell in love with Kusuma Amarasinghe, from Tangalle, who had attended the political classes which were conducted by the LSSP. They married in 1939 and attesting witnesses were Colvin R de Silva and Susanta de Fonseka.
He was a family man said Meegama. He led an unostentatious family life. The Gunawardenas laid great emphasis on family and treated their wives with great respect, said a daughter- in- law in a newspaper interview some years ago.
Philip was a voracious reader. Any little spare time from public affairs he used for reading and study. Philip was a great reader and books fascinated him. In London he would frequently visit the bookshops in Dillons, Charing Cross road, where he would browse for long hours. When he visited in 1960 he attended the Shakespeare festival at Stratford, said Meegama.
He was a writer too. When he was in prison in the 1940s he had translated into Sinhala Lenin's State and Revolution" and got it published.
Philip also made a study of the Seethawaka kingdom and its two kings Mayadunne and Rajasinghe I. He pointed out that the memory of these lingered in folk poetry, festivals, religious practices and litanies. For example at the Kabulumulla Pattini devale, there are ceremonies dedicated to Rajasinghe, whom the people deified as Rasin Deviyo and Ganegoda Deviyo.
Then he wrote Sitawaka Urumaya Philip said his preface to the book that he thought that the Sitawaka period should be seen as a separate period in history. And those historians should look into this subject.
Philip died before he could finish the work. Ven. Horathapala Palitha prepared the manuscript for publication. Sitawaka Urumaya was published by the Philip Gunawardena Commemorative Society in 1973. (repr. 2008 and 2011). It is a valuable addition to the history of Sri Lanka. This is the only book I have read, which provides a detailed study of the Sitawaka kingdom. It contains rare information and has very useful maps.
One cannot study the left wing politics of this country without examining the colorful political career of Philip who wanted to adjust and adapt Marxism to suit the political culture of the country, said Wiswa. A master of political initiative and strategy he was quick to seize an opportunity or to create them, said Meegama.
He disagreed with traditional Marxists who focused on the industrial proletariat. He realized that it was necessary to go beyond the urban working class and ally with other social formations in rural Sri Lanka. He was the one Marxist who saw the potential of the rural peasantry and he tried always to improve their lot said Wiswa Warnapala.
Philip never forgot the masses, though Politicians often forgot them once they won the election said Garvin Karunaratne. In his public speeches he always spoke of the well being of the common man, said Garvin.
Meegama says his compassion for working people was evident at all times. Philip's commitment to the oppressed never wavered in his years as Minister. Philip was always conscious of the needs of the peasants and he realized that Leftist thinking had no relevance to the agrarian sector.
He was the first to realize the impracticality of the Left trying to go it alone. He realized that a broad front was needed. His first attempt to form one in 1947 with SWRD failed. In 1956 then there came the grand alliance with SWRD and the Mahajana Eksath Peramuna. His VLSSP divorced itself from the international Marxist polemics and allied with non-Marxist parties like SLFP and Bhasha Peramuna to form the MEP.
Philip was at his best in the MEP government . Philip played a prominent role in the formulation of MEP manifesto, said Ananda H Singaraweli. SWRD had fearless powerful ally in Philip Gunawardena. He was later the backbone of the MEP, continued Meegama.
For the first time a leader with a following among organized labor and an ambition to transform Ceylon's economy according to Marxist prescriptions gained ministerial powers, observed Nayani Melegoda.
Philip was the driving force behind the 1956 government and its mainstay, said Meegama. Philip commented on the absence of an overall plan with objectives for economy development, the lack of adequate statistics, lack of clear thinking and ad hoc decisions. Philip observed that Forest Department was run by civil servants.
At the start the coalition seemed impractical and unlikely combination. How would Philip and SWRD combine on a common progamme of development? said Bradman Weerakoon.They combined beautifully. SWRD was never against Philip. He supported Philip in his innovations. The right wing in his government forced SWRD to halt Philip's work.
But DB Dhanapala had a different take on the matter. Philip was unconcerned as to the unending battle on his behalf that Bandaranaike has on his hands, said Dhanapala in his book Among those present". Bandaranaike was his only friend, sponsor and champion. Philip did nothing to help Bandaranaike.
He made no effort to meet a single of his colleges on a social level at Sravasti, cultivate them or make the slightest move to win them over and lessen Bandaranaike troubles. He thought too much of himself and not enough of Bandaranaike and his awkward situation. When he left he also took five of Bandaranaike' MPs, concluded Dhanapala.
Philip political career was part and parcel of the political history of modern Sri Lanka. His career pervaded the political landscape of Sri Lanka in a variety of ways, said Wiswa.
He was the driving force behind the formation and spectacular growth of the LSSP, one of the few Trotskyite parties in the world to ever achieve a mass following for a long period of time. That alone would secure his place in history. LSSP had respect and standing. It shaped the thinking of a generation, said Meegama. LSSP propaganda and education helped to lead the country into the 1956 government.
Admirers of Philip Gunawardene feel that Philip has not been given his due in political history.
There is a need for a definitive biography of Philip, which assesses his life and contribution.
Wiswa Warnapala asked to review Lakmali Gunawardena's book on her mother Kusuma, took the opportunity to write about Philip. Ananda Meegama asked to provide a forward for book containing Philip speeches in State Council took the opportunity to make a full review of Philip's life and work, starting before State Council and ending long after State Council. Meegama's introduction was published in edited form in Island 3.4.2010.
Ralph Pieris considered Philip Gunawardena to be the outstanding personality of his time. In a personal communication to me, Ralph made a lengthy, positive, admiring, statement about Philip's work. I am however unable to repeat what he said, because, sorry to say, I didn't listen very carefully. I can only recall two fragments, first that when Philip entered the assembly (Parliament?) everybody stood up including the head (PM?). Second, that everybody agreed that Philip was the most hard working Minister of all time.
When Philip died in 1972 the government did not send a representative to his funeral and nobody from the United Front spoke at the funeral, commented Meegama. But the LSSP paid tribute.
NM said in his tribute 'history will no doubt accord him his rightful place. In the years to come, when we are gone, a grateful Sri Lanka will remember him with pride and place him on the worthy pedestal due to him.
Philip was the father of scientific socialism in Ceylon. It is true that at the ultimate stage of his life he faltered and almost foreswore his own political origins, but this cannot detract from the great contribution he made to the social movement in Ceylon, said NM.( continued)