Hong Kong tennis' Sri Lanka-born, guitar-playing, law student Adithya Karunaratne is hoping to reign in Spain
Posted on April 12th, 2021
The 19-year-old is hoping to make it big in tennis, moving to Spain six years ago to play on Europe's competitive ITF circuitFormer Renaissance College student says Hong Kong is her home and she hopes to represent the city in all the major team competitions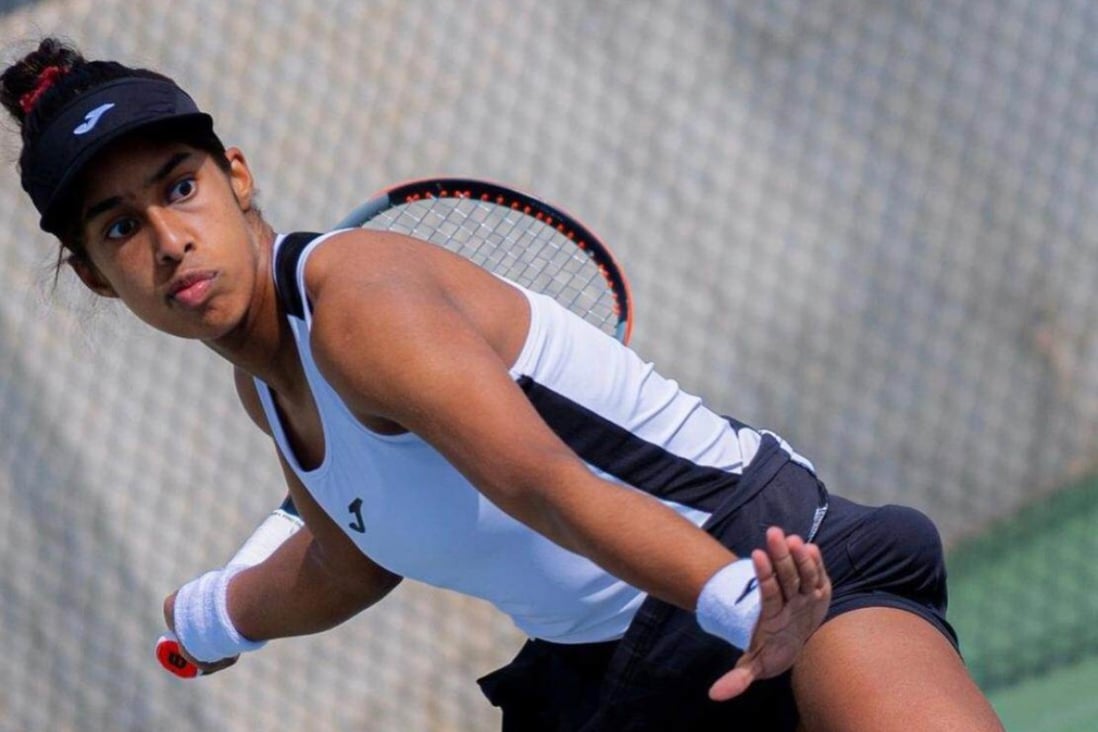 Adithya Karunaratne is trying to make it on the women's tour by competing on the brutal ITF circuit in Europe. Photo: RNA
Adithya Karunaratne has a couple of life options. She could follow a career in classical guitar or consider a future in law after she was recently accepted by a top university in London. For now, though, the 19-year-old is focused on one thing – rising up the tennis rankings and representing Hong Kong at major team events.
Karunaratne, who was born in Sri Lanka and moved to Hong Kong when she was five, is plying the arduous and competitive ITF circuit in Europe as she tries to fulfil her sporting ambition of one day mixing it up with the best players in the world. The Hong Kong Sports Institute scholarship athlete moved to Spain in 2015 in a bid to expand her tennis with more coaching and more tournaments.
The thing is in Hong Kong, we didn't really see a strong culture for sports, it was very oriented towards academics and there was no real tournament circuit," said Karunaratne, whose father, a retired financial consultant, is with her in their Barcelona base.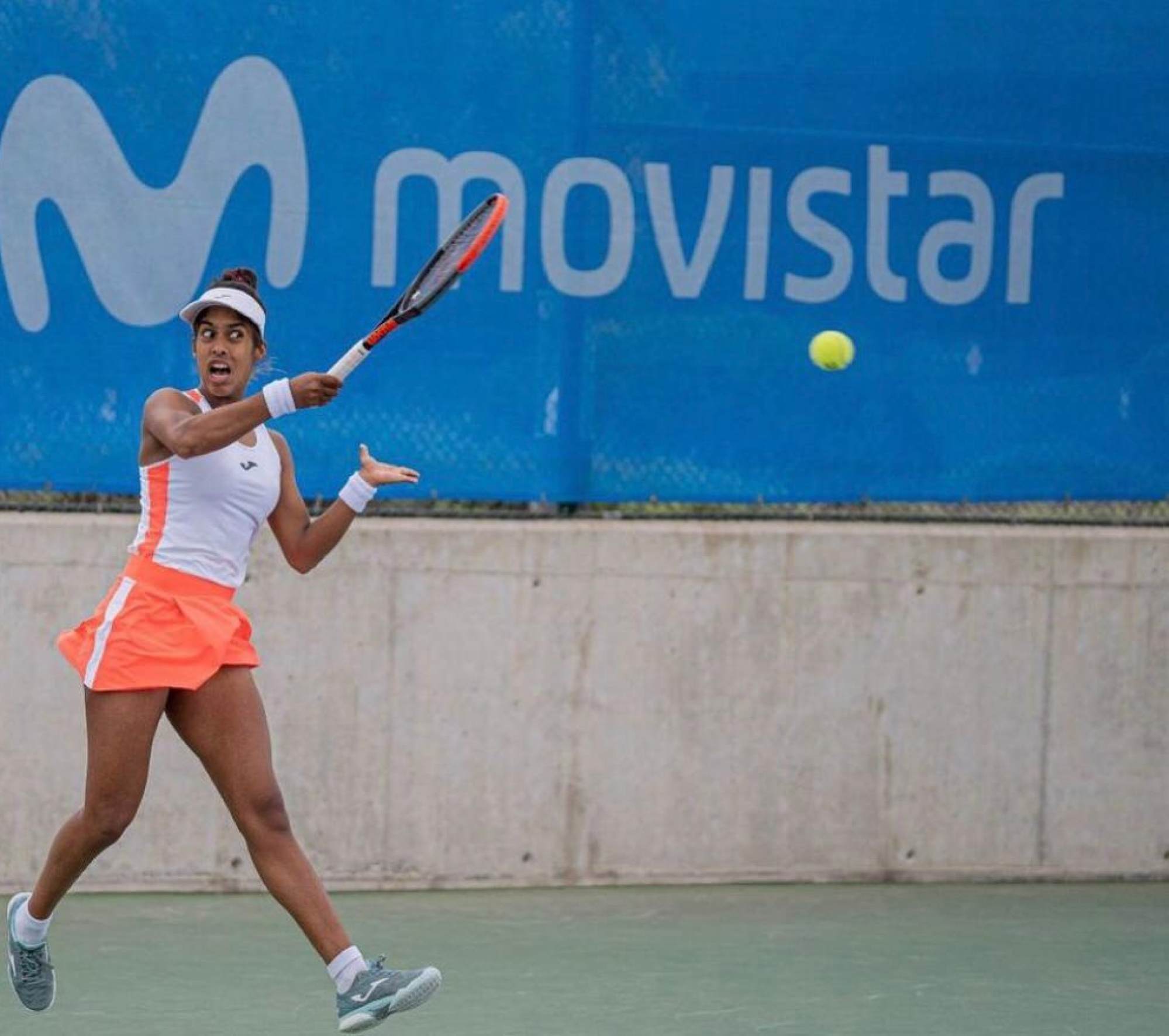 Adithya Karunaratne is born in Sri Lanka and moved to Hong Kong with her family when she was five years old. Photo: RNA
When you think of Spain, you automatically think of sports and all the facilities they have. It's in Europe, it's super easy to travel around to all these countries and you have so many opportunities for tournaments. So it just felt like a great centre for any sports person."
The family first travelled to Spain in 2014 to explore the possibility of using the country as a base. They were impressed by the sporting culture in Spain and the coaching talent in a country that has produced the likes of Rafael Nadal, Garbine Muguruza and other greats.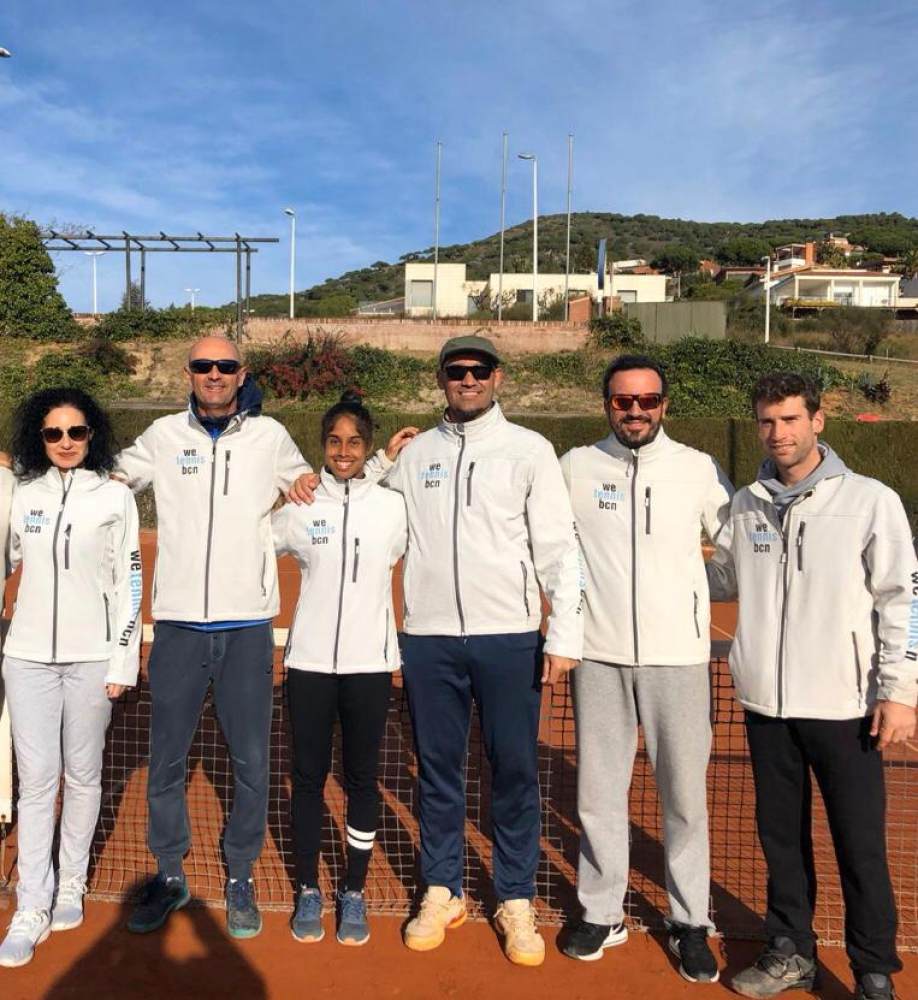 Adithya Karunaratne (third from left) with her Barcelona academy coaches. Photo: Handout
Karunaratne joined a small academy in Barcelona run by coaches Joan Balcells and David Ollés. Balcells reached a career high of 57 on the ATP Tour in May, 2001, winning one tournament and helping Spain to Davis Cup glory in 2000. He can boast victories over Roger Federer and Nadal early in their careers as well as two wins over Marat Safin when the Russian was a top-10 player.
They are both great coaches and I travel a lot with both of them," said Karunaratne, who attended Renaissance College in New Territories during her time in Hong Kong. It's not a big academy, it's a little group of players so we get a lot of individual attention."EVERY SATURDAYSCMP Global Impact NewsletterBy submitting, you consent to receiving marketing emails from SCMP. If you don't want these, tick hereBy registering, you agree to our T&C and Privacy Policy
Karunaratne said she was recently accepted by the University of Law in London to study law with international business. However, because of her tennis and guitar-playing abilities, she has been given a dispensation to study from Spain and is only required to travel to London for special lectures and urgent matters.
Although her immediate future is in Europe, she plays under the Bauhinia flag and is looking forward to representing Hong Kong in big events.
Hong Kong is definitely my home. I grew up there, I've got all my memories with my friends there, it's definitely my home 100 per cent," she said. I hope to play for Hong Kong in all the major events like the Asian Games, Fed Cup and other team competitions. I am always in touch with the Hong Kong Sports Institute to keep them up to date with my progress."
Karunaratne's immediate goal is to work on her world ranking in the hope of breaking into the top 500 by the end of the year. As of April 5, she was at a career-high of 752 in the WTA rankings and 275 in the ITF list.
She plays mostly US$15,000 and US$25,000 events on a brutal circuit in which players must go through qualifying rounds in each tournament before the main draw. Karunaratne has a number of wins under her belt and has been gradually picking up ranking points over the past few months.
A notable performance this year was a semi-final place in January's US$15,000 ITF tournament in Mallorca, Spain in which she came through three qualifying wins and three main draw victories before losing to the Philippines' Alexandra Eala in the last four.
I'm just trying to compete as much as I possibly can, go out for tournaments for two weeks of the month," she said. When I start college [in September], it's going to be harder to travel every month for two weeks."