D.S. Senanayake's instructions to J R Jayewardene prior to the San Francisco Peace Treaty Conference in September 1951
Posted on April 14th, 2021
Senaka Weeraratna
The then Prime Minister (D.S. Senanayake ) was invited to participate at the San Francisco Peace Treaty Conference in September 1951 after World War II to propose punitive provisions and the enforcement of arbitrary restrictions and embargoes for Japan. At the time DS was not in a position to attend that meeting and sent his nominee, J R Jayewardene. Prior to his departure, Jayewardene had a discussion with the Prime Minister who strongly advocated the idea of granting freedom to Japan. DS emphasized on requesting the world leaders that Japan be given a pardon. As Buddhists, everybody should be compassionate, kind and forgive this suffering nation, he added. The action he took to make this a reality has been documented by the first Executive President J R Jayewardene. (D.S. Senanayake – The reflection of Prakramabahu, 226pp)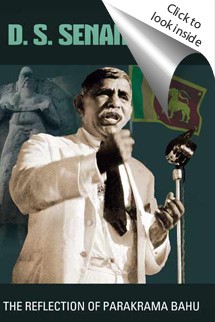 Who should get the credit for the speech that moved the world?
The instructor ( D.S. Senanayake – Prime Minister of Ceylon) or his messenger ( J.R. Jayawardene – Finance Minister of Ceylon) who carried out the instructions of his leader to quote the Buddha ' Hatred ceases not by Hatred but by love' and not demand punitive measures on a fellow Asian country Japan, or should both 'DS' and 'JR ' share the credit for this greatest diplomatic achievement of Ceylon ? In this context it must be noted that India refused to take part in the San Francisco Peace Treaty Conference in September 1951. Jawaharlal Nehru, then Prime Minister of India explained as follows: ' What wrong has Japan done to India for us to take part in a Conference trying to impose punishment on Japan' To this day the older Japanese who still remember the Conference gratefully acknowledge the great service rendered by J.R. Jayewardene to Japan by his speech that day. Several other Asian countries had attended the Conference with big lists of demands for reparations. from Japan.
But when they heard J.R. Jayewardene calling for compassion and Asian Buddhist solidarity towards Japan, they had quietly and silently withdrawn their lists seeking compensation from Japan, and thereby saving Japan from paying a larger amount of money which Japan could ill afford at the time.
http://dailynews.lk/2019/02/04/features/176453/statesman-who-stemmed-tide
https://www.sarasavi.lk/Book/D-S-Senanayake-The-Reflection-of-Parakrama-Bahu-9556719148
J. R. Jayawardene – The Speech that Moved the World
Every now and then, a great speech changes perceptions forever. In 1951, a young J.R. Jayawardene is about to ascend the podium on a global stage. Find out what happens next.