UK marine experts to support Sri Lanka with X-press Pearl pollution response
Posted on June 18th, 2021
By: SwatiRana Courtesy Eastern Eye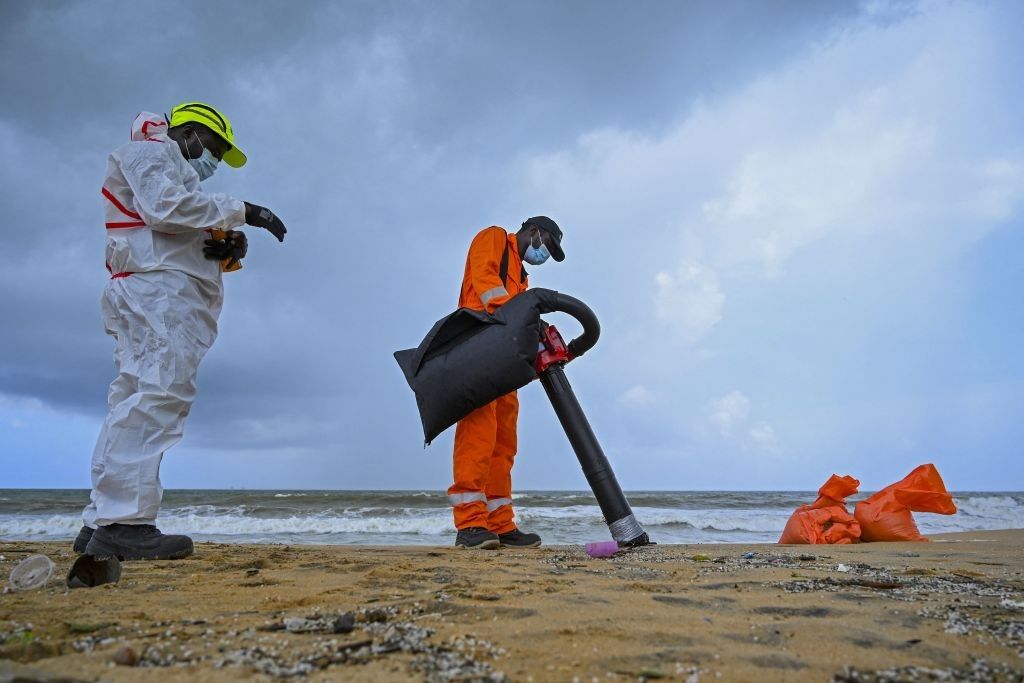 UK-based Oil Spill Response experts look for pollutants from the Singapore-registered container ship MV X-Press Pearl, which is sinking after burning for almost two weeks in the sea off Colombo Harbour, at Sarakkuwa beach, north of Sri Lanka's capital Colombo on June 10, 2021. (Photo by ISHARA S. KODIKARA/AFP via Getty Images)
THE UK government will provide marine pollution expertise to help respond to the impact of burnt-out MV X-Press Pearl on the marine life and coastal habitats of Sri Lanka.
360p geselecteerd als afspeelkwaliteit×
At the request of Sri Lanka, the UK's Centre for the Environment, Fisheries and Aquaculture Science (Cefas) announced on Friday (18) that it will provide expertise and analytical capacity to support plastic pollution monitoring, as well as environmental and socio-economic impact assessments.
Cefas is working to assist in the laboratory analysis of post-spill monitoring samples, particularly plastic pellets, and potential chemical contamination, according to a statement.
Following the initial response, Cefas will continue to collaborate with the emergency response teams in Sri Lanka to help build their expertise for future incidents and to protect biodiversity and safeguard livelihoods.
International environment minister Lord Goldsmith said, The X-Press Pearl vessel fire and the release of plastic pellets and chemicals along the Sri Lankan coast have already had devastating impacts, and it will likely cause long term harm to the environment, local fisheries and livelihoods."
We are determined to play our part in supporting developing countries to protect and restore their coastal ecosystems with our £500 million blue planet fund launched at the G7 by the prime minister Boris Johnson."
Cefas marine litter scientist, Dr Umberto Binetti, said, We are preparing a series of actions to provide support in monitoring the situation".