Case of decomposing government's "Organic Country" Project
Posted on June 21st, 2021
Courtesy The Daily Mirror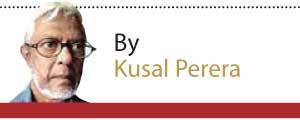 Health Minister Pavithra Wanniarachchi was quoted telling parliament, Sri Lanka reports 230,000 new kidney and cancer patients annually due to use of chemical fertiliser and pesticides. Breaking down that number she had said 6,000 kidney patients annually and 54 cancer patients succumb daily to their tragic ailments. She had also told parliament medical experts have confirmed that these were due to use of chemical fertiliser and pesticides.
That same day, June 7, referring to the ban on chemical agri-inputs, President Gotabaya Rajapaksa had told a meeting of district development committee chiefs; there can be no turning back. He was quoted by media telling the participants, though there are protests and opposition, even with difficulty good things for the people have to be done.

Health Minister Wanniarachchi's harangue was about justifying the total ban on chemical agri-inputs by President Gotabaya. She made a valiant effort to give new life to the overused and wasted slogan Food without poison". Yet they have no clear source. Nor has any survey or research proved chemical fertiliser and pesticides are direct attributes for kidney ailments and cancer. What nevertheless needs attention is the President's assurance, the total ban on all chemical agri-inputs will continue. All district development committees were asked to work on agriculture development with organic agri-inputs.

The debate unfortunately has been reduced to immediate substitution of chemical fertiliser with compost or organic fertiliser. There in fact is no attention paid to the ban on chemical pesticides and weedicides. Weeding in both large plantations and smallholdings is a major issue that cannot be managed by employing labour. Issues related to this sudden change of agri policy entails many more problems making this change more complex and complicated than mere substitution of one with another. Though not considered in any discussion forum collection, scavenging and disposal of solid waste all around the country by local government bodies called Municipal Solid Waste" (MSW) provide the basis for going totally organic.
'The President had told a meeting of district development committee chiefs; there can be no turning back. He was quoted by media telling the participants, though there are protests and opposition, even with difficulty good things for the people have to be done"
Decision of the government to establish an organic fertiliser manufacturing centre in Anuradhapura was announced at the President's meeting on June 7. Based on its success, that is to be replicated in all 29 Divisional Secretariat (DS) areas in the Anuradhapura and Polonnaruwa districts. The promise is to establish them before this year's Maha Season, beginning September end through October.

These fast-track projects for mass scale compost production would require greater volumes of solid waste. It is common sense that solid waste volumes cannot be arbitrarily increased for want of bigger volumes of compost. Composting was introduced in Sri Lanka in late 1980's with this city based free market economy promoting heavy consumption among a growing urban middle-class that led to increased volumes of solid waste, municipalities and urban councils had to regularly and constantly collect and dispose. Disposal of waste in open dumps in neighbouring areas created more issues with unbearable stench, insects, crows and birds, reptiles and stray dogs frequenting them in growing numbers and with residents protesting. Composting was thus thought of as a remedy, integrated into government policy of reducing import of chemical fertiliser. To cut short a detailed story of composting in Sri Lanka, the initial effort in promoting households develop compost fertiliser with their kitchen and household waste through distribution of bins first by the CEA and then with private partnerships served little purpose. Commercialising of compost manufacture was thereafter undertaken by local government bodies and small-scale businesses. Slow progress in market expansion over years with efforts made to improve and increases floriculture and organic fruits and vegetables creating a new profitable niche market in urban society, demand for compost as organic fertiliser increased. This gave space for few medium level businesses as well.

Within solid waste disposal and compost manufacturing, starter materials" are basically; (1) bio-degradable waste scavenged from MSW that include kitchen, household and garden waste, hospital, market and hotel waste (2) farm waste that include manure and poultry litter (3) crop residues and agricultural waste and then (4) slaughter-house waste.

Most numbers related to solid waste generation and compost in Sri Lanka are arbitrary. Different sources provide different projections. During the few years 2015 and aftersolid waste collected before scavenging for re-use and recycling was calculated at 4.8 billion MT per year at an average. It should also be said, far worse than most services, collecting, scavenging, transporting and disposing of waste in Sri Lanka is not efficient and has no set standards and methods. The total waste collected therefore is about 60% to 70% of the generated volume. Only about 60% to 80% of it is biodegradable. There is also a significant difference between the composition of solid waste generated in heavy urban areas and largely rural areas, with seasonal changes too.

Composting depends on none other than biodegradable waste in collected waste. In a co-authored research paper by two academics, one in Peradeniya University specialised in soil science and the other from the UN University in Dresden, Germany have inferred, Due to the push for recycling solid waste and a poor understanding of quality and safety concerns, many commercial-scale compost producers tend to use any biodegradable material that they can find conveniently in their composters. ….. Any biodegradable material could be composted. But if source materials and the composting process are not carefully regulated, whether the end product is going to meet the quality and safety standards cannot be guaranteed." (Composting in Sri Lanka: Policies, Practices, Challenges and Emerging Concerns – Warshi S.Dandeniya and Serena Caucci).
"For whatever desperate reason, government's intervention to turn the whole country organic by year end" would create an unattainable demand for compost"
In another research an observation is, In addition to hazardous and biomedical waste such as batteries, small electronic appliances, and hospital waste that could release potentially harmful organic and inorganic contaminants to the compost, non-biodegradable materials like plastics, textile, and polythene are also present in large volumes in MSW" (Arachchi, K. H. M. – Present status of solid waste management and challenges for change. Colombo: National Solid Waste Management Programme in Sri Lanka." – 2016.)

For whatever desperate reason, government's intervention to turn the whole country organic by year end" would create an unattainable demand for compost. With no standards in collecting and scavenging, no mechanisms for regulating and the quality of the end product least considered, this new passion of the government for organic farming" would not secure even half the desired results. Both in terms of harvest and toxic-free" organic food.
Reason being, while MSW is not properly scavenged for toxic waste, the second largest and more readily available poultry manure" used in composting, adds toxics never checked for. A research on poultry litter says, Non-standardised manure and improperly generated compost procedures are causes of public health concerns which have not been considered in the past and that are going behind the pathogen or heavy metal concentration. Poultry litter/manure is a source of antibiotic resistance determinants and, therefore, imposes a silent threat to environmental quality and health." [E.M Herath, A.G.K.N. Palansooriya et al, An assessment of antibiotic resistant bacteria in poultry litter and agricultural soils in Kandy District, Sri Lanka": Tropical Agricultural Research Journal, 27(4)]

Compost is therefore not safe though hyped as poison free". Local government bodies that account for the total volume of MSW in compost manufacture do not have skilled labour, technology and infrastructure for proper scavenging and separation of toxic material. Nor have any plans been made for such improvement. Release of potentially harmful organic and inorganic contaminants to the compost" therefore in State sponsored accelerated expansion of market demandwould be a major issue, despite the promise for poison free food".

This raises two major issues for the government and for those who believe this to be the answer for our subsistence agriculture and food safety". First is the question, can the government make available the minimum required compost within about three months for the N-C paddy farmer this Maha season? That seems impossible with a half-hearted MSW collecting network in a province that generates only about 10% of the total national volume of solid waste annually. The second is, with no serious and district level monitoring of compost manufacture paid any attention that anyway is not clean and never toxic free as popularly projected, can the government make certain the new frenzy for organic fertiliser would not give way for sub-standard products? That again is an impossible task with a corrupt and inefficient State apparatus sickeningly subservient to local politics.
In short, compost or organic fertiliser is not a clean and effective substitute for chemical fertiliser though people are told to believe it is and, in this country, there is no capacity to produce a better cleaner" product with local government bodies not even thought of as the major stakeholder in compost manufacture in the campaign for a totally organic Sri Lanka" before year 2022. It is not a long wait anyway to see how the clean food – clean soil" campaign finally roots itself in society. NC province Maha season would sure be the harbinger.