Main Opposition Won't Join New Government: Sri Lanka Latest
Posted on May 13th, 2022
Courtesy

Bloomberg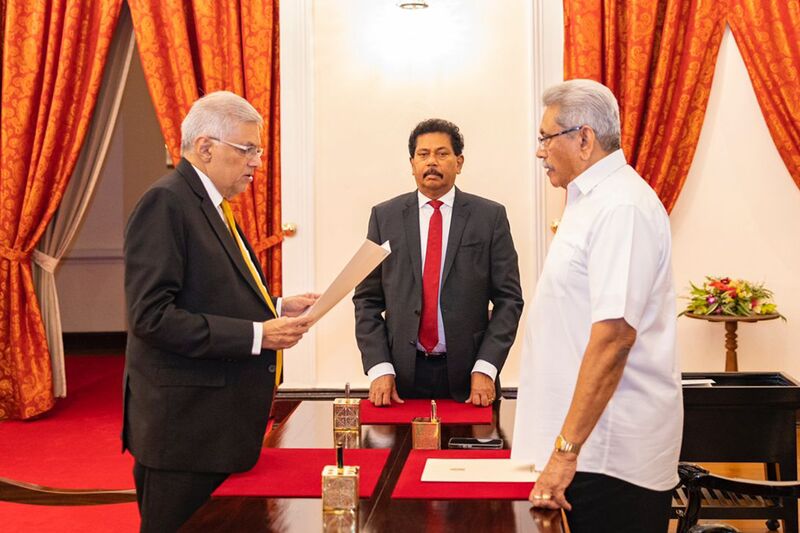 By Anusha Ondaatjie and Asantha SirimanneMay 13, 2022, 2:32 AM GMT+1Updated on
Sri Lanka's Prime Minister Ranil Wickremesinghe said he will show his majority in parliament and protests against President Gotabaya Rajapaksa should not be curbed, local media reported.
However, the main opposition Samagi Jana Balawegaya party has said it won't join a so-called unity government and will not take any cabinet roles, indicating that more political uncertainty could lie ahead.
The new premier's United National Party didn't win a single seat in the 2020 election, which brought the Rajapaksas back to power, but he was able to return as lawmaker in 2021 through a system where parties with enough votes can nominate a member under the national list." He can only prove a majority with the support of Rajapaksa's ruling alliance.
Stocks Surge on News of Political Stability (1:30 p.m.)
Sri Lankan stocks surged for a second day as the appointment of the new prime minister was seen as a step toward political stability.
The Colombo All-Share Index jumped 4.4% and was the best performing key gauge in Asia on Friday. For the week, which saw only three days of trading, the gauge advanced 9%, its biggest weekly gain since January 2021, data compiled by Bloomberg show.
Still, market participants remain cautious as the premier needs to build a cabinet of ministers and take steps to calm public anger. Low foreign exchange reserves, a potential delay in negotiations with International Monetary Fund for financial aid and rising interest rates remain key risks for market sentiment, they say.
Main Opposition Will Not Join Government (1:00 p.m.)
The main opposition party told a news conference in Colombo that its lawmakers they would not join the new government.
We are telling you that we will not take any portfolio in Ranil Wickremesinghe's government," said Ranjith Madduma Bandara, the general secretary of the Samagi Jana Balawegaya party.
Rajapaksa Tells Opposition Leader His PM Offer Came Late (9:44 p.m.)
President Gotabaya Rajapaksa told opposition leader Sajith Premadasa that his offer to form a government under several conditions came too late, local media reported, citing a letter.
As Premadasa had rejected an earlier offer, Rajapaksa said he had decided to name Ranil Wickremesinghe as premier instead. Also Premdasa had some conditions that hadn't been agreed to by other party leaders.
Wickremesinghe Says No Decision Made on Cabinet (8:35 p.m.)
The new minister said he plans to show his majority in parliament, local media reported. The next session is slated for May 17. He said no decisions have been made on the size of the cabinet though there are news reports that some ministers could be sworn in as early as Friday.
Wickremesinghe also said the protests against President Gotabaya Rajapaksa could continue and promised the police wouldn't crack down. A nationwide curfew has been lifted at 6 a.m. for a few hours.
India Hopes For Political Stability with new PM (7:35 p.m.)
The High Commission of India said it looks forward to working with a Sri Lankan government formed in accordance to democratic processes. The new prime also thanked India for the aid it has extended to the country.
We need help from the Indian government, Wickremesinghe said. I must thank Prime Minister Modi
U.S. Ambassador Looks Forward to Working with New PM (6:55 p.m.)
The U.S. envoy to Sri Lanka Julie Chung said the quick formation of an inclusive government are first steps to addressing the crisis and promoting stability.
Sri Lanka Names Longtime MP Wickremesinghe as New PM (6:41 p.m.)
Ranil Wickremesinghe, a veteran lawmaker and former premier has been named Sri Lanka's next prime minister, days after the last incumbent resigned in the face of escalating anger with the deepening economic crisis.
He was sworn in a private ceremony by President Gotabaya Rajapaksa.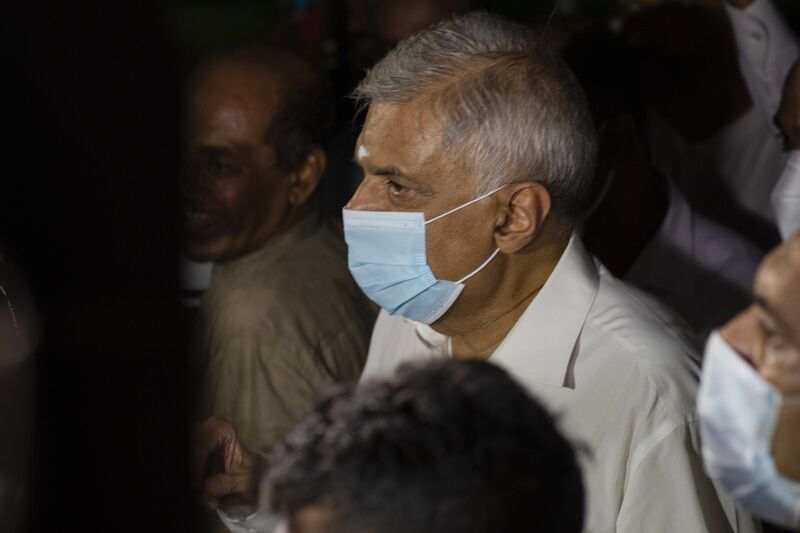 Opposition Leader Agrees to Be Prime Minister (2:47 p.m.)
Sajith Premadasa, the leader of the main opposition party Samagi Jana Balawegaya, told a news conference in Colombo that he has written to President Rajapaksa to inform him that he was ready to take on the role of prime minister and form an interim government.
Premadasa had earlier rejected several overtures from Rajapaksa. Among his conditions for becoming prime minister, is the end of the executive presidency and for Rajapaksa to step down within a given time frame.
Court Orders Travel Ban For Many Ruling Party MPs (2:00 p.m.)
A magistrate has barred 13 members of Rajapaksa's ruling Sri Lanka Podujana Peramuna party, including former Prime Minister Mahinda Rajapaksa, from traveling overseas, local news website Newswire reported, citing unnamed sources.
It also includes Mahinda's son and former cabinet member Namal Rajapaksa. The court was acting on an application moved by the Bar Association of Sri Lanka and demonstrators who were attacked by government supporters during Monday's violence, the report added.
Namal Rajapaksa tweeted to say he would cooperate with any investigation into the violence.
— With assistance by Nupur Acharya