Sri Lanka's energy crisis an artificial one?
Posted on July 8th, 2022
Shenali D Waduge
Leaving aside the global crisis as a result of the Ukraine-Russia conflict, Sri Lanka's Govt is doing a pretty good job adding to the crisis. Is there any truth in the allegation that the government has created the energy crisis for the kickbacks and commissions taken by politicians, public officials and their cronies? When the country is in peril, to intentionally create a crisis to create opportunities to make money is unforgiveable and should be condemned by all.
Much of our internal problems can be addressed if the kickbacks, commissions and other deals do not take place and this artificially created 'shortage' would not exist while Sri Lanka will not be cornered by the IMF structural adjustments which invariably hit the general masses and not the elite.
Therefore, the Government should be pressed to answer, if the fuel crisis is a created one, resulting in people being pressed to suffer & justifying deals" which an anxious general public will accept because their only desire is to feed their families.
When Russia is offering fuel at a reduced price, a price even India has accepted & is purchasing, Sri Lanka doesn't want to anger US and is buying fuel from India at a higher price while India is buying from Russia at a discounted price. What is stopping Sri Lanka from going to Russia for our energy requirements? Are we a State of India or a US colony?
While we still await answer for whether the fuel crisis is an artificial one, it is emerging that the Ceylon Electricity Board is also a den of corruption with Electrical Engineers giving themselves exorbitant state salaries, perks, bonuses and overtime even during these crisis months. These public officials are in fact worse than the politicians and they must be investigated and removed from positions before they cause bigger damage.
The same scenario prevails in Litro Gas though its new chairman Muditha Peiris has responded to allegations. Litro Gas Lanka is a subsidiary of the Sri Lanka Insurance Corporation. According to Muditha Pieris it spends less than 2% of annual turnover on salaries of less than 200 staff. Majority of staff have over 20 years' experience joining Litro from heritage Royal Shell Gas or Lanka Gas Co. In short Muditha Peiris is denying the salaries attributed to Litro senior staff. Litro Director Sales is supposed to be getting over Rs.1.5m monthly salary. Litro Director Safety, a Chemical Engineer of Moratuwa University is allegedly getting over Rs.1.4m – he is attributed to changing the composition of a 18litre gas cylinder which resulted in several explosions in homes including deaths. Litro Director Finance is allegedly getting Rs.2.1m monthly salary and she is alleged to have blocked gas import process. Therefore, those making allegations are now bound to present their evidence.
A series of correspondence by Jayantha Wedasinghe Chairman of Brandsbased Trading has raised speculation as to whether the Government is not being upfront with the People.
These letters certainly raises questions which the Govt requires to answer.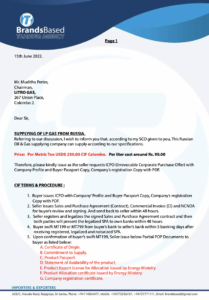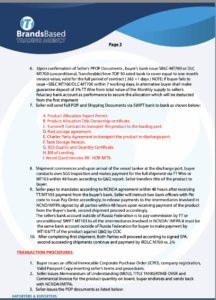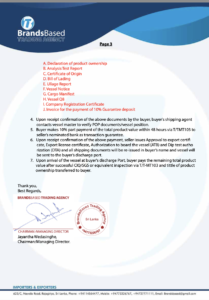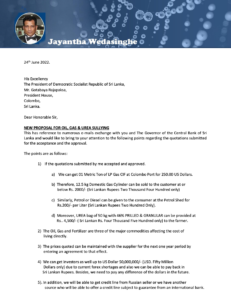 On 18th July 2022, Jayantha Wedasinghe Chairman of Brandsbased Trading writes to the Ceylon Petroleum Corporation Chairman, Mohamed Uvais, brother of former Finance Minister Ali Sabry, submitting the Russian Oil & Gas supplying transaction procedure TTO – Take Tanker Take Over for the Russian vessel at sea.
On 24th June 2022, the President was sent a letter by Jayantha Wedasinghe giving a proposal for oil, gas & urea with regard to quotations sent. As per this letter 1 metric ton of LP Gas CIF can be secured for $250 at Colombo Port and a 12.5kg domestic gas cylinder could be sold at Rs.2400, this in turn enables petrol or diesel to be sold at sheds for Rs.200 per liter, while a 50kg bag of urea can be provided for Rs.8000. Jayantha Wedasinghe (Chairman Brandsbased Trading) claims that the prices can be maintained with the supplier for a year by agreement. Is there any issue to what Jayantha Wedasinghe claims to be able to do?
On 15th June 2022, Jayantha Wedasinghe has written to Muditha Pieris Chairman Litro Gas regarding supplying LP Gas & oil from Russia. The letter claims per metric ton $250 CIF Colombo, with per litre cost around Rs.90 also giving transaction procedures. A detailed option was offered to both Litro and CPC.
We may not be versed in the subject matter, but when someone is offering a solution, the onus is on those to negate the proposal with facts.
While Jayantha Wedasinghe is making proposals, the Energy Minister claims that 7500 MT diesel costs $11m.
The question is simple enough – if we can get 50,000 MT for $11m from Russia, why are we buying from LIOC?
Who can answer?
Shenali D Waduge