New anti-corruption law in Parliament soon as IMF considers Sri Lanka's loan
Posted on March 9th, 2023
Courtesy The Daily Mirror
Cabinet Spokesperson Bandula Gunawardana says new anti-corruption bill will be presented to Parliament soon
Says Justice Minister Wijeyadasa Rajapakshe has already drafted bill
Reducing corruption vulnerabilities remains a key objective of IMF-backed programme
A stolen asset recovery initiative likely to be included in new law
The government will bring in an anti-corruption bill to Parliament shortly, as agreed with the International Monetary Fund (IMF) when entering a staff-level agreement last September, Cabinet Spokesperson Minister Bandula Gunawardana said.

Introducing new anti-corruption laws to reduce corruption vulnerabilities to unlock Sri Lanka's growth potential was among the key objectives of the IMF-supported programme agreed with, last September.

Gunawardana said Justice, Prison Affairs and Constitutional Reforms Minister Wijeyadasa Rajapakshe has already drafted a bill in this regard and it would be shortly presented to Parliament for approval.

After fulfilling all 'prior actions', Sri Lanka has now received financing assurances from all its major bilateral creditors to seek the approval of the IMF's Executive Board for the US $ 2.9 billion loan facility, via the Extended Fund Facility agreed under the staff-level pact.

China's Exim Bank this Monday gave fresh written financing assurances, expressing its support for Sri Lanka's debt restructuring efforts. Upon receiving the financing assurance, on the same day, President Ranil Wickremesinghe and Central Bank Governor Dr. Nandalal Weerasinghe signed the Letter of Intent and had sent it to the IMF.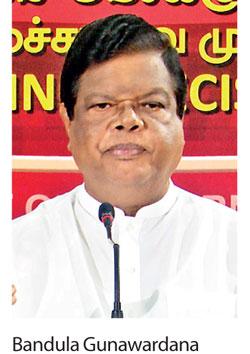 IMF Managing Director Kristalina Georgieva on Tuesday said she would be taking Sri Lanka's staff-level agreement to the IMF Executive Board on March 20, for approval.

The seal of approval from the IMF remains critical for the bankrupt nation to regain confidence from international investors, multilateral funds and other funding sources. It is expected that upon the IMF Executive Board approval, Sri Lanka would receive funds from the World Bank and Asian Development Bank, which have already been lined up.

While the COVID pandemic and economic mismanagement are widely blamed for the current crisis in Sri Lanka, endemic corruption at all levels has also been identified as a key contributor to Sri Lanka's social and economic turmoil.

Although Sri Lanka already has a substantial amount of anti-corruption laws, their implementation hasn't been effective, largely due to the politicisation of the law enforcement agencies and anti-corruption bodies.

Wickremesinghe recently told Parliament that his government, together with the World Bank and United Nations, would include a stolen asset recovery initiative into the new anti-corruption bill that is to be presented to Parliament soon.