National consultation on media freedom & law begins
Posted on August 8th, 2015
Nava Thakuria
National consultation on media freedom & law  begins By Our Correspondent New Delhi, 9 August 2015: With the invasion of alternate media today every one can opt for journalism, but they have to acquire the skill and responsibility, said Paranjoy Guha Thakurta, a senior journalist and media commentator. Addressing a consultation meet at Delhi Press Club yesterday, the former Press Council of India (PCI) member also highlighted the crisis faced the present media for constant corporatization in the country. He alleged that the PCI has lost its influence tomany extend. Rather, Guha Thakurta advocated for a constitutional body to monitor various aspects of media in India.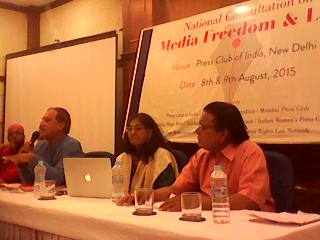 Organised by Press Club of India, Delhi Union of Journalists, Mumbai Press Club, Indian Women's Press Corps, Majithia Wage Board Implementation Sangharsh Samity, Indian Federation of Working Journalists a and Human Rights Law Network, the national consultation on media freedom & law also witnessed a number of speakers on some burning issues relating to the frequent attacks on journalists, sexual harassment and criminal defamation cases against the media persons.
Senior journalists and media commentators Vanita Kohli Khandekar, Sukumar Murlidharan,  Siddharth Varadarajan, Sevanti Ninan,  PC Tiwari, Anil Chamadia, Sujata Madhok spoke on the occasion. Renowned advocates like Prashant Bhushan, Colin Gonsalves, media rights campaigners like Vikram Rao, Nadeem Ahmad Kazmi, Nava Thakuria etc graced the meet.