Gammanpila challenges Anura for public debate on 20A
Posted on May 28th, 2018
Sheain Fernandopulle Courtesy The Daily Mirror
While claiming that the 20th amendment to the constitution had been drafted in an immature manner and full of mistakes, Pivithuru Hela Urumaya (PHU) leader and MP Udaya Gammanpila challenged Janatha Vimukthi Peramuna (JVP) leader Anura Kumara for a public debate to point out the shortcomings of the draft.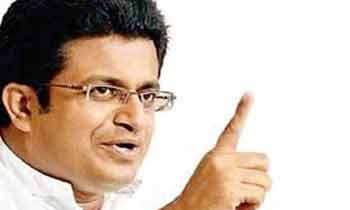 According to the draft, the executive Presidency would be abolished on January 09, 2020. The term of the present president will end on January 09, 2020. Hence, the next presidential election should be held on a date between November 9 and December 9, 2019," he said in a news briefing.
The newly elected president will have two weeks to take his oaths. It means he can assume office on December 23, 2019. The executive presidency will be abolished in 16 days after the newly elected president assumes office. Why should we waste billions of Rupees of public funds for a presidential election if the president can hold the office only for 16 days?" he asked.