Ban on transporting, selling wild boar meat to be lifted Daily Mirror
Posted on September 21st, 2018
Dr Sarath Obeysekera
The Government had decided to lift the ban imposed on transporting and selling wild boar and their meat, a spokesperson for the Ministry of Agriculture said.
Speaking to the Daily Mirror, he said that a Cabinet Paper prepared by the Ministry would be submitted to the Cabinet next week.
Under the prevailing regulations, killing, transporting and selling of wild boars and their meat is prohibited, though the animals are killed secretly in rural areas when they trespass into the farming areas.
Under the prevailing regulation wild boar population is rising rapidly in an unprecedented rate. Several farmer organizations had prevailed on the agricultural authorities to take measures to protect their crops from increasing boar menace," he said. (Chaturanga Samarawickrama)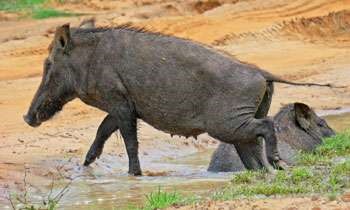 Good news for us who are wild boar meat lovers
When we were small, my father who worked in Colombo Irrigation Department travelled by bicycle (wearing immaculate white trousers with calf brackets to prevent trouser entangle with the pedals and long sleeve shirt ) from my home to Gampaha station to take train .During his return home he buys fish and sometime wild boar meet sold in fish market for dinner .We lover Wild boat meat better than any other .
Wild boar meet is very healthy in comparison to Pork because of the lesser fat content .When it is cooked with garlic, vinegar .Mustard and pepper is very good a chaser among liquor loving Sri Lankans.
I once carried a parcel of such cooked wild boar to London .Unfortunately I was detected by UK customs who confiscated the gourmet meal despite my offer to eat it at the exit point ( I suspect that young officers may have consumed it because it smelled delicious .)
Well- cooked Wild boar is a meal of a life time .
Point I am going to make is which minister will take credit to these somewhat meritious act
Agriculture minister for saving crops of the farmers ?
Health minister who may claim that fat content of wild boar is low thus it will reduce cholesterol among Sri Lankans?
Field Marshal who may claim the guns set for wild boar may kill much loving elephants?
His excellency President who complained about cashew nuts but to promote wild boar as the national dish ( chaser)  and request serving in Sri Lankan?
Dr Sarath Obeysekera