Life Abroad – Part 115 LONDON PARKING – A TANGIBLE PAIN!
Posted on February 5th, 2015
FEATURES- Dr. Tilak Fernando
 London has today become one of the most congested cities in the world and, with it; parking has become a nightmare to motorists in this city! This is mainly because the local borough councils have taken over this area and turned it into a money-spinning exercise to generate additional income for the individual councils.
Various methodologies have been adopted to profitably execute this operation by introducing numerous restrictions against free parking by creating endless 'yellow lines', double yellow lines, installation of parking metres, converting almost every by-road and residential patches into what they call "Residents' Parking Zones", where even the house owners living along such roads and streets have to compulsorily buy a special parking permit, at an additional cost on top of their council rates, to park their own vehicles in such allocated zones.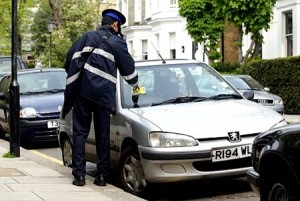 Management of parking metres takes place throughout the year, from 9 a.m. till 10 p.m. in certain areas, with no exception even on Christmas day or Sundays! Penalty for illegal parking is expensive and the offender will have to pay a penalty charge initially. If the lawbreaker fails to honour the payment within a fortnight of the issuance of such a fine, the amount of the penalty charge will be doubled automatically.
Aping
Supermarkets in London have followed suit and begun to emulate council procedure when it comes to parking in their private sites making their own customers 'pay' and 'display' machine-generated parking tickets.
'Loading bays' marked on busy streets are designed to help traders to 'load and unload goods' to shops on high streets and busy roads. Anyone other than a trader stopping on a 'loading bay' is sure to get penalised.
To monitor all 'illegal parking' and to generate money with the help of penalty charges, Borough Councils employ traffic wardens (supermarkets hire private firms), whose job is to 'go after' motorists and to issue penalty notices wherever they come across 'illegally' parked vehicles'.
Some of the borough councils provide modified motorcars with fixed digital cameras on extended dowels to help traffic wardens detect illegally parked vehicles covering a wider range of roads. Others supply motorcycle scooters and digital cameras to ensure they take pictures of any committed offence, with the exact time, date, and the place of the parked vehicle as evidence.
Penalty notices
Traffic wardens are, undoubtedly, the hated 'animals' acs far as motorists in London are concerned. Critics point a finger at some of the London Borough Councils for employing foreign refugees as traffic wardens, who are not legally permitted to work in the UK until such time they are given permission to work. Asylum seekers usually get government financial assistance in the form of social security benefits ('dole' money) and other perks such as housing; they are prohibited from working officially for payment or reward.
Traffic wardens or the Police officers usually hand over the penalty notices to the offender direct on the spot, or fix it on to the windscreen of the relevant vehicle if no one is around to be seen. There is also an option on the penalty charge notice to contest the penalisation giving a valid excuse, or in the event of someone other than the registered owner has been using the vehicle at the time of committing the offence.
Irritated motorists are often seen driving off in anger at the point of issuing a penalty notice; in some instances they go to the extent of tearing off the penalty charge right in front of the traffic warden and throw it on to the pavement! The writer is fully aware of a Sri Lankan traffic warden who, after becoming subjected to a thorough bashing by an infuriated motorist, quitting the job out of fear and frustration
In case of an offender tears off the penalty notice or throws it away and flees, then the notification (duplicated copy) will be posted to the vehicle-registered owner's address at which point the enforcement comes under a different legislation.
Any dispute or a contest relating to a parking penalty charge has to be done in writing to the issuing office of the penalty notice within fourteen days, giving a factual and convincing account with a request to waive the charge. In case of the particular council rejecting such an appeal, then the victim qualifies to approach an adjudicator service. However, it is a well-known fact that a third and a half of all parking appeals based on anecdotal evidence are normally rejected.
Payment for parking offence fines can be made either by sending a cheque in the post to the relevant office that issued the penalty charge notice, or phoning them and quoting a credit/debit card. A grace period of two weeks is normally allowed for any parking fine to be settled after which, of course, the fine will be doubled; if the offender ignores it completely he/she will end up in a magistrate's court.
Appeal system
The beauty of the British system is that, if either party (council or the offender) is proven to be acting "frivolously, voraciously or wholly unreasonably", adjudicators appointed to deal with parking fines can award costs (especially in the case of an appellant claiming against the local authority) as long as it becomes evidently clear that the action was wholly unreasonable and there are sufficient grounds for the motorist to make such a claim.
From the writer's personal experience it could be said that the system works, as he has once been compensated by a local council, not in the same measure of reparation granted by a Court of Law, but by the adjudicator taking into consideration the appellant's time taken to prepare for his case (limited to a number of allocated hours at the rate of x pounds per hour). Awarding of costs is explained in Regulation 12 of the UK Road Traffic (Parking Adjudicator) (London) Regulation 1993.
Disabled persons
All persons registered as 'disabled' may qualify for a 'disabled persons parking permit', if one suffers from a permanent and substantial incapacity to walk or difficulty in walking. To this end there is a certain discretionary criteria to assess independently by medical professionals appointed by the Department of Health, after a stringent mobility assessment. In the past the local general practitioner of the applicant had to do the assessment, but of late some councils no longer accept medical reports from the applicants and strictly adhere to the mobility assessment.
Registered persons, who hold 'disabled persons Blue Badges' are able to park in specially allocated bays, at coin slotted metres (for a limited period) and even on single yellow lines as long the 'disabled persons badge' is displayed.
Disabled parking' bays are marked on the road with the international symbol of access, and also right in front of the registered disabled person's doorstop. The only disadvantage in this system is that anyone with a 'disabled parking permit' can encroach upon someone else's parking bay by displaying his or her badge.
There are always smart and clever dudes in any society, who will explore different techniques to find loopholes in any law. When it comes to parking too, it does not make much of a difference to this category as some motorists in London today (Asians included) have found ways and means of overcoming this problem by persuading their old and the physically unstable parents to approach their GPs and go through the medical process to obtain disabled parking permits, which ultimately are used by those fit and the able, instead of the registered person, thus violating the motor traffic law blatantly.
Congestion charging
Congestion charging is a new concept which came into operation from February 2003 in London, where motorists driving into the designated congested zone between 7 a.m. – 6.30 p.m., Monday to Friday, excluding Public Holidays, had to pay £5 as 'congestion charges'. For this purpose several areas have been identified as the most clogged areas in London and to let only the really essential motorists drive through Central London.
Motorists wishing to drive through Central London need to make payments in advance before embarking on their journey or entering a Parking Zone at nominated outlets such as newsagents, over the phone, and also on the Internet – www.cclondon.com. If the registration takes place between 10 p.m. and midnight, an additional surcharge of £5 will be levied on top of the standard charge on the day of travel due to 'late rush'.
Cameras with number plate recognition software register every vehicle entering the charging zone. At the end of each day, number plates are cross-referenced against all payments obtained from a database. Any number plate not recorded on the database gets automatically picked up by the DVLA (Driver & Vehicle Licence Agency) computers and a fine of £80 will be levied against the registered owner of such a vehicle. Unpaid fines of vehicles exceeding more than three or more times get seized by special squads and vehicles removed from wherever they are parked.
Those who are in favour of the scheme claim that it is the only means to maintain a safer and cleaner Central London, whilst the critics argue that it will create further traffic problems, especially on the periphery of the Congestion Charge Zones. In the meanwhile City planners the world over are supposed to be observing the London scheme closely.
British authorities have generated a combined 'profit' of £594m in 2012-13 out of the congestion charging system.