President Sirisena and PM Wickramsinghe Played Out People
Posted on August 31st, 2015
Kusal Perera
The 19 Amendment is a total fraud on the people who wanted a different government to that of Mahinda Rajapaksa. To be different from Rajapaksa, immunity allowed for a President had to be removed completely to begin with. That was quite consciously dropped. The promise to abolish the presidency that was the rallying call to oust President Rajapaksa, also did not happen with  19A. Social resentment and anger over Rajapaksa's mega cabinet of ministers was also circumvented in a very crude manner to play out the people's resentment and anger. This Wickramasinghe government with President Sirisena can now go sky high with any number in both the cabinet and outside the cabinet of ministers.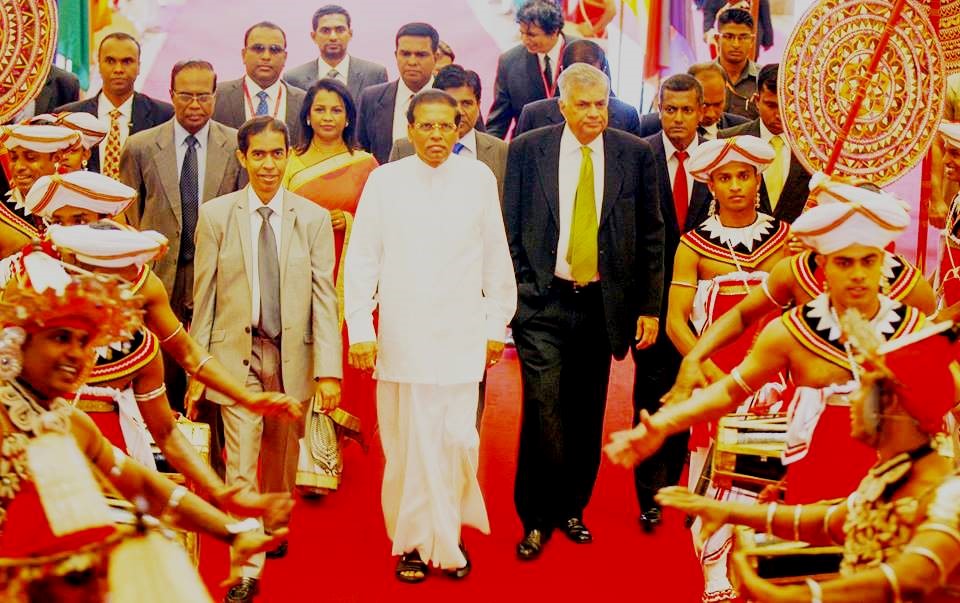 With the 19 Amendment to the Constitution, the people were told, [quote] 46. (1) The total number of– (a) Ministers of the Cabinet of Ministers shall not exceed thirty (30); and (b) Ministers who are not members of the Cabinet of Ministers and Deputy Ministers shall not, in the aggregate, exceed forty (40) [unquote]. Hereafter, people were made to understand there will not be Rajapaksa type mega cabinets.
Thus all added together the total of privileged men and women in parliament as ministers and deputy ministers would be seventy (70) in all. This would mean, if they had formed their own government, there could be only 70 men and women as ministers and deputies. That's two thirds (2/3) of the number elected (106) on the UNP lists. Do we need such large numbers to run a government for only 20 million people? In India that has a population of1,236,344,631 (1.24) billion people, Manmohan Singh had a cabinet of 77 ministers and Modi's present cabinet has only 66 ministers. IF India goes on our 19A ratio, India would have to have over 4,300 ministers and deputies in their government. That's how absurd the calculations are in this much hyped 19A. IF these political creatures are honest and sincere in what they say and do, this country can easily manage with a cabinet of 15 ministers and 20 deputies.
They are nowhere near honesty and are never sincere to what they say. That's what 19A is all about. They thus included Article 46(4) to circumvent Article 46(1). This Article 46(4) has no logic. No rational It simply says, [quote] (4) Notwithstanding anything contained in paragraph (1) of this Article, where the recognized political party or the independent group which obtains highest number of seats in Parliament forms a National Government, the number of Ministers in the Cabinet of Ministers, the number of Ministers who are not Cabinet of Ministers and the number of Deputy Ministers shall be determined by Parliament. [unquote]
How does ministerial responsibility in a country go up in numbers merely because 02 or 03 political parties come together to form a government? How does number of political parties in a government increase the number of subjects for ministerial portfolios? What's that logic? In 1965 when Dudley Senanayake formed the first coalition government by the UNP that was labelled the Hath Havula" (Bunch of 07) he had only 17 cabinet ministers. Just 01 more than what Madam Bandaranayake had in her cabinet of ministers (16) since July 1960. Out of the 17 ministers in Dudley's cabinet, 02 were from SLFSP (C.P de Silva faction), 01 from MEP that was Philip Gunawardne and 01 from ITAK that was Senator M. Thiruchelvam. Have we accrued more subject areas in excess of what was there in 1965 that cannot be divided between 17 ministries? Or even among 20 ministers, giving 03 more in excess of 17 ?
Honestly nothing. In fact we can now easily reduce number of ministries with Provincial Councils given quite a load of responsibility in many areas of social and economic development. In fact we don't need a Provincial Council and Local Government Minister at the Centre. We don't need a minister for social services and we don't need ministers to be in charge of a department or an agency or two. For instance, minister of Transport and Public Commuting can have everything from road, rail and air in a single ministry. We usually have 03 ministries to cover that subject area.
BUT Articles 46(4) and (5) was not introduced for efficient, patriotic governance. That's out ! They were included to help share the loot with most who joined the wild hunt for power spending many millions to enter parliament. Therefore Article 46(4) says in the event a national"(sic) government is formed, the parliament can lift the limit of 30 plus 40 ministers and deputies to any number. And what is the national" government from what is written into 19A ? Another bloody fraud on the people. [quote] (5) For the purpose of paragraph (4), National Government means, a Government formed by the recognized political party or the independent group which obtains the highest number of seats in Parliament together with the other recognized political parties or the independent groups.[unquote]
What's national" in this definition? Absolutely nothing. It is merely about two or three parties or independent groups" getting together to form a government. That has happened many times before in our parliamentary history. According to this definition, Dudley Senanayake's 1965 Hath Havula" government was a National Government". Mahinda Rajapaksa's government formed with 17 UNP defectors was also a national" government. Except for numbers, that government too had part of the UNP in government and the other part in Opposition with the Leader of the Opposition. That is how this national" government is going to be with part of the SLFP in government while the other part sits in opposition with its own Opposition leader. Any clubbing together of any two parties or more, makes a national" government according to President Sirisena and PM Wickramsinghe who agreed on 19A with the JVP also consenting and thus allows any mega cabinet. In fact this malapropic" use of the word national" (should be co-habitational) is the license to have a huge cabinet of ministers just like Rajapaksa and nothing more. A fraud played on the people by President Sirisena and PM Wickramsignhe, the JVP playing into their scheme.
Unfortunately, it is the educated, intelligent" (?) middle class urbanites who still claim 19A did wonders to this country. Wonder if they would ever learn, this political system and its culture needs a heavy and a complete shake up and the crisis is such, patchwork cannot answer any issue !
Kusal Perera
29 August, 2015