Is Sarath Fonseka's Opportunism In  Joining The Maithri- Ranil Coalition Ahead Of The UN backed Special Courts Probe-Showing ?
Posted on February 5th, 2016
In Retrospect By Sarath Kumara
Feb. 4th, 2016

Is  Former Army Chief Sarath Fonseka  showing the opportunism he has long since been suspected of by many, in joining the ruling coalition Wednesday as it appears to be a a multi pronged attempt and perhaps a ploy towards clearing the way for him to secure a key position in the government ahead of special courts to investigate alleged war crimes as well as avoiding related liabilities that could be directed at him?
There may be depositions from him to attempt avoiding any liability towards the accusations levelled at the Armed Forces under his command but the fact of the matter is, regardless of his attempts to be exonerated of liability, he still was the Army Chief who continues to insist that it was under him alone that the war against the LTTE terrorists was won and somewhat naive on his part which involves a glaring double standard based on the statements he has made to the media if he beleives that by finger pointing at Fmr. Defence Secretary Gotabhaya Rajapaksa and using the excuse that he was away in China at the time the conflict ended he could shrug off the heavy responsibility that it was under his leadership that the alleged attrocities were committed.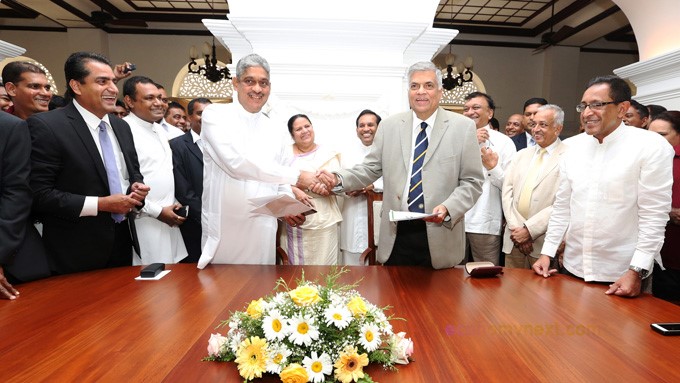 Former army chief Sarath Fonseka (left) with Prime Minister Ranil Wickremesinghe at Temple Trees.
It appears to be a pathetic revelation of his true nature of attempting to survive as an innocent party when the true facts stare him right between the eyes!
Obviously there will be perks attached to his joining the UNP as he will accomplish many objectives he was not able to previously as a politician- a failed one at that who has apparently turned his back on former President Mahinda Rajapaksa where everything points to a conniving, and calculating individual who would stop at nothing towards his self centered goals and ambits.
As reported in the latest bulletin on the issue of Fonseka signing an agreement with Prime Minister Ranil Wickremesinghe at Temple Trees to support the United National Front for Good Governance, there was no immediate word on what portfolio would be offered to him although it is quite likely a substantial and important one will handed to him. With no pun intended it just might be fair to say "hopefully it will be no tiger by the tail! where the end result could be getting chewed up!"
When the bulletin continues as quoted that: "The decorated soldier told reporters that he supported any investigation into allegations that at least 40,000 Tamil civilians were killed by government forces in the final stages of the war that ended in May 2009. Is he trying to suggest that he was ignorant of the fact or simply admitting he was an unwilling accessory?
"I have always said that I am ready to face any investigation," Fonseka said. "We have nothing to hide. I feel that the allegations must be investigated. I have always maintained that." And does he realise that such bravado could easily backfire on him as most of the Armed Forces offensive was indeed under his command !
Fosenka's entry into the government also coincides with the visit to the Island by UN human rights chief Zeid Ra'ad Al Hussein which adds further to the speculation that the timing seems quite uncanny and no simple coincidence!
Fonseka maintains that no attrocities were committed under his command, but in the final days of the war he was away in China and the then defence secretary Gotabhaya Rajapaksa had been giving direct orders to field commanders, which further points to his credibilities towards passing the buck and confusing the issue further
He fell out with the then president Mahinda Rajapakse over sharing credit for the spectacular military success in crushing Tamil Tiger rebels by May 2009 and ending a 37-year-old  separatist war but today his rhetoric seems veiled in innuendo leaving many to beleive it must be Fonseka that needs investigation regardless of the glory bequeathed upon him and all the felicitations as it is he who must bear the brunt of all the attrocities if they can be proven as being exactly that.
Soon after defeating the Tiger rebels who were known for their trade-mark suicide bombings, Fonseka mounted a challenge at Rajapakse in a failed election bid in January 2010 which was defiitely no show of gratitude towards his former Commander in Chief as no loyalties seemed to be showing. Simply ingratitude.
Fonseka was arrested two weeks after losing the election and was jailed for two and a half years following a controversial court martial and a criminal prosecution in civilian courts.
After getting out of jail, he supported Maithripala Sirisena, toppled Rajapakse at his third attempt at the presidency in January 2015 and has since been made Sri Lanka's first Field Marshall by the new government.
Fonseka's fledgling Democratic Party failed to secure any seats at the August parliamentary elections, but officials said he was likely to be nominated to a vacancy in the legislature in exchange for his support to the ruling party" end quote
Apparently the Maithri- Ranil coalition seems to have just laid  bare their vulnerabilities in these patronage like concessions afforded Fonseka who seems to  be a dangerous and desperate individual for any party to be consorting with where the last laugh just might belong to fmr. President Rajapaksa said to be having a hearty chuckle at the goings on .