This is SIRA work -As LeN revealed so it is proved.! Kumarasinghe Sirisena's G.M. nabbed over 'Call Termination' racket – Many millions of rupees gobbled up per day.!
Posted on February 17th, 2016
Courtesy Lanka-e-News
As LeN revealed so it is proved.! Kumarasinghe Sirisena's G.M. nabbed over 'Call Termination' racket – Many millions of rupees gobbled up per day.!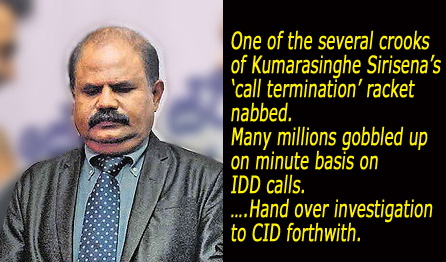 (Lanka-e-News- 16.Feb.2016, 8.25PM)  Lanka e news on the 3 rd of February reported that a sum of Rs. 2-3 million revenue due to the Sri Lanka Telecom (SLT) /Mobitel daily on 'call termination' business is being siphoned off into the pockets of its chairman Kumarasinghe Sirisena . With the nabbing of  the  general manager (G.M.) of this 'Call termination' business of SLT now , our revelation made on 3rd February  has been proved as true. This G.M. , an engineer by the name of Ajith Silva has committed daylight robbery via the 'call termination'  business. He  has robbed over 100,000 minutes of IDD every day through this scam.
If  the levy for a minute on   IDD call is assumed  as  Rs. 7/-, this individual alone has robbed over Rs. 700,000/- every day !.
Lanka e news in its previous report revealed that there is a robbery of 13 million call minutes per month at the SLT alone . In other words there is a robbery to the tune of over  Rs. 90 million per month taking place.
Based on our exposures , after  an operation was  conducted by the CEO , Dileepa Wijesundara , it had been possible to nab the General manager Ajith Silva the engineer . The latter has  given his password to the 'Call termination' racketeers .
The investigation into this was carried hitherto as an internal inquiry. But since this fraud involves public funds , it is abundantly clear this investigation must be entrusted to the CID or the FCID because this fraud has not  been committed by Ajith De Silva alone . The SLT  / Mobitel chairman Kumarasinghe Sirisena has also given his approval in this connection with full knowledge . Hence this investigation cannot be duly conducted while Kumarasinghe is still  occupying the chairman's seat. Besides , this investigation should be handed over to the CID.
Lanka e news is in possession of all the details of how  Kumarasinghe Sirisena planned to line his pockets and gobble up funds via the 'call termination' racket , by creeping into the SLT as chairman at about the same time as Maithripala Sirisena became the president . In our first report we revealed that from the time of Rajapakse reign , it was Ranjith Roobasinghe the Godfather who provided protection to Kumarasinghe Sirisena. When the latter was removed from the post of Director Mobitel , he was appointed to the SLT campus and that was kept a secret . Kumarasinghe who went to UK along with Roobasinghe met with 'Call termination ' dealers , and had discussions. Thereafter they travelled to China , and searched for the accoutrements associated with   this business . Lanka e news has all these details .( At the appropriate time these details supported  by evidence will  be revealed).
It must be pointed out that the SLT is having all the equipments to track down these call termination illicit dealers. In this connection the SLT Co. has created a separate division under the name of 'fraud management', and its chief was Sripathy Jayawardena , an honest intellectual. He is one who secured special  training in USA on how to nab the 'call termination ' racketeers. Moreover ,the   latest American equipments too were supplied to this division .
Interestingly and intriguingly , the first thing Kumarasinghe Sirisena who was the general manager alias 'general damager' of Timber Corporation felling trees on the sly  did  as soon as he crept into the SLT Co. was de activating the fraud management division, and transferring talented Sripathy Jayawardena who had special training in America in this sphere to a most unimportant division , PEO TV . Thereafter the fraud management division was taken away from the financial division, and affiliated to  the Net working division.
Obviously Kumarasinghe did all these to streamline his impending call termination racket operation and to gobble up funds without impediments.
Now  that Ajith Silva has been nabbed , and several other rogues like him are still there to be trapped, it is  time to stop the internal  inquiry which is akin to asking about the accomplished rogue from his mother . This investigation shall be compulsorily entrusted to FCID or CID to flush out all the crooks and cronies hidden in the nooks and crannies , with a view to apprehending  all the culprits from the top to the bottom irrespective of whether it is Alibaba at the top or Malli baba at the bottom. If this measure is not taken it would be impossible to stop the creation of another Sirisena regime on the same lines of  the discarded , disdained and defeated Rajapakse regime.
Of course Kumarasinghe Sirisena has halted the media from publishing the news in this connection by threatening to stop the advertisements that are given to them .
By a Lanka e news special reporter 
Translated by Jeff