Is Prageeth Ekneligoda a Journalist?
Posted on February 25th, 2016
Shenali D Waduge
The OHCHR/UNHRC Head have used successive resolutions/reports and statements to claim that one Prageeth Ekneligoda a journalist and cartoonist had disappeared. A joint submission by NGO at the UPR in 2012 also claimed Prageeth to be a cartoonist and writer and many other human rights organizations have claimed the same. However, Daily Mirror's News Editor Sandun Jayasekera says I have been serving as a journalist for 30 years now. As far as I know, this person being mentioned has never written any item of news or hosted a tv program or even attended a press conference. The question I have is how Prageeth Ekneligoda became a journalist". Minister Dilan Perera answered that by saying the Free Media Movement was the first to come out with the claim. Now this is startling news. The UNHRC/OHCHR and all others who include Prageeth Ekneligoda as a missing 'journalist' has some serious explaining to do.
The name Ekneligoda is associated with the Kandyan Chieftan who led the capture of the last King of Sri Lanka Sri Wickrama Rajasinghe on 18 February 1815 that ending 2357 years of royal rule. He even killed Udupitiya Arachchi who was protecting the King in his house. Ekneligoda nilame is remembered as a traitor for siding with the British to capture and handover the King and going to the extent of kicking the King until the British had to stop him before body harm was done. Ekneligoda's men grabbed the earrings of the Queen leaving her bleeding. Ekneligoda even went to the extent of tying the King with a creeper before delivering him proudly to the British.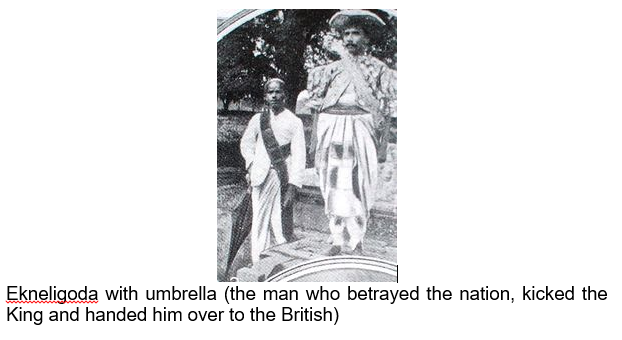 The gang of Ekneligoda Nilame pulled the king out of the house and stole every valuable worn by the king and the queen"
The king had been stripped almost naked, abused in filthy language, kicked, spat upon and finally attempted to tie like a pig (all fours, hands and legs to be tied to a pole)."
The British arrived and STOPPED the Sinhala Barbarians from further humiliating her and provided her clothes to wear"
The STOLEN garments of the king Sri Vickrama Rajasinghe and the blood soaked garments of the queen Venkathi Rangammal was taken home by the Kiriporuwe Mohottala and hidden inside a wooden chest."
 It is said that all those born with the Ekneligoda name carry a limp (karma for kicking a King) and it would be interesting to see if the present Ekneligoda also carries the same traits/genes.
Returning to the recent claim by Sandun Jayasekera, what we need to ask is
Who turned Prageeth Ekneligoda into a journalist?
If Prageeth Ekneligoda is not a journalist why was he turned into one?
If he is not a journalist who is he, how did he earn his living and who was he working for?
Can someone name a newspaper he was working for or produce a cartoon a newspaper has published. Google searches leave no result.
Who informed UNHRC/OHCHR that Prageeth was a journalist and what mechanisms does the OHCHR/UNHRC have internally to vouch for the authenticity of these claims. If Sandun is correct, then OHCHR need to issue a statement regarding how they came to accept Prageeth as a journalist to include him into the allegations made against the State/Sri Lankan Army. This is a very grave faux pas if UNHRC/OHCHR is just quoting names and making allegations without verifying.
If Prageeth is not a journalist and has been given international publicity because he was a 'missing journalist' a lot of people have a lot of explaining to do. UNHRC/OHCHR never gives the type of publicity it has given for any of the civilians killed by LTTE during the last 30 years but to appear on successive UNHRC/OHCHR reports/statements and even resolutions is a major hiccup on the part of the UN organization and we look forward to an official statement from them explaining this new position.
Several military intelligence officers are in prison based on the allegation that Prageeth Ekneligoda is a journalist. But if that is not so, we are back to square one!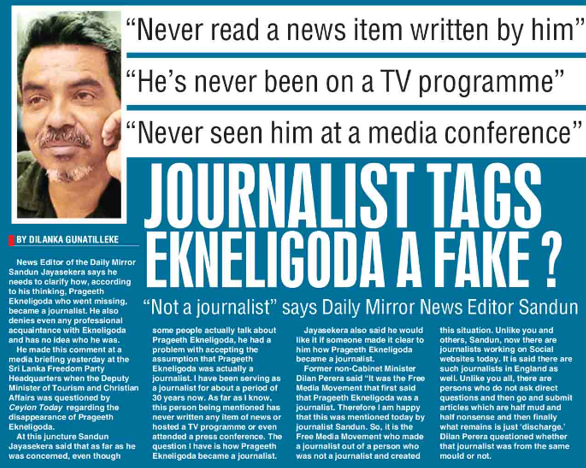 If Prageeth is not a journalist who is he? Who can answer?
 Shenali D Waduge