Tamil leaders say "Sinhalese colonization in North" What about Tamil Colonization of South?
Posted on April 25th, 2016
Shenali D Waduge
The Northern Provincial Council has boldly passed a resolution contravening its mandate claiming 'Sinhalese colonization in the North'. Leaving aside what the Government should do about the NPC violations, the counter question is what about Tamil colonization of the South steadily taking place. Why are those supporting the Northern colonization claim silent on the Southern colonization by Tamils for it will only be a matter of time that the same demands being made in the North for self-rule will start being voiced in the South as well. Let us not forget that Tamils account for 76million and illegally entering Sri Lanka from Tamil Nadu while Sinhalese are less than 14.8million making Sinhalese a minority endangered ethnic group requiring international protection since UN has classified Sinhalese language as endangered.
Colonization refers strictly to migration.  Colonization was linked to the spread of tens of millions from Western European states all over the world to the Americas, Australia and New Zealand. These settlements were done using the legal maxim of terra nullius (empty land). This was a Christian Church doctrine used via Papal Bulls to take over any lands/territories that were not Christian. Therefore Americas, Africa, Asia and Australasia which were inhabited by non-Christians lost their lands because they were not practicing Christianity.
There is nowhere that says that colonization refers to movement of people from the same state within the state. A government cannot be accused of colonization of one's own territory especially in an island nation. The TNA is making a fool of themselves with these bogus claims.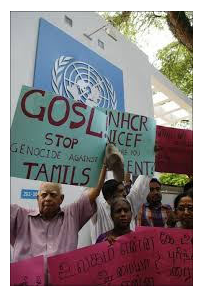 our opposition leader is busy carrying 'stop genocide against Tamil' placards!
The Constitution of Sri Lanka guarantees equal rights to all citizens as well as freedom of movement and residence. It is a fundamental right of a citizen to live and work anywhere he likes.
A plethora of campaigns surround the claim of genocide. None of those putting their names to campaigns have bothered to look at the population statistics of Tamils to question whether genocide can take place without deaths? Migration statistics of Tamils moving out of North to South have never been properly studied either. How many have looked at the housing population in the South in particular Colombo and suburbs where the Tamil population is slowly increasing as are the Indian arrivals?
In 2014 the Northern Province Chief Minister called for Sri Lankan and foreign experts to re-write Sri Lanka's history obviously because he and his racist coterie could not prove with evidence a key argument now being raised that Tamils who were always known as Malabars (coming from India's coastal regions) and were later known in 1911 as Ceylon Tamils had no rightful claim to any part of Sri Lanka. The self-determination, self-rule, autonomy were all sham quests just so that a handful of caste/class conscientious Tamil leaders could wrest political control over their own people in a return to slave-master set up.
The colonization claim does not hold water as sufficient historical and archaeological evidence prevails to showcase Sinhala Buddhist heritage in North Sri Lanka and Sinhalese and Muslims have every right to even without historical proof decide to reside in the North if they so wish.
Tamils have no right to jump up and down claiming 'genocide' and 'colonization' as gimmicks to stop Sinhalese & Muslims from exercising their fundamental rights to live where they like especially return to their original habitats from which they were chased by LTTE and IPKF.
GOSL should not be scared and refrain from assisting the Sinhalese & Muslims who wish to return to live in the North and new comers who also wish to reside in the North. If Tamils can live in the South why can't Sinhalese & Muslims live in the North.
In fact the GOSL is bound to help such people because of the threats they may face by quarters of the TNA who by some obnoxious logic think they can reside anywhere and everywhere in Sri Lanka while Sinhalese or Muslims cannot enter the North because it is Tamil territory.
There is and was and will never be any such demarcated territory. There is no such territory demarcated and called Land of Tamils in Sri Lanka. There is a State for Tamils found in Tamil Nadu where the state official language is Tamil too and it is from where Sri Lanka's Tamils originally came from too.
In making genocide and colonization claims the TNA and Chief Minister of NPC are violating Section 120 of the Penal Code :
"Whoever by words, either spoken or intended to be read, or by signs, or by visible representations, or otherwise… attempts to raise discontent and dissatisfaction amongst the People of Sri Lanka, or to promote feelings of ill-will and hostility between different classes of People, shall be punished with simple imprisonment for a term which may extend to two years".
Let us look at the statistics and demographic change taking place.
As per population census of 2001 taking to account 18 districts
o   Sinhalese population was 13.8million
o   Sri Lankan Tamils was 732,149
o   Indian Tamils was 855,025
o   Muslims 1.3m
o   Burghers 35,283
As per population census of 2012 taking all 25 districts
o   Sinhalese population was 15.1million
o   Sri Lankan Tamils was 2.2million of which the population of Jaffna, Mannar, Mullaitivu, Vavuniya & Kilinochchi came to 987,692 which means that of the 2.2million only 987,692 are living in the so-claimed 'Tamil homeland' area!
o   This is very interesting because it also questions the genocide claims. How come Tamils are increasing if they are supposed to be getting killed????
o   Of the 2.2million Sri Lankan Tamils, 231,318 are living in Colombo, 80,071 are living in Gampaha (majority Sinhala area), 71,640 are living in Kandy, 47,523 living in Puttalam, 54,658 in Ratnapura
o   We need to seriously ask where these Tamils are coming from if there is supposed to be genocide taking place because the Indian Tamil population numbers are taken separately.
o   Indian Tamils account for 842,323
o   Indian Tamils are located in Nuwara Eliya-375,795, Colombo-27,336, Kalutara-23,611, Matale-23,400, Matara-11,984, Polonnaruwa- 1,190, Moneragala-4,590, Ratnapura-62,595, Kegalle-41,468
There is also another factor that has gone unnoticed. Who is keeping a tab on the rising apartments, condominiums coming up like mushrooms with every single storeyed house now being turned into a flat. Who are living in them, who owns them, how many foreigners and Indians are living in them – do the authorities know how many tourists are overstaying, how many tourists are working and then taking money back, how many illegals are entering or have entered since LTTE times? How many of these illegals are now posing as Sri Lankan Tamils or have even married and acquired land? How many Maldivians are now living in Sri Lanka and ownership of land by them through marriage to locals. Is there a competent authority in Sri Lanka that is looking into these concerns as we see a very subtle demographic change taking place where soon there will be no Sinhala-majority areas while minorities are using every dirty trick possible to claim rights to land as only theirs when they have no historical right to claim so. What is the situation likely to be when the present government has removed ownership rules for foreigners and we don't know who is coming from where and what they are upto? If this situation is not addressed this will qualify for colonization when people who do not belong to Sri Lanka are entering to change the demography of the country while our politicians are having sleepless nights on how to stay in power.
All parties & individuals that aligned to the TNA & Chief Minister's genocide and colonization calls are exposed for their silence in not representing the Sinhalese and Muslims for their rights to live in the North and to return to their original habitats.
Shenali D Waduge