Student banned from representing Tamil culture at multicultural assembly
Posted on May 11th, 2016
BY DALE CARRUTHERS,

THE LONDON FREE PRESS  Courtesy Toronto Sun
LONDON, Ont. — A student in London, Ont. is crying foul after his high school barred him from carrying a controversial flag at a multicultural assembly.
Kumar Makandu, a Grade 12 student at Central secondary school, had carried a Tamil flag at the annual assembly for the past two years but was told by administration leading up to the event on Friday that he couldn't showcase the flag.
For Tamils, an ethnic group living primarily in northeast Sri Lanka, the flag is a national symbol representing the movement to create an independent state. It depicts a tiger jumping through a circle of bullets — though Makandu says it's the sun — with two crossed bayonets.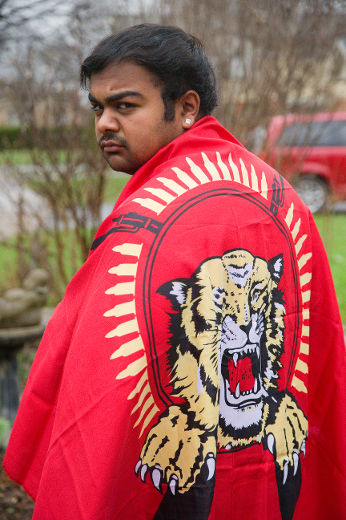 Central principal Jim Robertson decided only the flags from internationally recognized countries would be included in the assembly after a student last year mistakenly thought the Tamil flag was connected to the Liberation Tigers of Tamil Eelam, a militant group that fought the Sri Lankan military in a bloody civil war from 1983 to 2009. The group was added to Canada's official list of terrorist organizations in 2006.
We're not trying to get into the politics of aspirational governments," Robertson said. I don't want students to feel threatened."
But Makandu said there's no connection between the Tamil flag to the Liberation Tigers, an organization the Canadian government put on its terrorism list in 2006.
If I can't even bring my flag up, how can I share my culture?" said Makandu, adding he spoke to many of his fellow students prior to the assembly and they told him they had no problem with him carrying the flag.
Makandu showed up for the assembly wearing a shirt depicting the Tamil flag, but a teacher promptly asked him to take it off.
He did so, not wanting to create trouble, and walked under the Sri Lankan flag at the assembly.
It's pretty upsetting that I can't represent my culture in a multicultural country like Canada where we embrace other cultures," he said.