Norway denies official recognition to Buddhism while preaching freedom of religion & human rights in Sri Lanka
Posted on June 2nd, 2016
Shenali D Waduge
When Norway returns to the political scene and little noise is made either people have forgotten Norway's illicit past or people's views are being shut out by a sepoy media that is now realizing what 'no media freedom' really means. Be that as it may, this evangelical preaching nation has returned to poke its nose again into the internal affairs of Sri Lanka playing faithful servant to the West's global agenda with the mission to destroy the ethno-religious identities of Asia, convert as many locals as possible en route to the end post China. Norway joins the rest of the EU nations that is dishing out their bags of trouble to an appeasing government that is willing to do anything so long as it can stay in power. Let's look at Norway's own records and how qualified Norway is to preach about equality and freedom.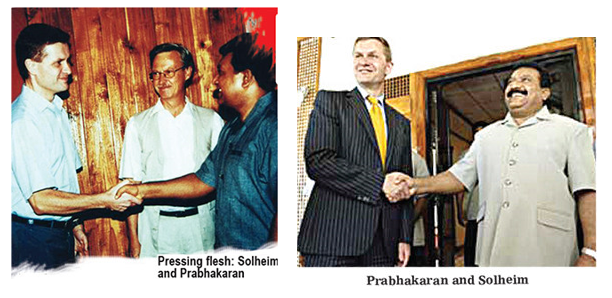 Norway has a population of 5.1million (July 2014) 75% of the population are members of the Church of Norway (national Statistics Bureau)
Firstly, Norway does not recognize Buddhism as an official religion. Can such a country be preaching to us about freedom of religion and human rights?
Norway's Constitution is the oldest still in force in Europe dating back to 1814 but rights of national minorities are not even included in its constitution.
The 2012 US state department report on religious freedom in Norway reads: The constitution now states that the country's values are based on its Christian and humanist heritage.  The Evangelical Lutheran Church (ELC), the state church prior to passage of the constitutional amendment, still receives some benefits not available to other religious groups."
Church staff are still considered public employees (Church employees are State employees). The report also states that the Evangelical Lutheran Church receives benefits not available to other religious groups and that the Norwegian state supports the Church FINANCIALLY and the law regulates clerical salaries and pensions! And this very nation is preaching to Sri Lanka to remove the historical place Buddhism has.
Then there is the Christian Knowledge and Religious and Ethical Information (CKREE) course – which is offered in grades 1 to 10 (ages 6 to 16) which cites the country's Christian history. The CKREE course devotes extensive time to studying Christianity. This course is MANDATORY – there are no exceptions to other religions and non-religious groups! How do you like that!
While Sri Lanka has religious holidays and stamps for minorities and minority leaders and minority events the only national religious holidays in Norway are –Palm Sunday, Maundy Thursday, Good Friday, Easter Sunday, Easter Monday, Ascension Day, Pentecost, Whit Monday, Christmas Day and Saint Stephen's Day.
Norway's laws bans the production of kosher meat in Norway, which means the same applies to halal and Jewish community has to import kosher meat!
The US report also cites this example There was strong debate about prayer rooms (for both Muslim and Christian students) in schools in September, when an Oslo school permitted such a room on school premises.  Conservative and populist politicians threatened to withhold funds for the Oslo budget if the prayer room was permitted.  The school consequently withdrew its plans for a prayer room." In Sri Lanka minorities only have to scream and shout and their will becomes law!
According to a December 2010 police report, approximately 11% of 240 hate crimes registered in 2009 were religious motivated … and Norway is preaching to us!
The country that is striving to remove the Buddhist identity of Sri Lanka on behalf of the West has political parties with the Christian name – The Christians Party, Christian Unity Party, Christian Democratic Party, Christian Conservative Party
What about Norway's place for minorities (not immigrants) – The Kingdom of Norway is founded on the territory of two people – the Norwegians and the Sami people. The Sami people is at the same time an indigenous people and a minority. The Sami people is the only minority protected by a special article in the Norwegian Constitution – article 110a introduced only in 1988 "It is the responsibility of the authorities of the State to create the conditions enabling the Sami people to preserve and develop its language, culture and way of life." http://tribunalconstitucional.ad/sites/default/files/documents-ponencies/H-NORWAY.pdf
In 1970 there were only 3500 people living in Norway from the non-Western world. That amounted to 0.1% of the population. The rise in immigrants started in 1987. By 2008 the number of non-Westerners and their dependants reached 246,529 or 5.2% of the population. 1 in 5 resident in Oslo is a non-Western immigrant. (The Political Representation of Immigrants and Minorities: Voters, Parties .Karen Bird). Voting rights in Parliament remains restricted to naturalized citizens. The 1st minority representative to be elected at national parliamentary level was in 2001. The 2nd such minority leader to be elected was in 2005. There have only been 2 minority representatives in the history of the Norwegian Parliament…. How many minority leaders are there in Sri Lanka's Parliament?
Out of a total of 11,000 representatives in municipal councils elected in 2007, only 120 had an immigrant background from Asia, Africa, or Latin-America. Minority representation at local level in Norway is just 1.1%. In 2003 there were only 106 representatives!
The 4 main recipients of Norwegian Government aid are Norwegian Church Aid, Norwegian Refugee Council, Norwegian Red Cross, Norwegian People's Aid. These agencies have often been accused of missionary and regime change and that's not all in 2006 Norwegian Church Aid was accused of raping girls in Laos. Akha villagers in Northern Laos testified on video that Norwegian Church Aid staff coming to their villages to do various projects had demanded village girls to rape on repeated occasions. Village headmen told how they were unable to stop the rapes in their villages, girls who tried to run away were told by NCA staff that they would be beaten if they did not comply. http://www.dailykos.com/story/2006/4/7/200207/- The Afghanistan Government suspended the work of Norwegian Church Aid accusing it of proselytizing.
Norway's LTTE links (questions asked by Dr. Kamal Wickremasinghe) http://www.island.lk/index.php?page_cat=article-details&page=article-details&code_title=143658
Why did Norway elevate the LTTE to the "sole representative of the Tamil community"
Why did Norway always attempt to treat the LTTE and the Sri Lankan government as 'equals'
Why did Solheim and Norway work covertly to build up LTTE in to a military force comparable in strength to the Sri Lankan armed forces?
Why did Norway provide sophisticated satellite communication equipment to the LTTE during the 2002 ceasefire?
Why did the Norwegian Head of the Sri Lanka Monitoring Mission, Major (SLMM) General Trond Furuhovde instruct the LTTE, in October 2003, to claim that the LTTE attack on the Chinese ship was by a "third party with stolen uniforms"?
Why, in October 2003,did Tryggve Tellefsen (the then head of the SLMM) forewarn the LTTE arms vessel about the impending Navy attack?
Why did Norway help the LTTE establish relations with Eritrea, organised purchases of arms, ammunition and other military equipment from a number of sources, using Eritrean end-user certificates?
Why did Norway facilitate the training of LTTE sea tigers in Thailand?
Why did Norway facilitate travel to Europe for LTTE leaders prior to the EU proscription in 2006, and arrange meetings with European politicians under the cover of "fact-finding missions"?
Why did Norway allow Norwegian Government-funded NGOs like the Norwegian People's Aid to 'donate' heavy earth-moving vehicles, trucks, electricity generators, water pumps, tents, and other equipment to the LTTE?
Why did Norway fund publications like Professor Kristian Stokke's "Building the Tamil Eelam State", Third World Quarterly 27 (2006), which purported to 'examine' the 'new state' institutions, pre-empting the formal division of Sri Lanka?
Why did Norway allow the Icelandic diplomat Bjarni Vestmann enter the country on a tourist visa in October 2007, and arrange a clandestine meeting with S. P. Tamilselvan?
Why did the SLMM and Norway ignore morethan 3000 cease-fire violations and serious human rights violations, including child soldier recruitment, committed by the LTTE?
Is the present government just plain daft to invite Norway to play a key role in Sri Lanka again to stir trouble or are they also part of the problem?
What is clear in reading the above is that Norway or any other nation cannot even match what Sri Lanka has given the minorities. Using the minority card to take away the Sinhala Buddhist identity appears to be the gameplan and it is time the Sinhala Buddhists woke up and realized that it is not that minorities have no rights, it is easier for these scheming nations and the UN to use the minority grievance card to penetrate into and destroy the Sinhala Buddhist identity thus disintegrating the entire nation.
Shenali D Waduge