Beema Bamboo for Cleaner Air
Posted on October 25th, 2016
By Dr. Tilak S. Fernando
Nature is a mysterious phenomenon, not even scientists can explain it! Like the wind or the blowing that embraces one's body it cannot be explained other than referring to it simply as 'nature'! Nature itself is a cosmic theme, which goes beyond fathoms of religious, intellectual, scientific and human levels of understanding or proving: it simply exists and does wonders. One of the spectacles of nature is the emergent of millions of herbs and trees, apart from other phenomena, for the benefit of man and animals on this planet.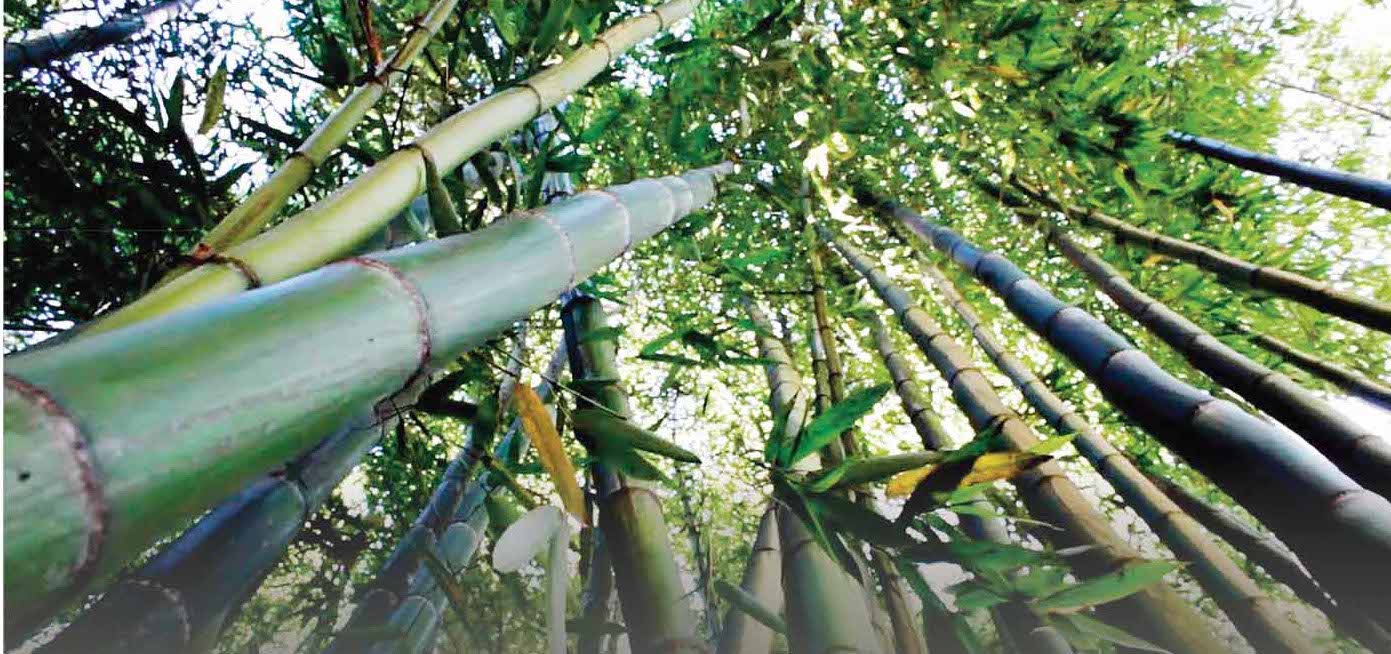 India is regarded as a mine of spiritualisms. Indians recognise three particular plants or trees as holy. Hindus and Buddhists consider the Bo tree as sacred from the time Prince Gautama sat in deep meditation under a Bo tree prior to his enlightenment and became Buddha. Scientifically it is known to have anti-inflammatory and immuno modulatory properties. Second type of plant is the Tulsi or the Indian Holy Basil, which is treated as a venerated herb having medicinal properties. The third important tree is the Bamboo tree, which grows in two varieties, wild bamboo and Beema, the latter having a superior clone, which has been identified as an eco-friendly to generate biomass energy.
Energy Factor
Biomass is an organic material that comes from plants and animals. It is a renewable source of energy that is available 24 hours a day, 365 days a year. Although it is the best energy source it is 'not cost effective' to produce due to the difficulty in the supply of raw material.
Wood remains the largest biomass energy source today; examples include forest residues (such as dead trees, branches and tree stumps), wood chips. Besides wood, rice husk, crop stalk, straw, straw dust, coconut can feed stock of biomass gas. Burning biomass is only one way to release its energy. Biomass can be converted to other useable forms of energy like methane gas or transportation fuels like ethanol and biodiesel.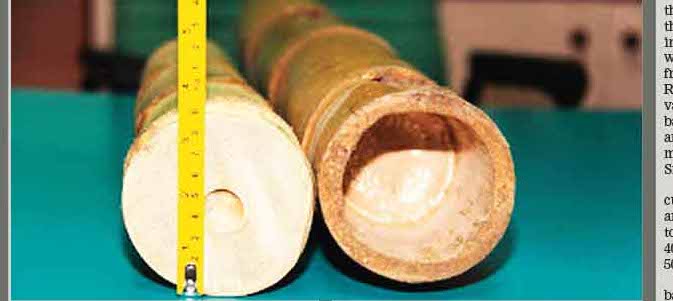 Dr. N. Bharathi, who is on the Experts Committee for high tech horticulture formed by National Development Corporation in India, also a member of the State Bamboo Development Agency, Gujarat and a member in the Bamboo Technical Support Group (BTSG) under the State Steering Committee of Gujarat and Tamil Nadu has done extensive research and invented biomass energy out of Beema Bamboo to generate electricity. He is also a member of an Indian company Growmore Bio Tech Ltd, which has excelled in providing high quality Beema plants to farmers and Indian industries for the past 10 years, as well as exporting to several countries such as Japan, Australia, South Africa, Hawaii, Miami, Brazil, Malaysia, Singapore, Indonesia, Dubai, Kuwait, and Oman. The company maintains stringent quality standards coupled with the latest research findings in technology.
The laboratory of Growmore Bio Tech Ltd has an annual capacity to produce over 10 million tissue cultured plants depending on the plant species. The growing room at Growmore has infrastructure to grow 2 to 3 million plants at any given time. The lab has been accredited by the Australian Quarantine Inspection Service (AQIS) for exporting tissue culture plants from India. The company has over 160 trained technicians on its regular rolls, who have worked in achieving over 50,000 tissue-cultured plants every month individually.
Sustainable Green Energy (Pvt) Ltd
Ramasubramanian, the Chairman and Managing Director of Sustainable Green Energy (Pvt) Ltd has direct connections with Dr. N. Bharathi and is attached to Growmore Bio Tech Ltd in India and works in partnership. Recently he set up a company in Sri Lanka (Sustainable Green Energy (Pvt) Ltd in Colombo 5 to generate biomass energy in Sri Lanka by growing more Beema bamboo trees to solve the long term energy problem in Sri Lanka as much as to convert the whole environment to being eco friendly.
The writer had the occasion to meet up with S. Ramasubramanian in Colombo recently, where he disclosed his future plans to establish Dendro power plants right across Sri Lanka covering areas such as Trincomalee, Moneragala, Anuradhapura, Kurunegala, and Hambantota Districts. The company wants to invest US$ 250 million on a power factory in a perimeter of 2,000 acres of land in the Vavuniya District. He noted with regret that some influential Sri Lankan third parties are making inroads to hinder the project and to grab the opportunity for themselves, however, Ramasubramanian has implicit faith, confidence and the approval of the Sri Lanka Government with the blessings of Minister of Agriculture Duminda Dissanayake and Deputy Minister of Irrigation Wasantha Senanayake.
Sustainable Green Energy (Pvt) Ltd had been owned previously by Sri Lankans, up to the year 2010. S. Ramasubramanian bought the company outright in 2011. In 2014 his company has been able to produce 5 – 10 mega watts of biomass energy, but the problem appears to be the shortage of raw material. With this in view, his company has already acquired 647 acres in the Vavuniya District with a target of acquiring 5,000 acres of more land close to Mannar to grow Beema bamboo! The company will import machinery and equipment such as generators, turbines and water pipes from Germany and France.
Operation
Ramasubramanian's concept is wholesome and his thinking behind the project is genuine. During the first phase of the operation he intends to help the villagers in selected areas who lost their land during the LTTE war, which the government of the day is going to give back to the owners. Once the handing over process is complete, Sustainable Green Energy (Pvt) Ltd will educate the villagers on how to proceed with the bamboo cultivation.
The company will clear the jungles and prepare the lands enabling them to proceed with the cultivation; farmers are assured a guaranteed income of Rs 30,000 – Rs 35,000 per acre in 30 months. Additionally, villagers cum landowners will be able to grow vegetables by inter cropping between bamboo plants, as there will be a certain gap of space between two plants. The company has already identified 150 families in the area and clearing and preparing the land will be done at a cost of Rs.25, 000 per acre, to the company.
The company has a five-year plan to develop the local community with the assistance of the Ministry of Forests and Environment and intends to work with the fullest co-operation with the Government of Sri Lanka. Apart from generating biomass energy, Ramasubramanian plans to manufacture value added products such as clothing out of bamboo fibre yarn, fabrics, activated carbon and computer key boards and mousses and mobile phone covers which is bound to make Sri Lanka environment friendly.
According to Dr. N. Bharathi, bamboo cultivated under intensive care, 1,000 plants to an acre, the biomass yield will start from 30 tonnes per acre in three years, increasing to 40 tonnes in the next year and stabilises up to 50 from the fifth year.
What are the advantages in growing Beema bamboo? The bamboo tree emits oxygen over a twenty-four hour period, while absorbing 65 per cent of the carbon dioxide in the atmosphere. It increases the ground water level and is ideal for human health, which has been proven scientifically. For example, a person sitting under a bamboo bush gets the benefit of having plentiful oxygen, while the bamboo plant absorbs all the carbon dioxide around the area.
Global Warming
The word global warming has become quite a familiar term these days. It is taking place because man has been depleting natural resources and generating more and more carbon dioxide to a level that cannot be sustained. Human beings have not been able to do away with mortal comforts for his comfort, which generates enormous amounts of gases, which is the cause for today's global warming.
Every human being needs 280 kg of oxygen every year, whereas one bamboo tree is able to produce more than 280 kg/per tree / per year. Apart from bamboo absorbing carbon dioxide and releasing oxygen, continuously, which is needed for living things, it is also one of the good solutions for making the factory 'zero discharge' of effluent water. Hence, bamboo is the ideal choice as a plant in everyone's garden to mitigate the global warming in the fastest, simplest and cost effective way.
A family of four including a dog or a cat would essentially require 1,100 to 1,250 kg of oxygen every year for breathing, which is made available by organically growing 3 bamboo plants! Therefore, it is food for thought that people start growing this oxygenator Beema bamboo to save the future generation from pollution and affording them the opportunity of breathing clean air, rich in oxygen.