APPALLING SITUATION
Posted on March 11th, 2017
By Dr. Tilak. S.Fernando
During a visit to a local renowned supermarket last week I approached the 'pharmacist' to make enquires about an allopathic cardiac drug (RanCV500). A guy who did not appear to have any knowledge of the inquired medicine questioned me as to what the drug was prescribed for? Quite bemused by the answer coming out of the so-called 'pharmacist' I ventured to ask him whether he was a qualified pharmacist, to which his answer was affirmative. I was not satisfied, and summoned the store manager to his presence and enquired whether the employee was a qualified pharmacist. The manager became tongue-tied, which convinced me that the pharmacist in this particular supermarket was an 'ordinary cashier.'
Subsequently, I spoke to the Operations Manager of the giant supermarket chain on the telephone to verify whether the company employs 'unqualified pharmacists' as a policy matter. He promised to deal with the complaint but let it 'die a natural death.' In the meanwhile further enquiries from the neighbourhood pharmacies revealed an established local pharmacy runs the supermarket pharmacy as well. A week later, I spoke to the Operations Manager once again, and he was surprised to hear my latest findings and admitted that the 'Supermarket operation was done with the aid of the local giant pharmacist's licence.' When pointed out that it was illegal to employ unqualified 'pharmacists' using someone else's licence, his blunt answer was: "In that case we have to close our pharmacies in all our branches." The writer explained to the OM, that the law that states, "if the licence holder is not available at any time, either the pharmacy will have to be closed or a locum pharmacist should be employed."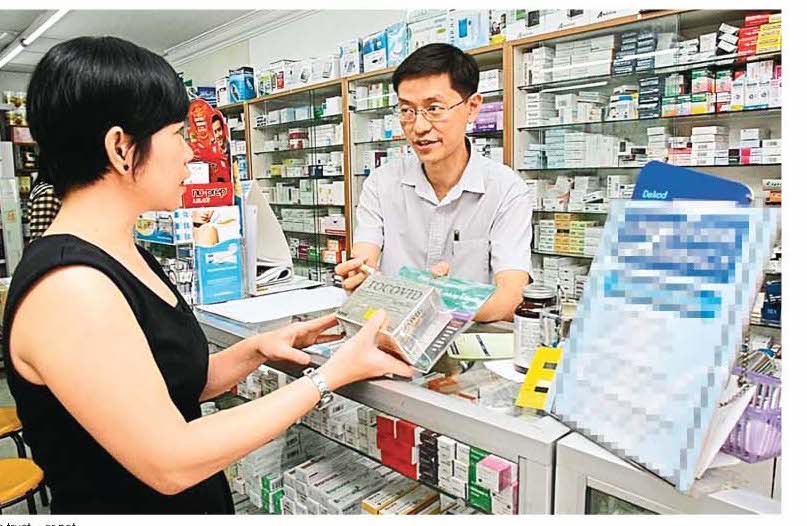 Efficacy and safety of medicine
The problem in this country is everyone is not familiar with their consumer rights and existing laws of public litigation. Safety and efficacy of medicine is vital to prevent maltreatment to patients. To this end only the public health mechanisms demand qualified pharmacists to dispense drugs. Sri Lankan Health Laws specifically make it compulsory for licensed 'Pharmacists' to exhibit their licence in the pharmacy. Despite such legal necessities what seems to take place is many licensed pharmacists employ 'unqualified cashiers' to deal with customers and drugs, which could endanger human life if wrong medicines are dispensed by unqualified square pegs in round holes, while the licence holders are busy with other exploitations.
While writing this article, a known person who is a qualified pharmacist who has had to work only as a pharmacy technician in a London Hospital (Sri Lanka registration is not acceptable in the UK) phoned me to inform about a similar occurrence from a pharmacy in Narahenpita where the licence holder apparently employs two girls to run the pharmacy. On that ominous day the girls, being naïve about the procedure, had refused the issuance of a cosmetic drug without a prescription. Under Sri Lanka schedule 1, drugs are permitted to be sold without a prescription, not loose but a complete pack.
The Drug Control Authority has taken perpetrators in the pharmacy operations to task, induced by public complaints and heavy court fines have been levied. This evidently calls for frequent flying squad operations by inspectors at least on a monthly basis to overcome drug related problems in pharmacies, and moreover to ensure qualified and licensed pharmacists are physically present at all times rather than ordinary cashiers substituting them. The giant franchises (like the supermarket exposed) should come under the stringent, vigilant eye and action of drug control inspectors regularly.
Statutory requirements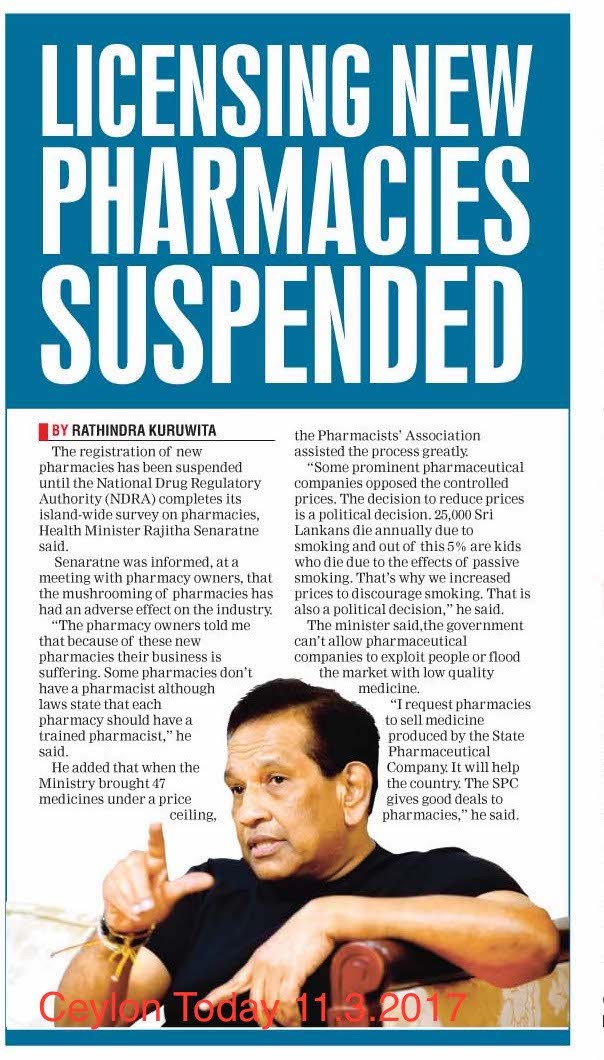 Statutory requirements on pharmacy operations require area Inspectors from Food and Drug Implementation, the Cosmetic Devices Agency and Drug Control Authority to organize regular monthly visits in appropriate areas to carry out investigations on 'outdated stock' (if any) and to ensure that every pharmacy maintains a prescription book daily. The book should carry information such as daily issues of drugs with patients' names and address, type and strength of the drugs issued. The pharmacy should maintain a list of their processed prescriptions with the issuing doctor's name on a daily basis.
The current Sri Lankan situation helps anyone known to the pharmacy staff could obtain any drug, including a controlled drug, without a prescription, except in hospitals, law-abiding pharmacies or OSU Sala. This has given rise to the thriving nature of private pharmacies dealing with illegal activities by hiring unqualified staff as 'cashiers'. To overcome this abuse and to protect the public an effective pharmacovigilence system, similar to that of the UK's Medicines Control Agency in London (Department of Health) is vital.
Operation
In the UK, for example, only qualified pharmacists displaying their names and 'Pharmacist' tags on the lapel of their white overall are permitted to handle drugs in chemists such as Boots. Even if a junior pharmacist prepares a prescription, the senior pharmacist has to double-check it, as a precaution and prior to handing over the prepared prescriptions to the patient; a double-checking process takes place with regard to the patient's name and address as against the details on the GP's prescription. This goes to show how delicately and dedicatedly drugs are handled when dispensing drugs to the public.
In Sri Lanka such norms seem to fly through the window, instead drugs are placed in small envelopes & given to customers, with the minimum of information (without writing the name of the drug or its strength etc.) Despite having stringent Health Regulations (with amendments to the Cosmetic Devices and Drugs Act 27 of 1980) imposing severe punishments of Rs 100, 000 or one year jail sentence or both on violators of health regulations, Sri Lankan Health sector needs to pull up their socks particularly in the area of pharmacy scams.
The writer's attempt to contact the Chairman CAA or Director Consumer Affairs and Information or the Deputy Director Consumer Affairs and Information to bring this matter to their attention was a disaster. Instead, a staff member answering the phone advised the writer that 'the CAA hasn't got teeth to bite pharmacy fraudsters, but the problem needs to be addressed by the Ministry of Health'. Dear Minister of Health, the ball is now in your court.
tilakfernando@gmail.com