Imported workers fill gaps in short-handed building sites
Posted on April 17th, 2017
By Kasun Warakapitiya and Shaadya Ismail Courtesy The Sunday Times
The Board of Investment estimates that 60,000 manual workers are needed in the construction sector, but 20,000 are employed.
Companies registered under the Ceylon Chamber of Commerce also report labour shortages. Some companies have sought BOI approval for visas to import labour.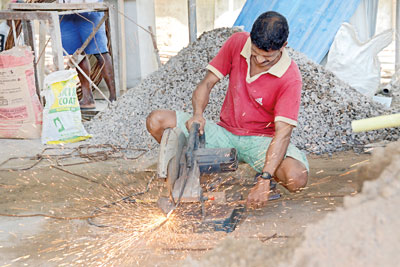 In 2016, the BOI granted visa recommendations for more than 5,700 skilled" workers from India and China. (See separate story for details)
The Sunday Times spoke to some in the building sector for their views.
Prasanga Sanjeewa from Wattala, who is working in Wellawatta as chief mason, said finding trained people was tough and many who come do not stay on the job for long. Many are unable to save because of food costs.
We work until eight at night and then we spend the night on site. In the beginning we lived in boarding houses, but that was difficult as we had to shift once a month. Now the company has promised to provide us a house in a couple of weeks," he said.
Mr Sanjeewa said a mason would be paid Rs 1,500 and a helper gets Rs 1,300 a day. But masonry workers demand at least Rs 2,300 and the helpers want Rs 1,700 a day.
A. M. Jayarathna from Anuradhapura is the chief mason at a construction site in Dehiwala. He said there are 15 skilled and unskilled workers and six masons at the site. It is very difficult to employ labourers for construction. Skilled workers are difficult to find as they prefer working overseas and the unskilled labourers do not want to accept the ususal wage. Most young people do not want to join the construction industry and learn a trade."
Safraz Cader, the project client of a Dehiwala construction site, said skilled workers go overseas, while others choose to operate a three-wheeler.
Most of them say that driving a three-wheeler is easier unlike working as a mason or helper. Nobody is willing to learn a new trade."
Many who do accept work take leave every week and some work only three days a week, he said.
An immigration official said companies inform them of their needs for overseas workers. They inform us of their foreign labour requirement and get the approval of the particular ministry and then we issue the visas."
Visas are issued on the condition that the worker is employed strictly at a particular company. Changing jobs is prohibited.
The work visa is only valid for one year. There are instances where people come on tourist visas and work here and there are instances when they overstay," the official explained.
Chamber of Construction Industry, president, Dr Surath Wickramasinghe said at least another 200,000 construction workers – skilled and unskilled – are needed for the port city project undertaken by China.
Dr Wickramasinghe, who is also an architect, said poor starting salaries and the arduous nature of the work discourage anyone from entering the sector.
There is a shortage of technically qualified staff including engineers, architects, skilled and unskilled labourers," he said.
He said many prefer to be three-wheeler drivers or security guards.
Dr Wickramasinghe said the government has been asked to resolve the issue.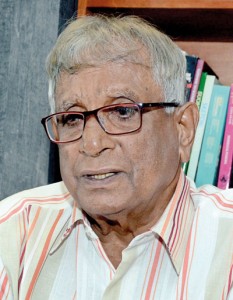 Several measures can be taken to make the work of a labourer a more attractive option such as by addressing them with a more dignified name as well as offering more incentives such as lodging, insurance, secure employment as well as higher wages as in South Korea," he suggested.
The general manager of the State Engineering Corporation, D.T Rajasekaran, said even the government found it hard to recruit labourers and engineers.
Projects can get delayed because of a lack of workers. For this reason, projects are undertaken as joint ventures, or a contractor is hired for small segments of a project.
He also said state-run training centers receive few applicants.
Most engineers leave the country after achieving the certification from the Construction Industry Development Authority."
He expects foreign workers will have to be imported to meet the industry shortage.
We still don't need to take such measures since we have a cadre of 1,200 unskilled and skilled workers. But, in the near future, foreigners will have to be recruited. These will include engineers," he said.
He also said even though between 1,500 and 2,000 people graduate from vocational training institutes every year, they do not join the workforce.
Chinese, Indian, and Thai nationals are coming to work. They will work for less due to the lack of jobs in their countries but will take Sri Lankan money out of the country."
He said foreign workers should be imported based on education, health, work experience and so on. The government should not allow them to work under tourist visas."
The president of the State Engineering Corporation Employees Union, N. Ruwan Pathirana said those who want to work as labourers expect big wages instead of gaining more knowledge and skills so they could earn more.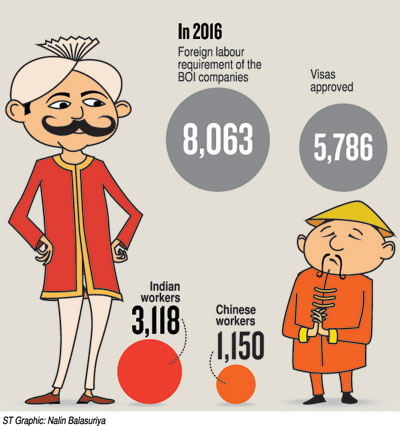 4,268 Indians, Chinese form biggest labour importsMore than 4,200 Chinese and Indians are among foreign workers that companies operating in Sri Lanka have been approved to import last year.

Last year 5,786 foreign skilled workers were granted visa recommendations by Board of Investment-approved companies to work in Sri Lanka. BOI director of media and publicity, Dilip Samarasinghe, said these include 3,118 Indians and 1,150 Chinese. These two groups add up to a total of 4,268, the largest number of imported workers.

He said that last year BOI companies needed 8,063 foreign workers and 5,786 visas had been approved.

Under BOI guidelines, visas for foreign workers are given only if required skills are not available locally and if the skills are in high demand, Mr Samarasinghe said.

He added the number of expatriate workers should be below 50 per cent of the total during the period of a project.