How political interference made SriLankan crashland!
Posted on July 14th, 2017
By K.K.S.Perera Courtesy The Daily Mirror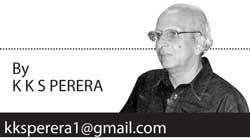 The first Sri Lankan flag carrier Air Ceylon [1947-1979] terminated its operations to pave way for Air Lanka [1979-98]. Following its partial acquirement by Emirates in 1998, it was re-branded SriLankan Airlines. From 1998 it was dressed in the current livery. The Dubai-based Emirates Group invested in local flag carrier under an agreement signed by the Chandrika B Kumaranatunga government for a ten-year strategic joint venture.They initially invested US $ 70 million for a 40% stake, which later increased to 43.6%. The ground handling and airline catering at Colombo-Bandaranaike airport became the exclusive right of Emirates along with full control for investment and management decisions for a ten-year period. Refurbishing the airline's image and fleet was another important task for Emirates under the agreement. However, this partnership ended abruptly due to political maneuvering by the Rajapaksa regime. However it has sustained its re-branded name and logo.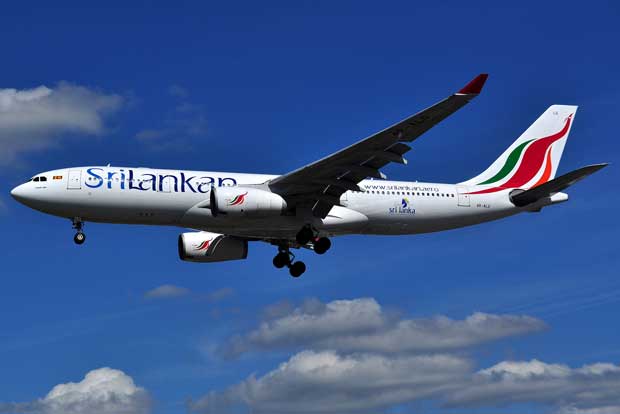 Burdened Tax Payer 
The airline started plummeting for a nosedive after former President Mahinda Rajapaksa ended the management deal with Emirates. Treasury data reveals a loss 50 billion in the tenure of the new unity administration. In simple terms, the airline went down from earning a profit of Rs 12 million a day under Emirates in 2008 to a loss of whopping 80 million a day in 2017. The Government of Sri Lanka in a deal that was finalized in 2010 bought Emirates 43.63% stake in the airline, thus ending any connections the two international airlines had with each other.
Failing to find a private stake-holder for the National carrier during its two years in office, the UNP-SLFP government altruistically contributed to the National carrier's accumulated losses brings it to a staggering 170 billion rupees as at end April 2017.
In simple terms, the airline went down from earning a profit of Rs 12 million a day under Emirates in 2008 to a loss of whopping 80 million a day in 2017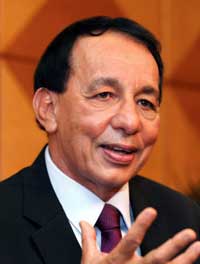 In 2008, Peter Hill, the Emirates-appointed Chief Executive Officer declined to accommodate President Rajapaksa's family and his coterie returning home on a fully booked flight from London. Obliging the ex-president would have meant removing paid passengers and allowing their seats to the party. Rajapakse abrogated the Chandrika-Emirates agreement and removed CEO Peter Hill, who had over 30 years of experience in the Airline industry. Hill, during his initial stages, gained experience with British Airways and Gulf Air, before playing a major role in developing Dubai-based Emirates to its present position. During his tenure, the airline survived a major pre-dawn attack by LTTE on July 24, 2001, where at least 19 people died, two Airbus A330 planes, one each of A320 and A340, and two other planes along with a number of military planes were destroyed.
 Wickremesinghe lacked the experience or formal learning that would qualify him to run an airline
MR later appointed planter Nishantha Wickremasinghe as the airline's Chairman. Wickremesinghe lacked the experience or formal learning that would qualify him to run an airline. The accumulated profits during Emirate-managed Sri Lankan were 9.2 billion. The loss for the seven years under first lady Shiranthi's brother from 2008 to end of regime was Rs. 128 billion.  A Board of Inquiry investigation into corruption at SriLankan under the chairmanship of Wickramasinghe released a report in March 2015. The report stated that corruption was widespread and established the allegations of CEO Wickramasinghe's 'affairs'. It also discovered an instance of a female crew member being released to allegedly work at 'Temple Trees' who admitted that she had worked at Namal Rajapaksa's office. She was drawing a fuel re-imbursement of Rs. 75,000 a month submitting bogus petrol bills that totalled to Rs. 2.8 million [in addition to salary and perks]. A flight to Paris was supposed to wait for a group of 80 tourists going to Paris.They were to arrive from Maldives. An influential" female member telephoned her boss complaining about the long wait. The flight was commanded to take off for Paris immediately without the inbound passengers. The 80 passengers from Male had to be rerouted on other flights causing a massive loss to Sri Lankan Airlines.
We are losing in spite of low oil prices, when most international airlines are doing well. Claiming compensation by AerCap, the victimized leasing firm on premature termination of lease on A350 aircraft which the last regime ordered, has contributed to the losses in 2016. All state enterprises burden the people with corruption, mis-management, and bad appointments. Currently the airline industry has grown to be highly competitive with private airline's innovative management skills overriding state run entities.
Successive governments appointed Boards on the basis of loyalty to political leaders, to their families, and schoolmates ignoring the significance of relevant expertise or competence and merit in corporate supremacy
RTI Application
In a high profile application for the Right to Information, last week, the Pilots Guild of Sri Lankan Airlines used the provisions of the RTI Act and requested details of salaries and perks to top administrators at SriLankan, which is about to crash land being unable to face huge losses. Creating history, The Guild has sought clarification on the payments made to the Chief Executive Officer, the Textile Technologist; Director Human Resources and the Chief Commercial Officer. They also seek information on the short-lived deal SriLankan had with Pakistan International Airline, the termination of order for Airbus A350s and Airbus A320 jet conversion. Since inception, all transactions of SriLankan Airlines were dealt with in secrecy. The Maithri-Ranil Unity Government is seeking a partner to revive the 'sick giant'. Apart from the Pilots Guild, RTI law, a great step forward by the government, has provided an opportunity to the members of public a right to know about these covertly carried out exploitations.
Who is Responsible?
Successive governments appointed Boards on the basis of loyalty to political leaders, to their families, and schoolmates ignoring the significance of relevant expertise or competence and merit in corporate supremacy. President Jayewardene appointed Rakitha Wikramanayake as CEO in 1978. Wickremanayake, an expert in the flying industry, was appointed along with few other qualified high caliber members to run the show. JR refrained from interfering in any manner in its affairs. A Presidential Commission was appointed in 1986 by him to inquire into affairs of the airline. The commission reported on a few irregularities including financial mismanagement. After JRJ retired in 1988, the National carrier experienced a jet lagnever to recover. The findings of the commissiongreatly benefited the national carrier. A change in high command was effected. In this instant a senior SLAS with few other quality men that included DS Jayasundera, the multitalented dynamic industrialist, who was in the vanguard of Hayleys group's growth were recruited. The airline prospered as an independent body causing no burden to the treasury.
In the latter part of 1988, a change of Head of State saw a re-structuring of the Board. The newly elected Executive President, R Premadasa dissolved the board of directors for no valid reason and replaced it with handpicked 'flying without wings' variety. His son-in-law, a horticulturist, too sat on the new board.
SriLankan flew through many political tornados experiencing bumpy rides. The airline incurred losses before and after Emirates and ended with a cumulative loss in excess of Rs 190 billion. It's not only the Rajapaksas who contributed to the destruction of the national carrier. The Executive Presidents who preceded and Prime Ministers who succeeded him too planted family members, cronies and schoolmates to the 'cockpit'  [excluding JRJ and CBK]. All of them added to the disaster that commenced in the 1970s. The successive administrations that stifled the airline created artificial sonic booms and debt traps which caused the carrier to crash land and should be answerable to the tax payer.
What Next?
The main worry now is converting the carrier to an economically viable stable entity, if not a valuably running undertaking. The government's objective to bring in a foreign partner and restructure SriLankan will be assessed on priority basis. However, disposal of assets including the aircraft; and use proceeds to settle part of debts and compensate the employees is another alternative. Legislation has to be enacted to confiscate assets of those responsible for the ruin to cover part of losses incurred. They need strength to grapple with impending turbulences the Big bird would experience. Decisions need to be taken by good governance. Unwrap the oxygen masks and prepare for a coarse bumpy touchdown.
SriLankan is the only airline in the world where a Textile technologist who knows nothing about running an airline was made the Chairman of an Airline Company. Promises of good governance made to get the votes go unaccounted. These positions should be properly advertised at international level and quality men should be employed. These appointees require a global approach to business and have a broader vision. It's the tax payers who have invested in these undertakings. Establishments like SriLankan mustn't be treated like the birthright of corrupt politicians to find employment for their acquaintance and relatives.
'If happy little birds fly beyond the rainbow, why oh why can't I?' — Yip Harburg