CATS ARE COMING OUT OF THE BAG NOW!
Posted on August 24th, 2017
By Dr. Tilak S. Fernando
On the day (15 August 2017) the Former First Lady Shiranthi Rajapaksa was summoned by the Criminal Investigations Department (CID) and grilled for nearly four hours, according to news media, over a vehicle that had been donated by the INGO Red Cross to the 'Siriliya Saviya,' a Foundation that functioned under the former First Lady. The vehicle allegedly has been identified as being involved in the murder of rugby player Wasim Thajudeen. In the midst of such a hullabaloo, an interesting email was going viral and hit the writer's mailbox too. The contents of the mail, in fact, may be of particular interest to the North Central Provincial Council JVP Member, Wasantha Samarasinghe, who is well known for his enthusiastic involvement in lodging files with the Presidential Investigation Unit (PIU), pertaining to politicians who have been misappropriating money.
In a turbulent political climate, the common topic of the general civilian forums has become nothing but corruption and bribery of politicians. The Finance Minister was forced to resign under heavy public pressure along with parliamentary colleagues. In the meanwhile it was followed by the intense verbal diarrhoea and bombardments of the same government colleagues and, the UNP (United National Party) working committee agreed to table a 'No Confidence Motion' or oust the Minister of Justice. All in all, the whole political sphere in Sri Lanka seems to get entangled with a load of garbage even worse than the Meethotamulla rubbish dump and begun to stink to high heaven!
In the midst of composing this article, the identical email to the one the writer received earlier, which is doing the rounds, reached the writer's mailbox as the second one of its kind. This clearly indicates to what extent the people are frustrated, annoyed and exasperated for allowing the so called 'culprits' getting vamoosed for the past two years despite the Yahapalanaya, which was established purely for the purpose of elimination of the scum of the previous regime," has become worse than what they got rid of; instead people are beginning to realise to what extent they are well and truly trapped in a tricky situation currently, which can only be described as out of the prying fan into the fire.
Both emails (carry the same attachments) to expose a crime committed by the former First Lady, who appeared to have gone bonkers in spending public money, running up to nearly 26 (twenty six) million rupee rupee equivalent in foreign exchange, together with her Aunt Mrs. Daisy Forrester, another person named Mrs. Poththawadu N. Lakshmi de Silva, and a the 4th person mentioned in the hotel bill as the Embassy of Sri Lanka", for accommodation at the 'Four Seasons Hotel, George V, Paris, for 4 days including transport charges, on the pretext of ' participating to celebrate the eleventh official UN Day of Vesak held at Bai Dinh Temple in Ninh Binh province, held from 8th to 11th May, 2014 in Vietnam.
UN & Vesak
Vesak celebration was made internationally a cultural and humanistic commemoration by the United Nations' International Organising Committee on 15th December 1999 at the 54th United Nations Assembly to officially recognise the full moon day in the month of May as the 'UN Day of Vesak,' to honour Prince Siddhartha's birth, enlightenment as 'Buddha' and passing away also on a full moon day, in 623 B.C. Ever since, Buddhists commemorate this triple event on the full moon day in the month of May and celebrate as Vesak.
In this connection, initial tribute has to go to the Sinhala Balamandalaya in London, a group consisting Sri Lankan expatriates in the UK, who worked vigorously to propagate and uphold Sri Lankan culture and religious values, as well as organising a mammoth procession across Central London on a Vesak day, (which the writer witnessed). They in turn approached the former Foreign Minister, the late Lakshman Kadirigamar, to take Vesak celebration up to UN level. Lakshman Kadirigamar in turn, with his irresistible and sophisticated approach, appealed to the UN to recognise this holy day and declare Vesak as a holiday. Fifteen other countries, some including non-Buddhist such as Russia, Pakistan, India and Bangladesh supported the Sri Lankan request.
Despite the support and the backing of other countries, Sri Lanka's endeavour was not one hundred percent successful mainly due to the lack of sympathy on the part of the UN Secretariat.  However, finally the UN compromised and recognised Vesak day in a low-key manner, and ever since from year 2000, Vesak was celebrated at the UN (New York city, USA), and it's Regional Offices over the world.
Thai Celebrations
In 2004, Thailand Royal Government hosted the UN Day of Vesak celebrations, which spread to various other centres in the world at every consecutive year. The eleventh UN Day of Vesak celebration expected more than 3000 delegates from 95 countries and territories worldwide, including about 1200 delegates being Buddhist dignitaries and scholars overseas, and tens of thousands of domestic and foreign Buddhist monks, nuns and followers at the Bai Dinh Temple, Ninh Binh Province in Viet Nam from 8th to 11th May 2014. The Main theme of the celebration was Buddhist Contribution towards Achieving the United Nations Millennium Development Goals"
According to the Socialist Republic Vietnam's Government Committee for Religious Affairs website distinguished guests of the UN Day of Vesak 2014 included: the King and Queen of Tooro Kingdom; Prime Minister of Sri Lanka; Chairman of Vietnam's National Assembly Nguyễn Sinh Hùng; President of Vietnam Fatherland Front Nguyễn Thiện Nhân; Deputy Prime Minister Nguyễn Xuân Phúc, Deputy Prime Minister of Thailand; Former Secretary General of Vietnam's Communist Party Lê Khả Phiêu; Former Vietnam's National Assembly Chairman Nguyễn Văn An; several Vietnamese ministers, deputy ministers and more than 20 ambassadors"
E-mail disclosure.
As per the anonymous email that is doing the rounds, the First Lady of the previous regime, was supposed to have represented Sri Lanka on this gracious occasion, but points a finger at her for visiting Paris instead, which posses the question and intense doubt in anyone's mind as to why she has had to make a trip to Paris and visited Lourdes on the pretext of attending UN Vesak Celebrations in Viet Nam?
The email also carries an attachment, which is an official document issued by the Embassy of Sri Lanka in France, marked in pen as Message No. 277" with a detailed bill including hotel charges for four VIPs with a copy of the invoice from the Four Seasons Hotel, George V, Paris for accommodation and hired limousines covering four days from 20 May to 24 May 2014, for a total sum of Euro €137,396.94 (SLR   25,080,681.49), which the email highlights as all out of Sri Lankan tax payers' money in may forms. The email carries a strong condemnation too about the officials who approved such expenses, without question or fear, for such a large sum of money to be wasted under false pretense and they too should be charged as collaborators in the theft. By doing so would be the only way to prevent government servants helping corruption it continues. Tilak Ranarajah, The Sri Lankan Ambassadors of the Embassy in France, has signed and explained in a letter dated 4 May 2017, the subject of which sates as follows:
ATTACHED IS THE COST BREAKDOWN WITH RELATED INVOICES OF THE EXPENDITURE INCURRED FOR FORMER FIRST LADY'S VISIT TO PARIS FOR UNESCO VESAK CELEBRATION IN 2014. SUMMARY IS GIVEN BELOW:
Accommodation with incidental expenses                  Euro €8852.00          SLR. 16,175,465.76
Vehicle Hire                                                               Euro €41650.00       SLR.    7,593,061.56
*Air Tickets to Lourdes                                              Euro €  4200.00        SLR     768,399.66
Other (VIP+Misc. Expenses)                                      Euro €2994.94          SLR      543,754.51
Total                                                                                  Euro €137,396.94      SLR      25,080,681.49
*The Presidential Secretariat may have paid airfare from Sri Lanka to Paris and back.
 Along with the invoice was a bill from FOUR SEASON'S HOTEL, George V, and Paris, giving the breakdown of room charges, incidentals covering for 4 VIPs for 4 days as follows:
Ambassade du Sri Lanka
NAME                                               Arrival   Dep    Room    Rate   Nights Revenue        Incidentals                                         Total        To
PR Rajapaksa Shiranthi Mrs.   20 Mai    24 Mai 101    €14,500.00     4      € 58,000      € 5945.50                                              €  63945.50
Forest, Daisy  Mrs.                     20 Mai   24 Mai   103     €1350.00        4      €   5,400      €  1524.00                                             €    6924.00
De Silva P.  Lakshmi N  Mrs.     20 Mai   24 Mai   104      €1350.00       4      €   5,400      €  1986.00                                             €    7386.00
Embassy of Sri Lanka                 20 Mai   24 Mai   105     €1350.00      4       €   5400     €   4897.00                                             €   10 297.00
                                                                                                 Sub Total                € 74,200    €    14,352.50                                        €   88552.50
                                                                                                                                                                       Deposit                                 €   49200.00
                                                                                                                                                                      Total                                       €   39353.50
The email categorically states that, ultimately the tax payers had to bear all these expenses on a false pretense by the First Lady, and the officers who approved these expenses, without question or fear, should be charged as collaborators in the theft. That would be the only way to prevent government servants helping corruption".
The email on a further emphasis states that Marie Antoinette would be so proud of our former Queen Shiranthi Rajapaksa for spending  €137K for her to celebrate Vesak in Paris".
Queen Marie Antoinette, of course was linked with her damaged reputation further with an expensive Diamond Necklace participating in a crime to defraud the crown jewelers. This indecorous affair goes down in history as one of the noteworthy events that led to the French public's embitterment with the monarchy, which among other causes eventually precipitated the French Revolution, akin to the political revolution that took place in January 2015 in Sri Lanka.
The citizens of this country would raise the million-dollar question as to what transformation has taken place after the unity government has been elected to power except twiddling their thumbs for two years in office. It is no wonder why the Yahapalanaya is irritating the public forums due to unfulfilled promises so far!
tilakfernando@gmail.com
Encl:  1.Communication from the High Commission in France.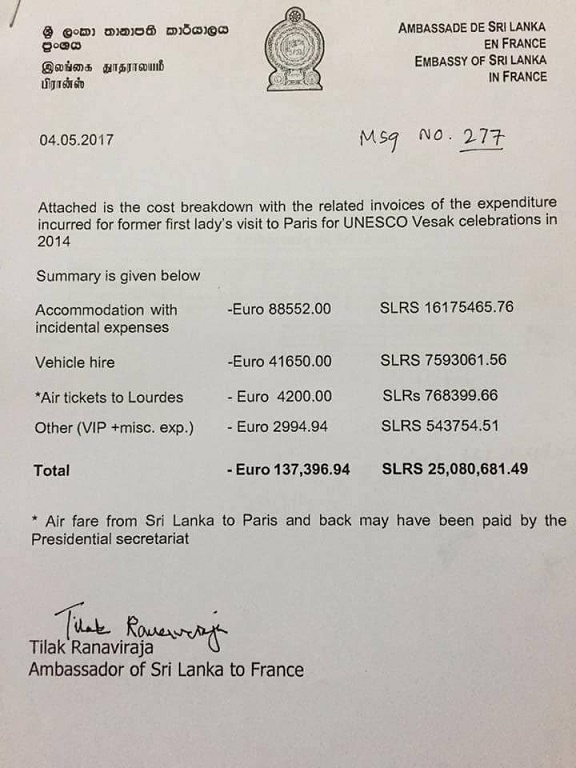 Four Seasons Hotel, Paris breakdown of charges. N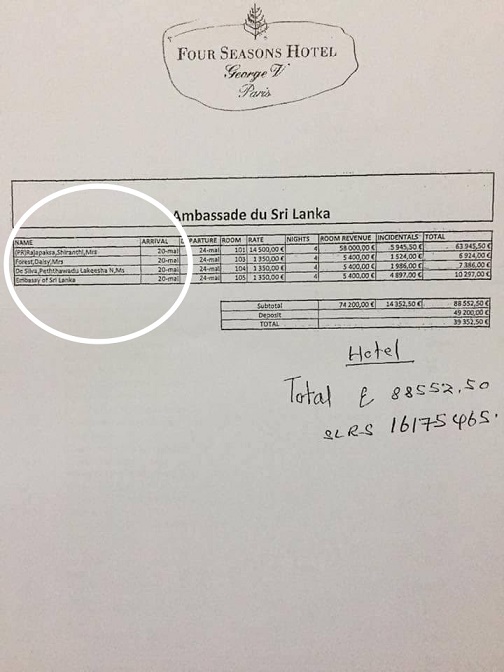 Invoice detailing limousine hire.