Sri Lanka has IDPs to resettle – We do not need controversial Muslim refugees!
Posted on September 27th, 2017
Shenali D Waduge
Sri Lanka is just recovering after a 3 decade-long terror conflict. It is just 8 years since the military defeat of that terrorist movement. Thousands of refugees & IDPs are currently being resettled while demining initiatives continues. The sudden increase in refugees/internally displaced persons is due to a wave of attacks by US/NATO that has left an exodus of people fleeing their own countries. On top of this we see that displaced people have become a great source to train as militants probably in view of their poverty. The present news of Rohingyas who have links to Al Qaeda/ISIS as well as financial support of controversial states steering jihadism, demands that Sri Lanka's authorities refuse to accept them. There are over 50-majority Muslim nations in the world. Any Muslim refugees/IDPs should be accepted by these Muslim countries or the nations that are bombing countries creating the refugee/IDP crisis. Why should other countries be forced to accept these refugees?  The issue of future problems related to demographic and cultural issues thereafter cannot be ruled out when they demand the practice and rights of their religious customs over and above the country laws?
Let's first take a look at the numbers to understand the situation. 
65.3million displaced as of 2015.
1.3million refugees received by EU countries and Norway & Switzerland in 2015
Half of this 1.3m are from Syria (378,000), Afghanistan (193,000) and Iraq (127,000). Germany accepted 442,000, Hungary accepted 174,000 and Sweden 156,000 which was more than half the total number.
Between 2008 and 2015, about 198,500 unaccompanied minors entered Europe seeking asylum, with nearly half (48%) arriving in 2015 alone. More than half was from Afghanistan.
Of this 65.3million displaced refugees numbered 21.3million. 40.8 million Internally displaced and 3.2 million asylum-seekers.
Developing regions hosted 86% of the world's refugees
Countries that hosted most were Turkey (2.5 million) Pakistan (1.6 million) Lebanon (1.1 million) Islamic rep. of Iran (979,400) Ethiopia (736,100) Jordan (664,100) Muslims make up only 50 % of Lebanon
The Least Developed Countries provided asylum to 4.2 million refugees (26% of the global total)
12.5million Syrians are displaced because of US/NATO bombing.
The below list comprises some of the countries that US/NATO have illegally attacked and indulge in covert operations out of which has resulted in millions of displaced people. These people have become homeless because of agendas of the West and if anyone should be taking them in and providing relief, it should be the very countries that made them homeless.  A common feature is that these refugees are virtually all Muslim.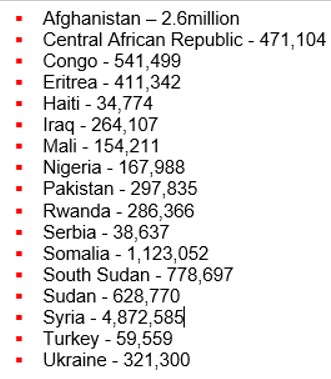 The world Muslim population is 1.9billion.
There are 50 majority Muslim countries in the world and 57 Muslim countries are members of the OIC – Organization of Islamic Cooperation. These OIC countries have a combined GDP of 18,600 billion. The richest country on the basis of GDP per capita at PPP is United Arab Emirates. On basis of per capita GDP, Qatar is richest country with incomes exceeding US$108,000 per capita.
Since 2011, 9million Syrians had been displaced but in 2014, Huffington Post reported that the Arab states of the Gulf Cooperation Council (GCC) (Saudi Arabia, Bahrain, Kuwait, Qatar, Oman and the UAE had not accepted any refugees. GCC is not a signatory of the United Nations' 1951 Refugee Convention, they are not bound by law.
It was N Q Dias who as Foreign & Defence Minister under Sirimavo Bandaranaike Government initiated the need to keep camps in the North & East primarily to deal with the influx of illegal immigrants arriving from South India. However, the camps set up was reduced under JRJ Administration. We do not know how many illegal immigrants have over the years from South India and continue to live as Sri Lankan citizens given that LTTE virtually ran a defacto rule for 30 years.
The world has been silent on the Sinhalese & Muslims chased out of the North by LTTE in the 1980s-90s. Many of them have still not been assisted to return to their original habitats. 70,000 Muslims were forced to flee the North in October 1990. That number has swelled to 250,000 (2013 Law & Society Trust estimation) and they are languishing still in Puttalam district. The Sri Lankan forces rescued close to 300,000 Tamils (who cannot all be categorized as civilians as there were many LTTE cadres in civil uniform and many civilians who were part of the LTTE auxiliary civilian force) a handful of them are to be resettled still.
As per Ministry of Resettlement, Sri Lanka 42,038 needs to be resettled (2016) As per the same Ministry there are 102,000 people of Sri Lankan Origin in India still to return.
Since 2011 environmentalists and patriotic groups have been highlighting the deforestation of Wilpattu and the establishment of illegal Muslim settlements plus a mosque. In 2015, several environmental organizations and the National Sangha Council handed over a report to President Maithripala Sirisena. Over 1,500 houses have already been constructed illegally on these lands.  http://nation.lk/online/2015/06/27/illegal-settlements-around-wilpattu-national-park.html
This is what Minister Bathurdeen under previous government as construction minister said These Muslims, whom I am resettling and have resettled in the Wilpattu National Park after clearing the jungle and also in the Northern Province, are partly my voter base. There is nothing illegal in building houses and places as I have acquired permission in a correct manner from the relevant line ministries and this is sanctioned by the government,"
Moreover these settlements are being funded by countries now treated as funding terrorists (Qatar has been accused of funding terrorists by Saudi) http://www.onlanka.com/news/is-there-an-illegal-settlement-and-mosque-inside-wilpattu-national-park.html
The dangerous outcome is that official refugees in countries that have agreed to the 1951 Refugee Convention are eligible to become citizens after a certain period of time. Thankfully, Sri Lanka is not a party to the 1951 Refugee. Convention or the 1967 Protocol. India too is not a signatory of the 1951 Refugee Convention, it is still obliged to adhere to the principle of non-refoulement, which forms a crucial part of customary international law.
According to the Colombo office of the UN Refugee Agency, or UNHCR, there was a nearly 780 percent increase in the number of Pakistani asylum seekers in Sri Lanka from 2012, when 152 people sought asylum, to 2013, when this number jumped to 1,338.
In 2014, Sri Lanka has asked the United Nations refugee agency, UNHCR, for help to resettle scores of mainly Pakistani asylum seekers in another country. Over the last two years, Sri Lanka has seen a 700 percent increase in the arrival of asylum seekers.
In 2017 Sri Lanka's coastguards had seized an Indian fishing boat and detained two Indians and 30 Rohingya refugees (Muslims) including 14 children who entered Sri Lanka's waters. https://www.youtube.com/watch?v=vpk3iMTDLYU 138 Rohingyas Muslims landed in 2013 too.
As of March 31, 2017 the total number of Asylum Seekers stationed in Sri Lanka, are as follows:
Pakistanis: 451, Afghans: 93, Iranians: 10, Yemenis: 11, Rohingya: 1, Syrians: 6
Frequent reports of further arrivals of these Rohingya Muslims is also to be heard. http://www.colombotoday.com/52233287-2/ The issue regarding Rohingyas is that they are not stateless as they originate from Bangladesh and moreover they are associated to many jihadist groups including Al Qaeda & ISIS. We do not need to invite more trouble knowingly.
The other aspect is the lucrative business of human trafficking. Traffickers are advertising their services on social media, cashing in huge sums to transport vulnerable souls to the shores of Europe. LTTE too is involved in human smuggling & refugee trade. http://www.thesundayleader.lk/2014/06/01/ltte-human-smuggling-links/
Japan's prime minister said Tuesday that his nation needs to attend to its own demographic challenges posed by falling birth rates and an aging population before opening its doors to refugees. (At UNGA 2017)
Hungary, Austria, Czech Repulbic and Poland have also refused to take Muslim refugees. While in the Western countries that have serious assimilation and cultural issues have emerged with growing antagonisms against these Muslim refugees to levels that authorities cannot handle.
The more important question is why are the Muslim-majority countries many of them rich states not accepting these Muslim refugees and in particular why do these Muslim refugees not want to go to Muslim-majority countries? At the other end of the argument is that it is the countries that are bombing Muslim countries and causing people to flee their homes who should be accommodating these refugees in their countries without insisting and demanding other countries to host them. There would be no refugees, internally displaced people if US & NATO stopped dropping bombs, carrying out drone attacks and sending armed 'rebel movements' to oust their leaders!
Japanese PMs' statement at the UNGA is important and relevant to Sri Lanka. Firstly, we already have IDPs to resettle, we are just coming out of a 30 year conflict, we need space and non-interference by foreign governments and in particular nosy-parker NGOs & UN puppet officials. The issue of demographic change and birth factor cannot and should not be ignored by Sri Lanka's leaders already the issue is clearly visible with Muslim population increasing disproportionate to the ethnic composition of the country. Multiply this into future years to imagine the future of Sri Lanka.
Given that Sri Lanka is NOT a party to the 1951 refugee convention WE DO NOT NEED TO BE ACCEPTING ANY REFUGEES!
Sri Lanka's Government must take a stand not allow ethnic-MPs to turn refugees into vote base likely to lead to plenty more unwanted troubles!
Shenali D Waduge
http://www.pewresearch.org/fact-tank/2016/10/05/key-facts-about-the-worlds-refugees/
http://www.unhcr.org/576408cd7.pdf
https://forums.digitalspy.com/discussion/2119003/only-8-of-global-gdp-comes-from-muslim-nations