I am ashamed to be in Govt: Mujibar
Posted on March 10th, 2018
Ajith Siriwardana Courtesy The Daily Mirror
UNP MP Mujibur Rahman said yesterday he was ashamed to remain in the government as it had been unable to take any action to stem racism during the past two and half years.
He told parliament that he had requested the President, the Prime Minister and the Law and Order Minister to take an action on the attacks against Muslims.
"I complained several times to police headquarters regarding this racism. I requested the President at group meetings to take action. But unfortunately as a government, we have done nothing to stop this situation," the MP said.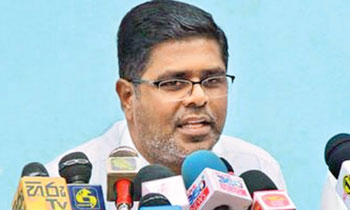 He said he had struggled as a member of the government to put a stop to this racist and extremist developments in the country but it was not done and had now ended up in communal clash in Kandy.
"This incident did not happen overnight. It was done after years of planning. There is a political agenda behind this. But as a government, why do we allow such people to do so. Why can't we take action against them," the MP asked.
He said the state intelligence services which were able to locate the hideout of Pottu Amman and Prabhakaran were unable to locate the whereabouts of leaders of the extremist elements even after two and half years.
He said those who complain about Muslim extremism should reveal the names of those spreading Muslim extremism.