Buddhist monk Ven. Ahangama Thero who campaigned for welfare of animals passes away
Posted on April 10th, 2018
Shenali D Waduge
It is unfortunate that we gather to remember & honor people when they are no more. It is only upon the passing away of Most Venerable Ahangama Ananda Nayaka Thera, the Chief Incumbent of Sri Vijayaramaya, Wellawatte that his meritorious acts are being shared among all those who are unware.
This picture will forever be etched in our hearts & minds of a cow saved by Ven. Ahangama Ananda thero be thanked for saving his life by bowing down in gratitude.
He was one of the leading members of the Amarapura Nikaya who dedicated his life to social service in particular caring of patients in hospitals both in & out of Colombo. His social services have included but not confined to military personnel without limb, families of soldiers who had sacrificed their young lives, helping pregnant mothers with medicines and the acts of compassion towards animals.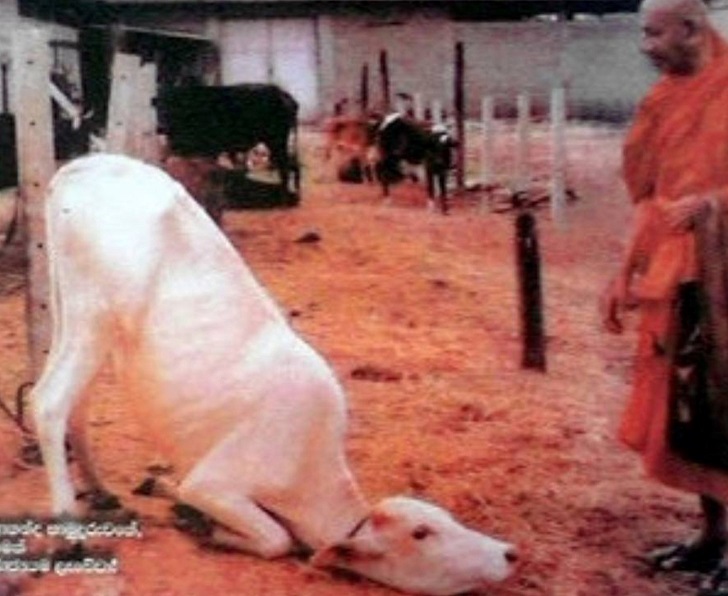 However, it is Ven. Ananda's metta & compassion towards animals stands out. He rescued hundreds of cattle from slaughter with the support of many like-minded people. He was the advisor to 'Meth Saviya", he was President of the Munidasa Cumaratunga Foundation. He was also involved in the recent Dengue Eradication program initiated by the Presidential Secretariat.
The Ven. Thero also took part in a pinkama ceremony saving a herd of cattle from the slaughterhouse held at the Wellawatte Police Station.
Cattle saved by the Ven. Thero were gifted to the Security Forces Headquarters – Jaffna (SFHQ-J) who in turn distributed six families in the North for agricultural purposes thus providing shelter for the cattle plus a means of livelihood for the people. This was right livelihood put into practice.
https://www.police.lk/index.php/nortable-services/1436-a-ceremony-for-saving-cattle-from-slaughterhouse-wellawatta
http://www.army.lk/news/511-brigade-coordinates-cattle-donation
Most Venerable Ahangama Ananda Nayaka Thera, the Chief Incumbent of Sri Vijayaramaya, Wellawatte passed away on Friday 6th April 2018 & the cremation took place on 9 April 2018 at Henry Pedris Park, Colombo 5.
The world has very little time or space to highlight people who do meritorious acts. These are not sensational enough news however, Ven. Ahangama Ananda thero will leave a void to be filled by both clergy & laymen to continue the compassionate teachings of Buddha and put into practice metta & karuna as well as initiate right livelihood programs instead of killing to make money and profit.
Shenali D Waduge