Sri Lanka : Foreign Envoys flout Principle of Non-Interference/Non-Intervention & Diplomatic Protocols
Posted on November 10th, 2018
By shenali Waduge
There has been an unprecedented violation of diplomatic protocol of late. Tremendous pressures are being exerted on a small island nation in the South Asian continent simply because of its geopolitical presence & is a victim of a political tug-of-war between West-East / Colonial Imperial-Modern Neoliberal objectives.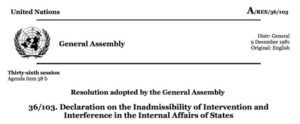 Sri Lanka became independent in 1948 through it retain dominion status whereby Head of State remained the Queen. That status quo ended in 1972 with the first republican constitution which ideally placed Sri Lanka totally independent of any foreign rule. Head of State ceased to be the Queen. Sri Lanka was ruled by citizens of its country & on behalf of the citizens. Relations with foreign nations was based on the respect for the others sovereignty & territorial integrity. Non-interference in the internal affairs of nations was one of the guiding principles of the UN Charter that brought nations together onto a common podium where respecting each other's sovereignty countries dealt diplomatically with each other. However, is all this confined to paper & statements?
Several treaties & conventions have been passed in the UN to confirm the commitment to non-intervention & non-interference in the internal/domestic affairs of sovereign states.
21 December 1965 – resolution 2131 (XX), containing the Declaration on the Inadmissibility of Intervention in the Domestic Affairs of States and the Protection of Their Independence and Sovereignty,
24 October 1970 – resolution 2625 (XXV), containing the Declaration of Principles of International Law concerning Friendly Relations and Co-operation among States in accordance with the Charter of the United Nations,
14 December 1974 – resolution 3314 (XXIX), containing the Definition of Aggression,
December 1976/77,78,79, 1980 – resolutions 31/91 1976, 32/153 of 19 December 1977, 33/74 of 15 December 1978, 34/101 of 14 December 1979 and 35/159 of 12 December 1980 on non-interference in the internal affairs of States,
9 December 1981 – resolution 36/103. Declaration on the Inadmissibility of Intervention and Interference in the Internal Affairs of States
The 1981 declaration reaffirmed the following
No state has the right to intervene directly or indirectly for any reason whatsoever in the internal or external affairs of any other State.
Fundamental principle of the UN Charter was that all states were duty-bound NOT TO threaten or use force against the sovereignty, political independence or territorial integrity of other States
Countries were bound to respect sovereignty of States over their natural resources irrespective of their political, economic or social systems
The principle of non-intervention & non-interference in the internal & external affairs of States placed the following rights & duties
I
Sovereignty, political independence, territorial integrity, national unity & security, national identity, cultural heritage of their people
Sovereignty inalienable right of a State to determine its own political, economic, cultural & social system, permanent sovereignty over its natural resources according to the will of its people without outside intervention, interference, subversion, coercion or threat in any form whatsoever
Right of states & people to have free access to information, their system of information & mass media, & to use their information media to promote their political, social, economic & cultural interests & aspirations
II
States must refrain from threat or use of force in any form whatsoever to violate the existing internationally recognized boundaries of another state, to disrupt the political social or economic order of other States to overthrow or change the political system of another State or its Government (is this not what is now happening in Sri Lanka since 2015?)
Duty of a State to ensure its territory is not used to violate the sovereignty, political independence, territorial integrity & national unity or disrupt the political, economic & social stability of another State (Sri Lanka has not done this but Sri Lanka's immediate neighbor has done so to Sri Lanka)
States must refrain from armed intervention, subversion, military occupation or any other form of intervention & interference, overt or overt, directed at another State or group of States
e) States must refrain from attempting to destabilize or undermine the stability of another state or any of its institutions.
f) States must refrain from promoting, encouraging or supporting direct or indirect rebellious or secessionist activities within other States

(India was the logistics base for LTTE)

g) States must prevent its territory being used for training, financing, recruitment of mercenaries or sending such mercenaries into another State

(is this not what India did to Sri Lanka)

h) States must refrain from agreements with other States designed to intervene or interfere in the internal & external affairs of third States

(Is this not a violation that US-EU joint statements on Sri Lanka's internal affairs are committing)

J) States must abstain from any defamatory campaigns, vilification or hostile propaganda for the purpose of intervening or interfering in the internal affairs of other states

(Isn't this exactly what the Western envoys, Indian envoy & western/Indian media & think tanks are presently doing?)

K) States must not use its external economic assistance program or adopt any multilateral & multinational corporations under its jurisdiction & control as instruments of political pressure or coercion against another State which is a violation of the UN Charter

(Is this not what the West/Indian envoys & their media are directly conveying applying this as scare tactics – withdrawal of GSP, freeze on loans, bogus HR issues claiming to bring sanctions etc)

L) States must refrain from exploiting & distorting human rights issues to interfere in the internal affairs of States, exerting pressure on other States, creating distrust & disorder within & among States or groups of States

(isn't this exactly what the Western/Indian envoys, Western/Indian press, Western/Indian think tanks, HR organizations & Western/Indian controlled monetary organizations are doing to Sri Lanka)

N) States from refrain from organizing, training, financing & arming political & ethnic groups on their territories or the territories of other States for the purpose of creating subversion, disorder or unrest

(this is what India committed, we have forgiven but not forgotten which is why we are always distrustful of India's actions & we have every right to be too)
Point III d) gives the right & duty to States to combat, within their constitutional prerogatives, the dissemination of false or distorted news which can be interpreted as interference in the internal affairs of other States or as being harmful to the promotion of peace, co-operation and friendly relations among States & nations.
Point III e) also gives right & duty to States not to recognize situations brought about by the threat or use of force or acts undertaken in contravention of the principle of non-intervention & non-interference.
Alongside the principle of non-interference & non-intervention in domestic affaris of States is the violations being committed by foreign envoys also violating the Vienna Convention on Diplomatic Relations (1961) Article 41 which clearly denies foreign envoys to interfere in the internal affairs in the receiving country.
The Vienna Convention – https://link.springer.com/content/pdf/bbm%3A978-94-011-8792-3%2F1.pdf
Article 4I – I. Without prejudice to their privileges and immunities, it is the duty of all persons enjoying such privileges and immunities to respect the laws and regulations of the receiving State. They also have a duty not to interfere in the internal affairs of that State
Article 41 – 2. All official business with the receiving State entrusted to the mission by the sending State shall be conducted with or through the Ministry for Foreign Affairs of the receiving State or such other Ministry as may be agreed. (how many instances of Western envoys & Indian envoys did as they liked in Sri Lanka?
In addition to the Vienna Convention, Article 2.7 of the Charter of the United Nations also provides that – Nothing contained in the present Charter shall authorize the United Nations to intervene in matters which are essentially within the domestic jurisdiction of any state"
Having read the above declarations to which countries are bound by, please read the statements of the US – UK – EU and others on the situation in Sri Lanka and ask yourselves whether these statements not only qualify as violating the very principles of non-intervention & non-interference that countries have committed themselves to.
US State Department spokesman Robert Palladino told reporters,
It's up to the parliament to decide who the prime minister is."
We call on the president, in consultation with the speaker, to immediately reconvene parliament and allow the democratically elected representatives of the Sri Lankan people to fulfill their responsibilities to affirm who will lead their government,"
U.S. State Department spokeswoman Heather Nauert
In another tweet on 7 November Heather Nauert
We urge #SriLanka's President to reconvene parliament immediately to resolve the political crisis. Further delay compounds uncertainty in Sri Lanka, and undermines its international reputation and the aspirations of its people for good governance, stability and prosperity.
Stéphane Dujarric, Spokesman for the UN Secretary-General issues message on his behalf
"He calls on the Government to respect democratic values and constitutional provisions and process, uphold the rule of law and ensure the safety and security of all Sri Lankans."
Another message issued from his office stated
"to revert to parliamentary procedures and allow the parliament to vote as soon as possible"
We expect the Government of Sri Lanka to uphold its Geneva commitments to human rights, reform, accountability, justice and reconciliation,'
tweet by Bureau of South and Central Asian Affairs of the US Department of State
US Ambassador to Sri Lanka Alaina B. Teplitz tweeted after meeting the Speaker "These democratic institutions should serve the people of #SriLanka; let the elected representatives have their say,"
Neoliberal & former US official Samanthan Powers in a tweet
The dangers of #SriLanka constitutional crisis are clear: violence is possible & Rajapaksa's return to power "will likely end flagging efforts at ethnic reconciliation." Where is US diplomacy? SL must know suspending aid, targeted sanctions on the table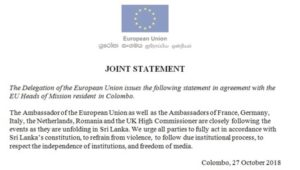 Joining in is Australia's Foreign Affairs Minister Ms Payne whose statement
We urge all parties to respect the democratic will of Sri Lankans, as exercised through their elected representatives. We encourage all parties to continue to resolve differences peacefully and refrain from confrontation and violence," (democratic will of the citizens is directly exercised & outsourced to the President first & thereafter to Parliament)
Norwegian Ministry of Foreign Affairs tweet
Norway following events in #SriLanka. FM #EriksenSoreide urges all parties to act in accordance w/ constitution, follow due institutional process and respect independence of institutions. All parties must refrain from violence and respect the freedom of media
Statement by the Embassy of Switzerland in Sri Lanka:
The Embassy of #Switzerland is closely following the recent events in #lka and in particular the announcement to prorogue @ParliamentLK. It calls on all parties to act in accordance with the Constitution
While China & Pakistan congratulated Mahinda Rajapakse on his appointment as Prime Minister, not surprisingly India which took part in the 2015 regime change of Rajapakse as President issues statement virtually echoing the gibberish coming out of Western embassy statements we hope that democratic values and constitutional process will be respected,"
Indian External Affairs Ministry Spokesperson Raveesh Kumar
Mark Field Minister of State for Asia & Pacific UK
Following today's developments in #SriLanka closely and with concern. We call for all parties and competent authorities to ensure that the constitution is respected and due political process followed
I have called on all parties to ensure that the constitution is respected and due political and legal process upheld. On October 29, I made a public statement urging the President, in consultation with the Speaker, to reconvene parliament immediately to give the democratically elected representatives of the Sri Lankan people their voice,
Mark Field has also added that UK recognized States & not Governments
Hugo Swire UK MP
Earlier this afternoon I questioned Foreign Secretary @Jeremy_Hunt about ongoing political situation in Sri Lanka. International community must press for the recall of Parliament to ensure due process regarding removal of Prime Minister Ranil Wickremesinghe. #SriLanka
Chairman International Democrat Union Stephen Harper
We are witnessing the breakdown of democracy in Sri Lanka. This is disgraceful in that the government of Prime Minister Wickremesinghe has fought to preserve one of Asia's oldest democratic systems, to uphold the rule of law, and to fight against corruption. The lawful government of Prime Minister Wickremesinghe must be restored without further delay." (This is nothing to be surprised over Ranil Wickremasinghe is the Vice President of IDU Asia)
Pratyush Rao lead analyst for India & South Asia at Control Risks calls it a
"a constitutional crisis," Is he providing Control Risks the proper legal stand or is the intent to create a notion of constitutional crisis!
Shailesh Kumar, South Asia director at Eurasia Group says
"Investors will likely view the developments with concern because at best, it will limit the scope for economic policy/reforms, and at worst plunge the country into a prolonged political crisis," – Sri Lanka may need investments but not at the cost of selling land freehold to foreigners & getting nothing out of it. We see no economic benefit to our people.
Going to the extent of even issuing travel advisories
You should exercise vigilance and avoid all demonstrations or large political gatherings. We will continue to monitor and update Travel Advice as appropriate,"
the UK Foreign Office advised British citizens.
Gro Harlem Brundtland, Acting Chair of The Elders and former Prime Minister of Norway, said:
Sri Lanka is facing an unprecedented constitutional crisis which must be urgently resolved by peaceful and legal means. The country has suffered so much from years of conflict and human rights abuses, and cannot afford reckless political manoeuvres. I urge President Sirisena to act in the interest of all Sri Lankans by respecting democracy and constitutional norms."
Human Rights Watch
Rajapaksa's return to high office without any justice for past crimes raises chilling concerns for human rights in Sri Lanka," said Brad Adams, Asia director.
Wonder where these entities were in 1980s/1990s when UNP & JVP were killing thousands & none of these deaths are demanded accountability! And these dead actually have names & details unlike the nameless figures being alleged against Rajapakse.
Human rights must not become a casualty of Sri Lanka's political crisis. The authorities must ensure that key freedoms are respected and protected at this time. People should be allowed to exercise their rights to freedom of expression, peaceful assembly and association."
Minar Pimple, Senior Director Amnesty International
It's very strange that Amnesty International has not issued any statement against Ranil Wickremasinghe's Minister's personal security who shot & killed a civilian immediately after the sacking of Ranil as PM.
As anyone can see from the clauses that countries are meant to respect & the manner powerful countries are flouting them, the tremendous pressures that Sri Lanka has to weather. Is it a wonder that the citizens are realizing these diplomatic coercions now taking place & realize that they need to now more than ever defend not only their Nation, their territory, sovereignty, their natural resources & assets as well as the safety of their citizens.
Every country flouting the UN declarations & the resolutions that necessitates them to abide & respect the clauses undermine their right to make demands on Sri Lanka. We can only say that these countries many of whom are former colonial power houses & have a history of bloodied hands by interfering, occupying, plundering nations & murdering natives must be finding it difficult to give up old practices.
Shenali D Waduge