Diaspora terrorists threaten Mayor of Harrow
Posted on April 9th, 2019
By ;A.A.M.NIZAM – MATARA
The first Muslim female Mayor of England, Kareema Marikar who functions as Mayor of Harrow since 2010 hails from a political family in Sri Lanka. Reports said that one thing you notice in Kareema Marikar's personality is her bubbly nature, infectious smile and down-to-earth simplicity. It said that despite creating history as the first female Muslim mayor in England, she is not yet ready to rest on her laurels, judging by an interview she gave to the BBC recently.
I am a Marakkala woman from Sri Lanka," Marikar told Saroj Pathirana of the Sinhala Service of the BBC in the interview conducted in a quaint, leafy British park on a bright Spring day, clad in a white 'osari', a traditional sari originated among the nobility in her native area of Kandy about a century ago.
Marikar, who was elected on the Labour Party ticket in north London's Harrow city in May, hails from a well-known political family in Sri Lanka. She is closely related to the former Minister of Posts, Broadcasting and Information, Mr. C. A. S. Marikar, who served in the Bandaranaike government and was popularly known as Sinhala Marikar,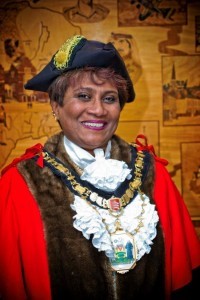 Kareema Marikar – Mayor of Harrow
I was educated at Kandy High School in Sinhala medium," said Marikar, who has five brothers and two sisters. One of her elder sisters lives in Canada.
Marikar was born at a time when Sri Lanka knew perfect ethnic harmony, before racial-minded politicians with narrow agendas led the country to the brink of disaster with a terrible war.
Though a Muslim, my uncle, my father's elder brother, who was Minister of Posts, Broadcasting and Information, created history by organising the first ever all-night Buddhist 'pirith' chanting ceremony over Radio Ceylon in the 60s," said Marikar.
Like Kandy, Harrow is ethnically-mixed. Out of 248,000 inhabitants, 20,000 are Gujaratis, more than 8000 are Tamils, in addition to many other nationalities, including a large number of Sinhalese. Ethnic diversity is our strength, and everybody lives in perfect harmony. This is the 21st century, and today it is difficult to live according to old ways. The world is fast-changing and we also have to adapt to changes fas t. We have 80 places of worship of various religions in Harrow, and I also serve in the Inter-Faith Council," says Marikar, who is a trained mental health nurse in Oxfordshire Alsbury. She studied hotel management in Sri Lanka before coming to England, and worked briefly at Queen's Hotel, Kandy.
She still keeps in touch with her relatives, classmates, teachers, and other friends, who have helped her to lay the foundation to create history in a foreign country. She became emotional when speaking about her late parents, commenting, How can I forget the country where my parents are buried?"
During the recent floods in Sri Lanka, she launched a fundraising drive in Harrow to help the victims. A firm believer in women's greater participation in politics, Marikar says though Sri Lanka has ambitious plans to increase women's share in the Government up to 25%, still the target falls well below expectations.
In response to a question as to what she thinks is the secret of her success, Marikar, who played hockey as a goal keeper for her school and the Sri Lankan national team, says she thinks it is her smile, patience, and love for racial and ethnic harmony that has helped her to become the city's mayor. I manage to smile often, and take care not to react when people are critical of me. On such occasions I lie low, go home and reflect, trying to analyse what makes someone critical of me. That way, I am able to keep minor heartaches at bay, and correct myself."
A frequent visitor to her native country, she attended a local Government association in the Eastern city of Batticaloa, chaired by chief executive Hemanthi Goonesekara, whom Marikar describes as one of her good contacts in the island. The main discussion at the conference revolved around increasing female representation in the local Government and Parliament, which hovers around 4% today.
Her deep attachment to the culture of her native land was evident when she walked into the Harrow council chamber to take oaths on her first day in office as Mayor, accompanied by Sri Lankan traditional dancers, drummers and conch shell blowers, while the council members and the public watched in rapt attention as history was being made.
According to her Facebook page, she is a regular at all the cultural and religious events in her council area. Several posts show her being welcomed at Buddhist events at numerous temples, and Islamic functions held to mark important religious events like Eid. In one post, she is seen dancing with a South African group opposite late freedom fighter Nelson Mandela's Soweto home while she was visiting the country.
She has also taken causes close to her heart to national prominence. Marikar is urging Conservative Prime Minister Theresa May, who made cut backs to police services as the Interior Minister, to increase funds and manpower to improve the deteriorating law and order situation in the country.
Judging by her enthusiasm and popularity, the present political office does not look like Mayor Marikar's last frontier.
Despite her enormous service to Harrow, for Britain, for her native country Sri Lanka and in the Global Arena, the racist Tamils (the diaspora terrorists) have demanded her to resign fromher post.
A petition with signatures of diaspora elejments in Harrow have been handed to Harrow Council in February calling her to step down from her role and threatening her after she was pictured with senior military figures during a visit to Sri Lanka, Harrow based newspaper, Local London reported.
The newspaper added that the Tamil community in Harrow 'are upset' that she met Commander of the Sri Lankan Army, Mahesh Senanayake, and Brigadier Priyanka Fernando during a trip to Sri Lanka last year.
The petition has read: "Most Tamil residents in Harrow escaped the war and came to the UK as refugees, (economic refugees, otherwise they can return now as the war was over 10 years ago) and they still carry the scars of that war which killed many of their kith and kin in their former home country.
"It was extremely upsetting to learn that Ms Marikar, who represents a large number of Tamils in Harrow and claims to have a detailed knowledge of Sri Lanka, chose to publish photographs with these senior military officials."
In a report published on 7th August 2019 datelined from Kandy said that the Kandy born Sri Lankan Mayoress of the City Council of Harrow, England Kareema Marikar was felicitated by the Kandy Mayor Kesara D. Senanayake and the Municipal Council on the previous day. It said that Kareema Marikar is a member of the famous Marikar family in Kandy and gave her family detail and said that she younger sister of Kandy Municipal Council member Asmin (Mathali) Marikar The report said that Kareema, after receiving her education at Kandy Girls' High School, left for England, where she received higher education and took to Labour Party politics, Addressing the meeting held to felicitate her Kareena has said that she was where she was due to hard work and service to the public.