ERASING THE EELAM VICTORY Part 19 B4
Posted on September 21st, 2021
KAMALIKA PIERIS
(Continued from B3)
TNA has always had links with the UK government. In 2016, TNA met Baroness Anelay when she visited Sri Lanka, to seek her intervention to get rid of the army, have an international probe on war crimes and other such issues. Baroness Anelay was UK's Minister for the Commonwealth and UN.
In 2017, Sampanthan metUK Minister of State for Asia and Pacific, Mark Field at Westminster House, Colombo. Sampanthan repeated his call for the re-merger of the Eastern and Northern Provinces. Highlighting the role played by Great Britain in the past, Sampanthan urged further constructive engagement of the International community.
In 2018 Commonwealth Secretary-General Rt. Hon Patricia Scotland visited Sri Lanka. She met Opposition Leader at Parliament. She praised Sampanthan for his moderation and for being an ambassador for peace. Sampanthan said, inter alia, that the International community including the Commonwealth has an important role to play in Sri Lanka.
In 2019 Sampanthan and TNA Spokesperson M.A. Sumanthiran met Lord Tariq Ahmad of Wimbledon when he visited Sri Lanka. Lord Ahamad was UK Minister of State for the Commonwealth, UN and South Asia and Prime Minister's Special Representative on Preventing Sexual Violence in Conflict. TNA told Lord Ahamed "As Tamil People, who have our culture, own heritage and a long history, we have endeavored to resolve the national question through a reasonable and acceptable power sharing arrangement. We want a solution within a united undivided and indivisible Sri Lanka. We all want this country to prosper.
Lord Malcolm Bruce, Member of Parliament, visited Sri Lanka in February 2020. Sampanthan and Sumanthiran met him. TNA issued a statement which said that Sampanthan briefed MP Bruce on the history of Tamil people's struggles ever since independence. Sampanthan highlighted the fact that the Tamil People did not demand separation until the state led land grabbing and illegal settlements took place after independence.
Lord Bruce told TNA that their demands were fair. He had assured the TNA that the UK would work with the Sri Lankan government to reach what he called a reasonable solution to the longstanding issue. The position you have taken is extremely constructive and your demands are fair. Your rational, reasonable and peaceful approach in these matters is commendable, we will work with the Sri Lankan Government to arrive at a reasonable solution to this longstanding issue," concluded Lord Bruce.
In February 2021 Sumanthiran had met the British High Commissioner in Colombo, to discuss the TNA proposals made to UNHRC. He had told the High Commissioner that Britain and other western countries should intervene and push Sri Lanka government to fulfill obligations on transnational justice.
A delegation from the European Parliament visited Jaffna in 2017. The delegation had come to meet government and civil society representatives to discuss progress on national reconciliation and the implementation of international conventions applicable to GSP+.
Then in 2018, a delegation from the European Parliament Committee on International Trade, including the Standing Rapporteur for South Asia, met Sampanthan in his office in Parliament. Briefing the delegation on power-sharing arrangements Sampanthan said, "We are wanting a solution within a united undivided and indivisible Sri Lanka on the basis of the dignity, self-respect and sovereignty of different people who have historically inhabited certain regions for centuries".
Tamil people in this country are hurt and offended that they are always being treated as second-class citizens; we have been insulted and humiliated. Whenever we made political demands violence was unleashed against us, Tamil people left this country in large numbers because they couldn't live anymore in this here. We cannot go on like this, Sampanthan told the delegation.
Sampanthan urged the delegation to impress upon the Sri Lanka government to deliver on promises, and to remind the government that the support of the international community towards the government is conditional and the obligations on the part of the government must be fulfilled .The international community has a responsibility to protect the Tamil people.
The TNA wanted the EU to secure power-sharing arrangements in the proposed new Constitution. "We want to have substantial power-sharing arrangements in the new Constitution, an arrangement that will enable people to exercise powers in matters that are related to them, and ensures that these powers are not taken back by the center or will not allow center to interfere. We are being absolutely reasonable in these matters. If the government does not deliver we may be compelled to take a hardline."
The delegation thanked Sampanthan for his wise statesmanship and pragmatic leadership and assured that they will take his inputs very seriously and will take it up both with their respective governments and also with European Union.
In 2019, Geoffrey Van Orden, Member of the European Parliament and of the Friends of Sri Lanka group in the European Parliament came to Sri Lanka and met, among others, TNA's Sampanthan. Sampanthan had told Van Orden that the country was in distress. There was no Prime Minister or Government. We had to support to reinstate the Government to prevent further damage being done to the economy and for normalcy in the functioning of institutions in this Country, said Sampanthan.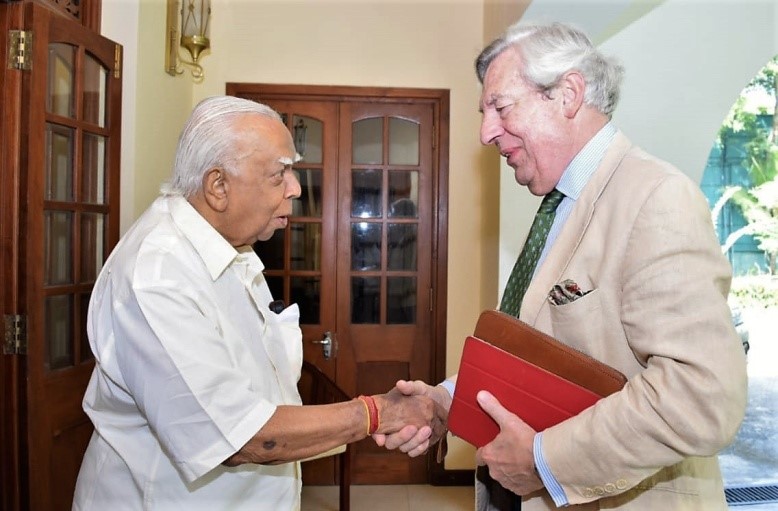 Member of the European Parliament and of the Friends of Sri Lanka group in the European Parliament Hon Geoffrey Van Orden met with TNA in Colombo
Norwegian Prime Minister Erna Solberg met R. Sampanthan in Colombo, when she visited Sri Lanka in 2016. in 2018 Jens Frølich Holte, Norwegian State Secretary for Development Cooperation, visited Sri Lanka and had met with a Tamil National Alliance delegation led by R. Sampanthan.
TNA told him that people in many areas in North and East are staging protests over land, persons in custody and on the issue of missing persons. "These are matters that are of concern to our people and we want the international community to play an important role in finding solutions to these issues". He appreciated the support and partnership extended by the Norwegian government in the past in rebuilding Sri Lankan, specially the support for the National question.
Special Ambassador Yasushi Akashi met Opposition leader Sampanthan at his residence in Colombo in 2019. Sampanthan told him that though the armed conflict has come to an end, the solution to the Tamil people's grievances which were the causes for the armed conflict is yet to be fulfilled. Further, he said, the international community played a key role in bringing the war to an end.
The government of Sri Lanka gave several commitments to the international community concerning a lasting solution to the ethnic conflict. But none of those commitments have seen a positive end. The international community cannot be a mere spectator anymore continued Sampanthan.
The international community must remind the Government of Sri Lanka of their commitments to the international community and ensure that the government delivers on those commitments. If Sri Lanka fails to keep its commitment, it will not only be harmful to the Tamil people but the whole country, concluded Sampanthan.
Netherlands Ambassador called on Sampanthan at his residence in Colombo in March 2020. Sri Lanka's withdrawal from the UNHRC resolution will not do any good to the country Sampanthan told the ambassador. There is no Sinhala or Tamil issue when it comes to human rights. It concerns whether anyone violated international humanitarian and human rights law, and if they have done so, those responsible must be brought to justice, said Sampanthan.
The Ambassador assured that Netherlands will be evaluating the policies and the directions of the government of Sri Lanka concerning these matters and will take appropriate steps to address them. The Ambassador assured support towards the development of the North and the East. (Continued in B4)