Inflation hits double-digits in December rubbishing Central Bank's transitory claims
Posted on January 3rd, 2022
Courtesy The Daily Mirror
---
Highest since January 2009; breaks country's 12-year record of maintaining single-digit inflation
Food inflation tops 20%; monthly increase exceeds 5%
CB says a large component of inflation driven by supply side factors"
A gentle Christmas rally normally seen in prices every December turned into a blowout in December 2021, as inflation in Colombo soared to a 12-year high.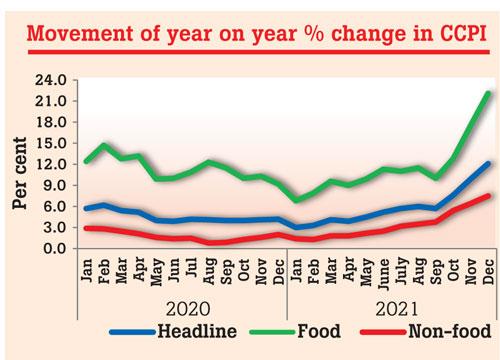 Consumer prices measured by the Colombo Consumer Price Index (CCPI) rose by 12.1 percent in the twelve months to December 2021, accelerating from 9.9 percent in November reflecting how pronounced and entrenched higher prices are in the economy, contrary to transitory claims made by the Central Bank for months.

The Central Bank said, a large component of inflation is driven by supply side factors", and said it expects to publish a detailed explanation in this regard shortly, showing its unease at the recent inflation readings.
The Central Bank repeatedly assured that headline inflation would be maintained between 4 to 6 percent until November when it acknowledged that there would be a deviation.

The December inflation was the highest since January 2009 and it broke the country's 12-year record of maintaining single-digit inflation.

Meanwhile, prices rose by 2.7 percent in December from November levels, faster than the 2.6 percent increase in November, recording the fastest monthly increase in prices not seen for a long time.

Food prices surged by 22.1 percent in the twelve months to December, accelerating from 17.5 percent recorded in the year through November, while on a monthly basis the food prices climbed 5.4 percent in December over 5.3 percent in November.

Vegetable prices were the biggest contributor to food price inflation as prices were seen going through the roof lately, largely due to the rushed fertilizer policy of the government.

Meanwhile, prices of wheat flour and bread rose after wheat flour importers decided to increase prices. Further, prices of chicken, sea fish, eggs, coconuts, potatoes, and big onions recorded significant price increases during December over November.

As Sri Lanka was coming out of a price control regime which proved a terrible failure, shelf prices were adjusting to the prices determined by the market forces ending months-long empty shelves.

Milk powder importers last week raised their retail prices for the second time since October to reflect global prices and the weaker rupee, potentially ending the shortages, which inflicted much pain on people for months.

Meanwhile, non-food inflation continued to gain pace as it rose by 7.5 percent in the twelve months to December, from 6.4 percent in November. The monthly prices also accelerated to 1.3 percent from 1.2 percent in November.
Spending on restaurants and hotels had the biggest impact on non-food inflation during December reflecting more people venturing out with the easing of the virus concerns, while some went on holidays.

The transport sector also saw significant increase in prices due to the December 21 fuel price hike.

Prices of alcoholic beverages & tobacco, clothing & footwear, household furniture, utilities and healthcare also rose in December.

The so-called core prices measured barring the impact of food, energy and transport rose by 8.3 percent in December from 7.0 percent in November reflecting the underlying inflation in the economy.