The Billion-dollar bribe & balkanization of Sri Lanka
Posted on September 11th, 2022
C. Wijeyawickrema, LL.B., Ph.D.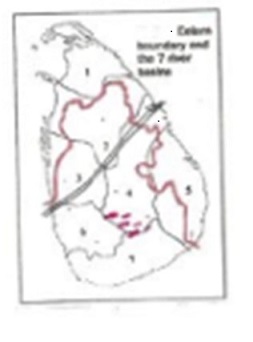 The map above shows 4 ideas:
A. the division of the island as seven major river basins instead of the 1832 Colebrooke-based artificial nine provinces (1. Yalpanam 2. Rajarata 3. Dambadeni 4. Mahaveli 5. Deegavapi 6. Kelani 7. Ruhunu).
B. red line demarcates the mythical Tamil homeland (Eelam) boundary.
C. broken red lines in and around the no. 4 basin marks the Malayanadu estate Tamil settlements.
D. black lines indicate the proposed electric railway line connecting Trincomalee and Colombo.
Note:
Within about 10 days of the beginning of <Galle Face Aragalaya>, I was able to detect and report that it was a local and foreign conspiracy to balkanize the island. Whether its original participants knew about it at that time is a difficult question to answer, except that even with clear and convincing evidence before the country, the bearded Aragalaya leaders opted to ignore them.
The offer of a 52-billion-dollar bribe by the overseas Tamils to get the NP & EP under their control compared to 3 billion from IMF, needs to be understood from the perspective of the Yahapalana Orumittanadu constitutional draft of January 2019, which was a resurrection of the Neelan-GL package deals of Mrs. CBK during 1995-2000. The attempt to abolish or weaken the executive presidency by the 22 Amendment prepared by minister Wijedasa Rajapaksa is a signal of what is in store for the country, when the urgent need now is to wage a war to provide basic human needs such as food, fuel, medicine, and electricity (Maslow's hierarchy of human needs!)
World Tamil movement wants to have a separate Tamil country with a UN flag, and Sri Lanka provides the best real estate for this purpose, even though the one and only Tamil homeland is in South India. Their attempt to have one in the Fiji Island boomeranged.
It is very clear that the black-white Sinhala politicians and Buddhist monks of all kinds have not realized the gravity of the situation and if another uprising occurs, an anarchical atmosphere like in Libya would be inevitable and UN forces led by India will come under the cover of R2P to restore normalcy. That could very well include balkanization of the island based on Mrs. CBK's secret plan of 1997.
This unfortunate situation could be avoided following two parallel paths. (1) A war-like approach on the economic development front, restricting unreasonable dissent, and (2) empowerment of people at the Jana Sabha level, free of partisan politics, to rescue the country from socio-political and moral decadence. Resurrection of our Trinity of Gama-Weva-Dagaba (village-water reservoir-temple/kovil/church), the socio-economic-political model of our harmonious civilizational existence. The Aragalaya crowd talked about People's Councils, but they as well as their opportunist party-politician backers have all forgotten it altogether, dreaming or planning for a second uprising. These politicians are like the proverbial fox went behind a goat and the end-result will not be what they think they will be able to harvest.
In the meantime, I felt it useful and relevant to reveal the secret balkanization plan of Mrs. CBK drafted in 1997.
Where Tamils live (Source map: Tamilnation.org website 1/25/2010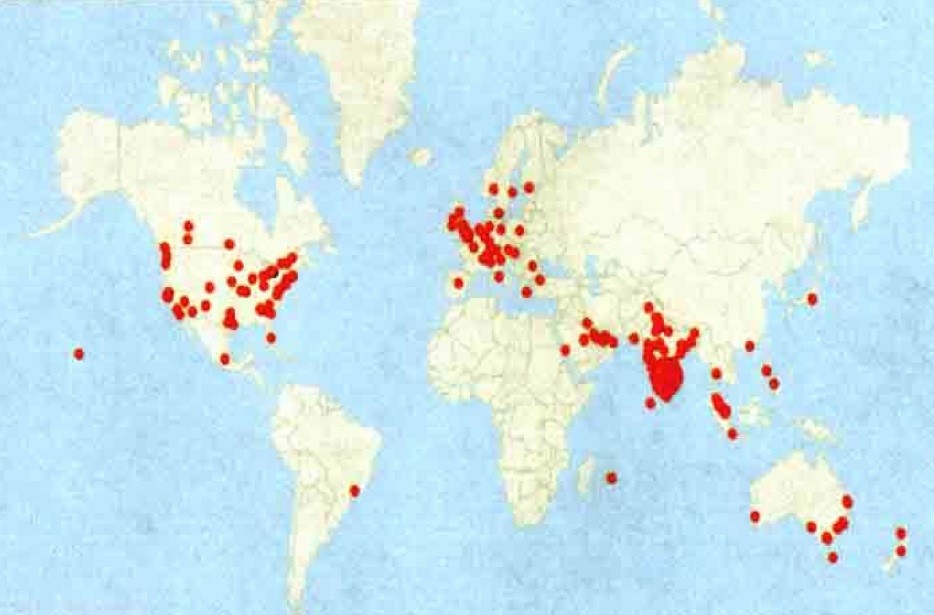 Source: Lankaweb -What and which zone of agreement?
Posted on October 29th, 2013
If the Tamils' cry for separatism is given up, the two communities could solve their problems and continue to live in amity and dignity. – M.C. Sansoni, CJ-(Sessional Paper No. 7 of 1980).
-Sinhala people have no other land [place to go] –   Wigenswaran-CM, NP