Seven suspected of promoting and supporting LTTE movement arrested
Posted on October 10th, 2019
Courtesy BERNAMA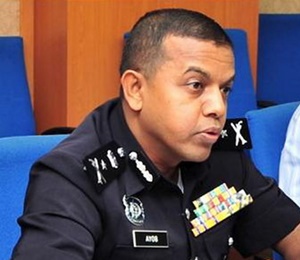 KUALA LUMPUR, Oct 10 — Seven individuals, including two state assemblymen, were arrested today for alleged involvement in the Liberation Tigers of Tamil Eelam (LTTE), including promoting, supporting and channelling funds to the group and in possession of materials related to its cause.
Principal assistant director of the Counter-Terrorism Division (E8) of the Special Branch in Bukit Aman, Datuk Ayob Khan Mydin Pitchay said they were picked during an integration operation mounted by Bukit Aman police in Selangor, Perak, Kedah, Negeri Sembilan, Melaka and Kuala Lumpur from 9am to 2pm today.
The two assemblymen from Melaka and Negeri Sembilan were arrested after they were suspected of attending a LTTE Warriors Day" programme in Melaka last November.
Both were found to have given speeches at the programme that displayed elements of support for the LTTE, besides sourcing funds and distributing brochures and materials relating to the group," he told a special media conference at Bukit Aman here today.
Ayob Khan said both of them were found to have direct links to LTTE after a detailed investigation was conducted in November.
Ayob Khan said also arrested was a 28-year-old scrap metal dealer suspected of being the organiser of the LTTE Warriors Day programme, held in November yearly.
This individual who was held in Rawang, Selangor, was convicted of injuring Sri Lanka's High Commissioner to Malaysia, Ibrahim Ansar at the Kuala Lumpur International Airport (KLIA) on Sept 4, 2016 and was fined RM10,000 for the offence," he said.
The fourth arrest involved an insurance agent, aged 38, from Kuala Lumpur and this individual was suspected of planning an attack on the Sri Lankan envoy in Kuala Lumpur, and also for owning and being in possession of materials related to LTTE, he said.
The next arrest took place in Sungai Siput, Perak where a 37-year-old taxi driver believed to have once joined a LTTE-related rally and a secret meeting in Perak, Ayob Khan said.
The suspect is believed to have been involved in recruiting members and spreading LTTE propaganda in Malaysia. He is also found to be in possession of LTTE-related materials and was also involved in the Sri Lankan High Commissioner assault incident three years ago," he said.
Ayob Khan said the other two arrested were a 27-year-old technician, who was nabbed in Kulim, Kedah and a food premise owner in Sungai Buloh, Selangor.
"Both were arrested after they were believed to have supported the LTTE, have materials relating to the group and for promoting the terror group through social media.
Ayob Khan said all seven are being held for 28 days under the Security Offences (Special Measures) Act 2012 (Sosma) beginning today.
He said since 2009, a total of 25 individuals have been arrested for their involvement with LTTE, adding that police believe the group had links out of the country.
Meanwhile, Ayob Khan advised the public not to turn the arrests into a racial issue or to exploit the matter.
We do not see party, religion or race, if anyone is involved in terror-related activity, we will arrest them," he said, while stressing that prior to this, a series of arrests were also done on Daesh militants and members of Jemaah Islamiah and Sikhs for Justice.
The LTTE has been listed by Malaysia as a terrorist organisation since 2014.
The conflict between LTTE and the Sri Lankan government went on for more than three decades after its leader V. Prabhakaran led a separatist movement to establish an independent state for the island's Tamil minority.
Prabhakaran was declared killed by Sri Lankan government troops on May 19, 2009.