An Asian Clown Lands in London! A Photo Story.
Posted on March 10th, 2015
Prof. Hudson McLean
A Picture is Worth a Thousand Words!
The following pictures leave anyone Speechless!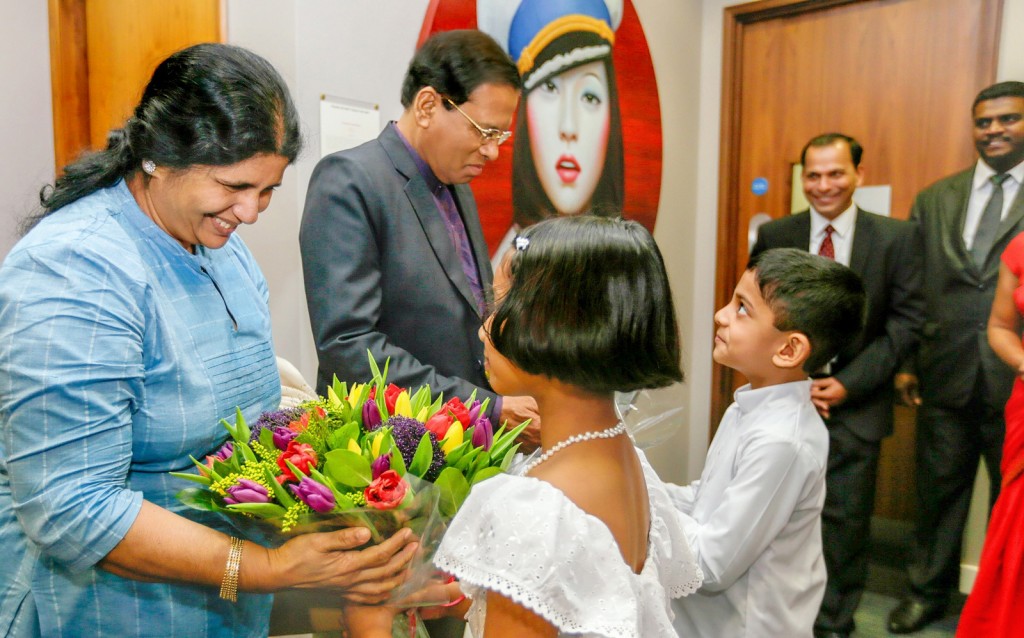 The President of Democratic Socialist Republic of Sri Lanka, Sri Lanka Prajatantrika Samajavadi Janarajaya (Sinhala);, lands in London dressed more like a clown from a circus.
Obviously President Maithreepala Sirisena and Mrs Sirisena got a local tailor from Grandpass to stitch a few pieces together.
Where the hell are his advisors?
The Foreign Minister looked, as if he suffered from a severe hangover, glum-faced, standing near President Sirisena.
The photographs published in AsianTribune
http://www.asiantribune.com/node/86544
pictures the pair like a couple of village peasants, (which they are) nothing like a dignified Head of State!

In the first photo, My3 Sirisena dressed in a half Sherwani in beige with a grey Jacket, which did not match in photos.
The second photo, My3 Sirisena in a colour-contrast mauve Sherwani, beige trousers, the same grey jacket, with Mrs Sirisena huddled like a subservient slave, is a disaster.  Looked more like a Catholic Cardinal about to meet the Pope!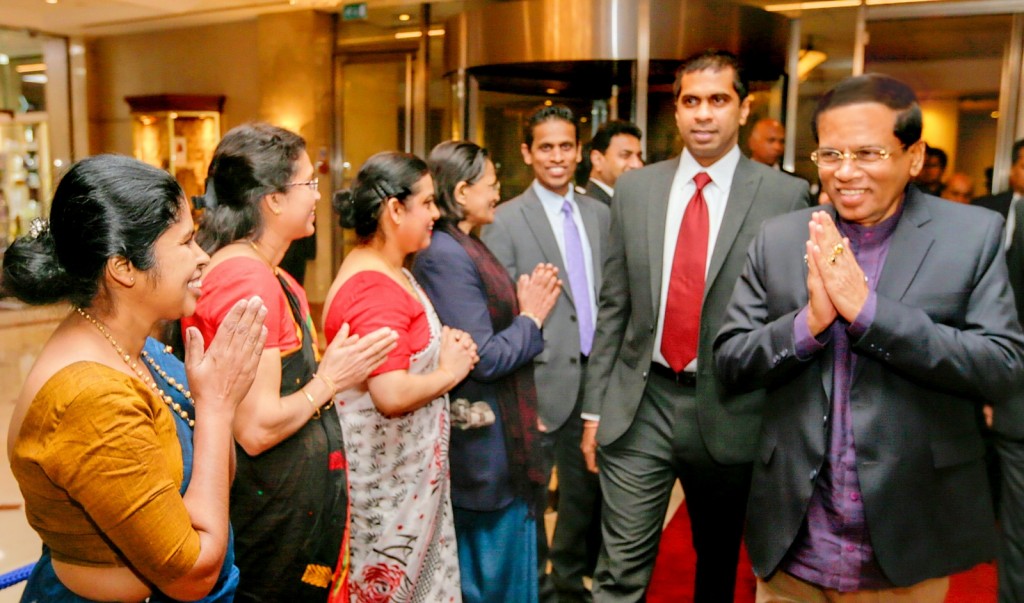 Definitely shows that the pair has never been on a foreign tour, looking like a Leader of a Nation.
May I humbly recommend that, My3 & his wife gets some advice on how to maximise "Photo Opportunities" specially when these official pictures are blasted all over the Internet, not just in Dinamina or Colombo Daily News.
Next, the man should get some advice on to select a decent tailor, and colour combinations which make photo ops and TV image makes him look a bit more photogenic!!  As MY3 is, he really requires some basics on Sartorial Facts!
Someone from High Commission should drag MY3 & Mrs Sirisena, to Selfridges or better still to Harrods and get them kitted-up properly.
Might I suggest that the best colour combination for the sun-burnt Sri Lankan is pastel blue shirt with dark shades of blue suits, with golden yellow shaded tie, or ideally the National Dress in White. Get away from brown or beige shades which does nothing to a decent picture opportunity.
We await the media presentations of the Commonwealth Conference Chairman, amusing the global audience.
BRING BACK – Mahinda Rajapaksa! The White National Dress with the Red Shawl looked elegant and dignified!
PS: Long time ago, at the London Kensington Hilton side entrance, I bumped into the then Foreign Minister ACS Hameed, with a stuffed black bin-bag, and his battered brief-case, waiting for High Commission pick-up, as he told me when I offered him a lift.  So much for a Dignified Exit!
To the Editor – Moderator of LankaWeb:
As you might note, a few in the Gallery react somewhat in "Panic Mode", CAPS, more like sand-blasting a mirror. Actually I am amused and so are many of the readers, who see the mentality of these respondents. Please let the Blast continue, entertain the Readers,  as a form of Catharsis!
 Express Your Opinion – Read What Others Say!
The Independent Interactive Voice of Sri Lanka on the Internet.
Please visit -:  http://www.lankaweb.com/