A threat to coconut, agriculture and the environment Propsed Indo-Lanka bridge
Posted on August 20th, 2015
TILAK S Courtesy Island
I have noted with considerable concern the ongoing correspondence appearing in The Island Newspaper regarding a proposal to irreversibly link our cherished Island to the barren wastes of India with a huge mass of concrete to be laid across the Palk Straits.
By a stroke of the pen we would have signed away our jealously safeguarded heritage to some contractor (either Indians or Chinese) who at the behest of the Governments of Sri Lanka and India would lay this huge mass of concrete which would once and for all surrender this country to be at the mercy of the whims and fancies of "Mother India", already bursting at its seams from the pressure of a huge population which is ever expanding to greater heights (I understand that there would be another 250 Million Indians by 2040).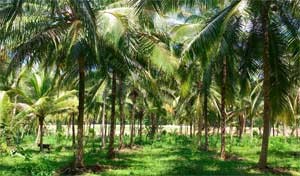 An acute shortage of water not only for agriculture but even for basics such as human ablutions creates possibly the most significant block of humanity living under substandard conditions and as pointed out in earlier correspondence the pressure from these unfortunate people to move southwards would be difficult to contain.
Massive political and economic pressures would be exerted on our puny little Government in Colombo to give way. Would any right thinking person really believe that little Sri Lanka would be able to withstand these pressures. The answer is "NO". The alternative is to let in the Chinese to resist the Indian pressures.
Either way we stand to lose our unique heritage.* * The Coconut Research Institute has highlighted the potential threat to our coconut palms from foreign pests and diseases. This threat applies to the entire agricultural sector of the country. Take for example the advent of the "Pitimakuna, Weligama Wilt, the Coconut Mite, Plesispa" just to name a few of the problems that our agriculture has to face due to the ingress of these pests and diseases not necessarily from India through the few points of entry by sea and air to the country.
All of which happened in the recent past. This includes the well organized activities of smugglers. All of this will pale into insignificance if that mass of concrete is laid across the Palk Straits. The logistical problems of monitoring mostly one way cargo transported in lorry mounted containers is mind boggling. The ingress of pests and diseases some exotic and some not so exotic into this country from India will increase exponentially.
Imagine dear readers our having to witness hundreds of container mounted lorries crossing over to Sri Lanka and trundling down the new North – South High Way belching diesel particles from poorly designed combustion systems incorporated into Indian lorries burning inferior quality diesel.
What will happen to the lungs of Sri Lankans? Will we become a second New Delhi (population roughly the same) where people have begun to move out from the city where thousands of Lorries of a similar nature enter the city every day.
What is it going to be?
Our economic interests confined to making money by trading more and more goods of Indian origin and shutting out competition from other parts of the world, or, saving our way of life which we have enjoyed for millenniums? Forget about enhanced employment opportunities other than for traders. India's labour cost are far cheaper.
I would urge every citizen to think this matter out carefully.
TILAK S